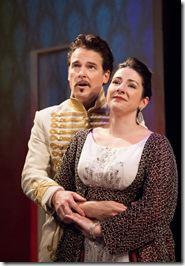 The Circus Princess 
Music by Emmerich Kalman
Translated by Gerald Frantzen, Hersh Glagov 
Directed by Bill Walters
at Chopin Theatre, 1543 W. Division (map)
thru July 1  |  tickets: $30-$40   |  more info
  
Check for half-price tickets 
  
  
   Read entire review
  
---
Unearthed 'Circus' should have stayed buried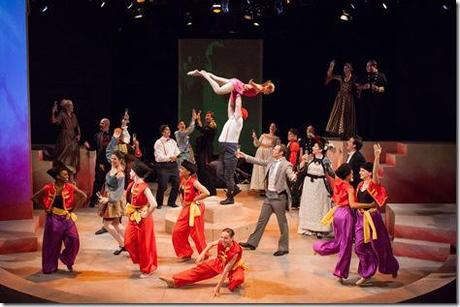 Chicago Folks Operetta presents
The Circus Princess
Review by Lauren Whalen
Some art should stay lost. Breathing new life into a lost or forgotten piece can be an empowering and affirming triumph. Or it can be The Circus Princess. Chicago Folks Operetta is an Oak Park-based company dedicated to producing Viennese and American operetta from the early 20th century. It's an honorable mission: no art form should be lost. However, revivals should be cognizant of a 21st century audience. Clocking in at over three hours and chock full of amateurish errors, The Circus Princess does not.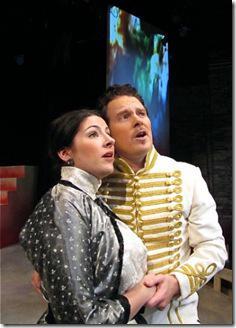 Presented in the U.S. for the first time in over 85 years,
The Circus Princess
follows Feodora Polinska (
Carla Janzen
), a sassy royal who's besotted by the big top. Feodora has been personally commanded by the czar to remarry but has yet to fall in love – until she meets Prince Korossov at a party thrown by the devious Grand Duke (
Bill McMurray
). The issue: Korossov is really Mr. X (
Gerald Frantzen
), a mysterious tightrope walker. Is Feodora doomed to be a "circus princess"? Mistaken identity and wacky antics ensue. For three and a half hours.
This Circus Princess is a new translation of the original Viennese operetta, courtesy of Hersh Glagov and Mr. X himself, Gerald Frantzen. According to the program it's been "edited" as well. Edited from what? The pacing is interminable, one dragging scene after another, the sometimes pleasant arias broken up by stilted dialog. Entire scenes could have been cut without sacrificing plot or character development. The subplot love story between young Tony (Tyler Thompson) and Miss Mabel (Alison Kelly), while sweet at times, meanders more often than not. And though they are thrilling and impressive, is the aerialist sequence really necessary? As Light Opera Works' Camelot and the Gift Theatre's Absolute Hell have demonstrated this past Chicago theater season, audiences of the past were accustomed to longer productions. Fine. But Camelot was delightful and Absolute Hell compelling. The Circus Princess is just plain long.
The production's copious errors don't help its case. Many a bra strap is visible under actresses' costumes, dancers appear unfamiliar with the choreography (and tend to look at each other and giggle), and several lines were dropped at the performance I attended. While mistakes happen in live theater – part of its charm – sloppiness and lack of preparation are not viable excuses, particularly in a major city with a competitive, vibrant professional theater community.
A few bright spots exist: Anthony Barrese's 19-piece orchestra is robust and lovely, particularly the violin solos. Kelly's Miss Mabel presents some endearing trills, and though he's stiff as an actor, Frantzen's singing voice is positively goosebump-inducing. The Circus Princess' chief strength is leading lady Janzen, with a full and vigorous soprano that gives meaning to even the silliest lyrics. Sadly, the orchestrations and voices can't justify the $30-$40 ticket price.
Chicago Folks Operetta prides itself on being "the voice of the old world", reviving classics for a modern audience. Problem is, audiences today are not what they were 85 years ago. Granted, attention spans probably have suffered but allowances must still be made. Unless a musical is named Les Miserables, chances are it won't captivate an audience for more than two and a half hours, tops. The Circus Princess' main fault is its excess length: barely tolerable for theater fans and impossible for anyone new to operetta. I can't imagine sitting through it again.
Rating: ★½
The Circus Princess continues through July 1st at Chopin Theatre, 1543 W. Division (map), with 7:30pm performances June 22, 23 and 28; 2pm performances June 16, 17, 30, July 1.  Tickets are $30-$40, and are available by phone (708-383-2742) or online here (check for half-price tickets at Goldstar.com). More information at ChicagoFolksOperetta.org.  (Running time: 3 hours 30 minutes, includes two intermissions)
Photos by Caroline Dixey
---