On our recent stay at Pennyhill Park for a friends wedding we didnt want to stray far from the hotel the evening before, so opted to have a meal in the Brasserie restaurant. The Brasserie restaurant is the more relaxed offering at Pennyhill, the other restaurant is Michelin Starred The Latymer. Given that they probably wouldn't allow a 13 month old in a michelin starred dining room, we opted for the former! The dining room itself is lovely and overlooks some of the grounds with mellow moody lighting, great for a relaxed meal, not so great for my photos!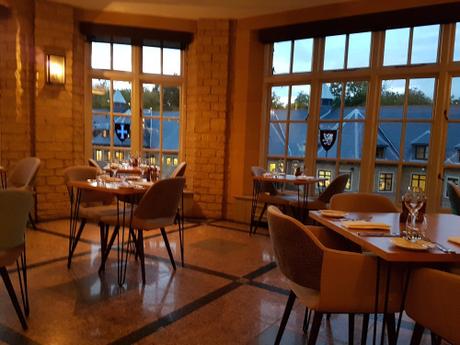 We like the sound of the menu, with some lovely autumnal dishes, perfect for mid October. Lee started with Jerusalem Artichoke Soup with Tortellini and Truffle. This was a really luxurious starter, creamy and rich and cut through really nicely with the herb oil and the jerusalem artichoke crisp giving it some texture.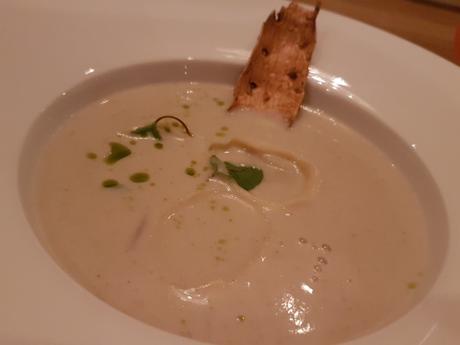 I went for the Cured Sea Trout with Onion and Stout. It sounded like a unusual combination but boy was this a fantastic little dish. The flavours just popped and the combination of the onions cooked several ways, the pickled elements and the slightly bitter stout was just great!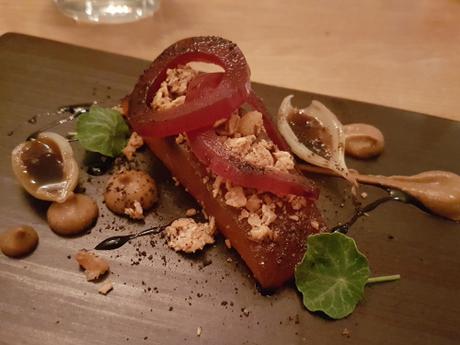 For our mains we both chose the Vension. This came with a potato rosti, carrots, blackberries and slow cooked vension. This was a really indulgent main course, I love vension and this was cooked perfectly and went well with the sweet and sharp accompaniments.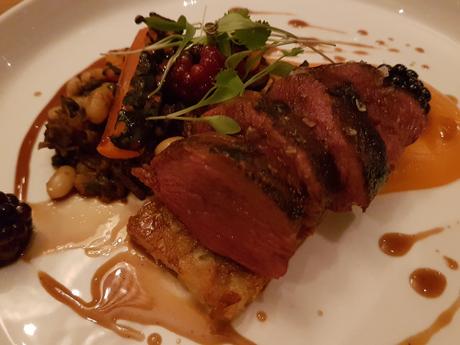 We did have desserts, but I'm afraid the photos turned out even more rubbish than the ones above so I haven't included them. The desserts were also the worst bit of the meal and a bit of a let down which was a disappointing end to an otherwise really good meal. On the up side, the restaurant were happy to accommodate children, although their high chairs were not the best, and despite a harness Imogen kept slipping down the chair because of the type of material, but the waitresses were all super friendly towards her and she lapped up the attention!
I'd certainly eat at the Brasserie again if staying at Pennyhill with children, but otherwise would check out the Latyme'rs michelin starred food instead.
Paid IN Full