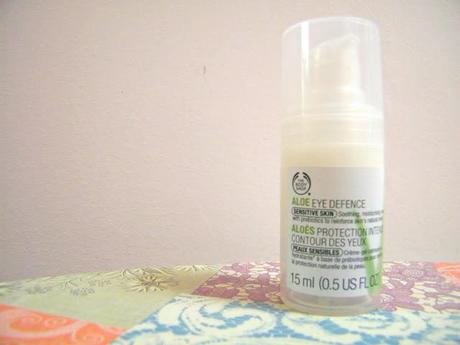 Aloe Eye Defence - The Body Shop // £10
Last month, I attended the Blogger's 
NE Body Shop Event 
in Newcastle. Amongst lots of other fun things which I discussed in the post, we had an amazing offer of getting 50% off everything we purchased. How fab is that? I thought I'd delve outside of my comfort zone a little bit and see if there was any eye products that caught my attention and that's where I picked up this...
I've always stayed away from eye creams and to be honest, I have no idea why. You're never too young to start looking after your skin, I suppose. When thinking about what type of skin I had, I headed straight to the
Aloe 
range, which is designed for sensitive skin. I'm prone to the occasional eczema and redness so I knew that these fragrance-and-alcohol-free products would be ideal for my skin *fingers crossed*. I've been applying this every morning to help wake me up and also in my evening skincare routine and well, I love it! Even though this is the first eye cream I've tried, it seems to be doing it's job pretty well. Not only has it helped reduce the appearance of my bags (which has been assisted by
a lot
more sleep) but it's also made my under-eye concealer apply much easier as my skin is no longer dry. It leaves the skin around my eyes feeling fresh and smooth and it absorbs almost instantly without that greasy feeling; Great for those mornings when your in a bit of rush! If your new to eye creams like myself and are looking for something that isn't too intensive, this is a great place to start. Overall Rating: 8/10
Have you tried this, or a product from this range? What's your favorite eye cream? Let me know, thanks for reading!
Megan xxx
P.S Please nominate me in the Cosmo Blog Awards here under 'Best New Beauty Blog' or 'Best New Fashion Blog' - or which ever you think suits best. Thank you!
Facebook 
 - 
Twitter
 - Instagram - 
Bloglovin
*This product was purchased by myself but with a 50% discount code due to being at a Bloggers Event.