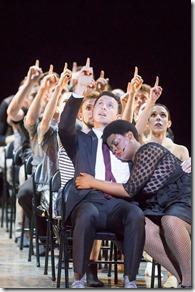 The Art of Falling
Written by Tim Mason, Carisa Barreca,
  T.J. Jagodowski, Kate James, Chris Redd
Directed by Billy Bungeroth  
Music Directed by Julie B. Nichols 
at Harris Theater, 205 E. Randolph (map)
thru Oct 19  |  tickets: $25-$77   |  more info
  
Check for half-price tickets 
  
  
   Read review
  
---
Chicago institutions join forces to put a huge smile on your face!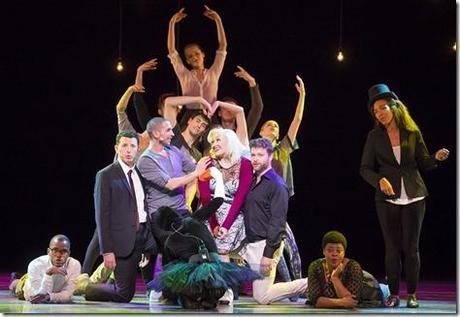 Hubbard Street Dance Chicago and Second City present
The Art of Flying
Review by Oliver Sava 
Going into The Art Of Falling, I had no idea what to expect. I knew it was a collaboration between Hubbard Street Dance Chicago and The Second City—two Chicago institutions of dance and comedy, respectively—and while I'm familiar with the work of both groups, it was hard to comprehend how their worlds would intersect on stage. As it turns out, they blend together beautifully, showing how two very different languages approach humor. The six Second City actors bring the comedy through sketches and songs while the ensemble of Hubbard Street dancers garners laughs through expressive movement, and the two languages enhance each other when combined.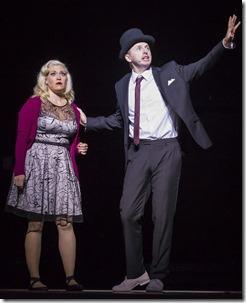 From the opening clip of Hubbard Street artistic director
Glenn Edgerton
talking about how part of the appeal of coming to dance and comedy is seeing performers fall on their faces like little bitches, it's very clear that this is going to be unlike any other Hubbard Street production. After the hilarious video package, which includes a scene where director
Billy Bungeroth
asks the Hubbard ensemble to show him the dance equivalent of a man getting hit in the balls, Edgerton takes to the stage to perform a number with the rest of his company, starting the evening off on a celebratory note that dictates the entire tone of the production.
With the "David Bowie Is" exhibit currently making Chicago the major American location for Bowie fans, the choice to use Bowie music enhances this reverent atmosphere, paying tribute to Chicago for being a major artistic hub of the country. And the Bowie use is brilliant: A soft piano arrangement of "Life On Mars" is used for a dance routine about a man seducing his blow-up sex doll, featuring gut-busting choreography by Robyn Mineko Williams and spot-on performances by Alicia Delgadillo and Jason Hortin, and a choir sings "Oh You Pretty Things" during Alejandro Cerrudo's "Bicycle Ride," the first dance of the evening performed with the actors lying on the stage as a camera above them projects their movement for the audience.
One of the great things about The Art Of Falling is that it makes contemporary dance extremely accessible for comedy fans, and hopefully some of the people that come to the show for Second City's involvement will be back for more Hubbard Street productions. The evening shows a lot of different sides of contemporary dance; there are high-energy group numbers and smaller, more lyrical pieces, and while there's plenty of comedy, the choreographers also bring a hefty amount of drama through their work. In fact, most of the drama comes from the dance, which uses motion to bring more emotional weight to scenes that are light and comedic on the surface.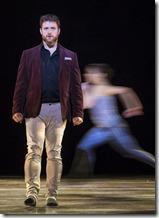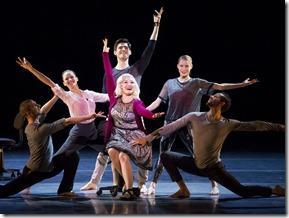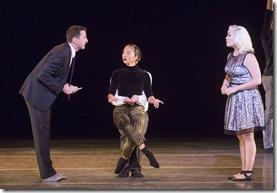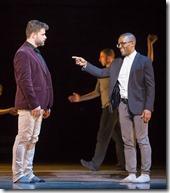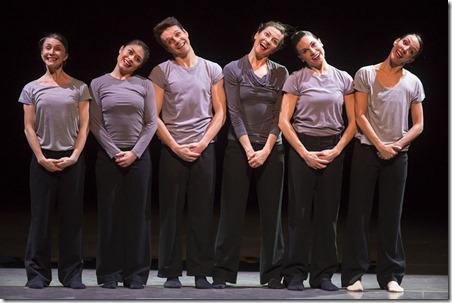 The evening has a narrative throughline in the form of the relationship drama between two men played by Joey Bland and Travis Turner, one of whom is a dancer (Turner). Bland plays an anxiety-ridden philophobe that doesn't want to say "I love you" just in case there's a risk that he's not in love, and over the course of the show, Bland's character learns to let go and fall for another person. That's just one of the different types of falling explored by the show, which also includes a separate plot involving a lonely man (Tim Mason) and an exceedingly friendly woman (Rashawn Scott) on a turbulent flight that doesn't end particularly well. The production's momentum takes a bit of a dip in the second act as it spends more time on these plots, but devoting some extra attention to the characters ultimately works in the show's favor, giving it an inspiring ending grounded in personal emotions.
The production incorporates dance into the sketches in very inventive ways, most cleverly in a subplot involving a woman named Kate (Carisa Barreca) getting accustomed to a new work environment in which all the furniture is played by dancers contorting their bodies. Turning the dancers into the setting is a fascinating way of using their flexibility and strength, but Kate's story really takes off once actual furniture enters the picture. Joffrey Ballet may be wowing audiences with their current production of Swan Lake, but Terence Marling's "White Office Swan" show how much more magical Tchaikovsky's ballet becomes when it's performed on swivel chairs. It's the perfect melding of Second City's comic sensibility with the athletic spectacle of Hubbard Street, and just one of the production's many examples in which these two artistic forces combine their individual strengths, making for a thoroughly entertaining evening that's certain to put a smile on your face.
Rating: ★★★½
The Art of Falling continues through October 19th at Harris Theater at Millennium Park, 205 E. Randolph (map), with performances Wednesday and Thursday at 7:30pm, Friday and Saturday 8pm, Sunday 3pm.  Tickets are $25-$77, and are available by phone (312-850-9744) or online through their website (check for half-price tickets at Goldstar.com). More information at HubbardStreetDance.com.  (Running time: 2 hours 10 minutes, includes an intermission. Recommended for ages 14 and up.)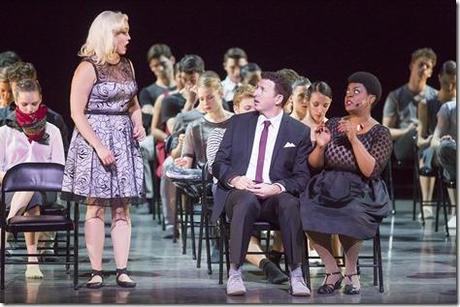 Photos by Todd Rosenberg 
---
artists
Second City ensemble
Tawny Newsome, Carisa Barreca, Rashawn Scott, Joey Bland, Travis Turner, Tim Mason
Hubbard Street ensemble
Garrett Anderson, Jesse Bechard, Jacqueline Burnett, Alejandro Cerrudo, Alicia Delgadillo, Kellie Epperheimer, Jonathan Fredrickson, Michael Gross, Jason Hortin, Alice Klock, Emilie Leriche, Ana Lopez, Johnny McMillan, Andrew Murdock, Jane Rehm, David Schultz, Kevin J. Shannon, Jessica Tong
Hubbard Street 2 ensemble
Zachary Enquist, Elliot Hammans, Jules Joseph, Katie Kozul, Adrienne Lipson, Andrea Thompson, Katlin Michael Bourgeois, Natalie Leibert, Megan Myers
behind the scenes
Billy Bungeroth (director), Alejandro Cerrudo, Robyn Mineko Williams, Jonathan Fredrickson, Lucas Crandall, Terence Marling (choreographers), Julie B. Nichols (musical director, original composition, sound design), Emma Dayhuff (additional instrumentation), Tyler Dean Kempf, Tommy Holmberg (assistants to the director), Terrence Marling, T.J. Jagodowski (improvisation coaches), Martin Andrew (set design), Michael Korsch (lighting design), Branimira Ivanova (costume design), Tierra G. Novy (properties design), HMS Media (video design, video production), Lisa Smeltzer (stage manager), Glenn Edgerton (artistic director, Hubbard Street), Andrew Alexander (executive producer, Second City), Todd Rosenberg (photos)
14-1030