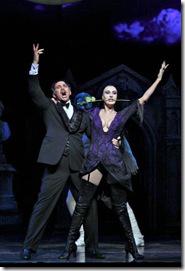 The Addams Family 
Book by Marshall Brickman, Rick Elice
Music and Lyrics by Andrew Lippa
Directed by Julian Crouch & Phelim McDermott
Cadillac Palace Theatre, 151 W. Randolph (map)
thru Jan 1  |  tickets: $37-$100   |  more info
  
Check for half-price tickets 
  
  
   Read entire review
  
---
Addams Family returns with more humor, heart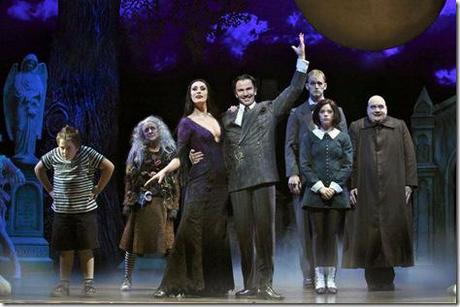 Broadway in Chicago presents
The Addams Family
Review by Lawrence Bommer
A lot has happened to and for this show (now in its second season on Broadway) since its pre-opening shakedown visit to Chicago three years ago. A rather sleazy first-act duet between creepshow parents Gomez and Morticia was cut. Crucially, most of the second act was rewritten: though funnier than a Tea Party candidate, Nathan Lane's Gomez got bogged down in boring ballads: These repeatedly psychoanalyzed and marriage-counseled his rebellious clan and the repressed parents transformed by contact with the Addams' outcast lifestyle of Gothic bohemianism.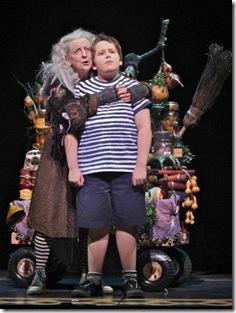 The second act in particular benefits from this lack of a lecture: The oddballs work out their own conflicts in their own ways and time.
The Addams Family
is now a much more character-fueled comedy with the occasional special effect or physical gag suggested by Charles Addams' (in)famous cartoons. (No one liked that octopus scene anyway.)
The now-finished product, which only plays Chicago through New Year's Day, is a vintage treat rich with "fish out of water" humor and a few worthy truths before the characteristic "Move Toward The Darkness" finale. Closely following the formula from "You Can't Take It With You" where the Depression-era Sycamore eccentrics transform the conformist and miserable Kirbys, the ghoulish Addams, who infest a very haunted mansion in Central Park, gather their ancestors in order to deal with their own home invasion: Daughter Wednesday has fallen in love with a normal boy named Lucas who's bringing his conventional parents for a dinner not soon forgotten.
The joke, of course, is that in the Addams' Bizarro-like world, screams replace sentiment, torture is a kind of caring, and death is the real deal they yearn for and want to share. But as much as the Addams have a mystery grandmother living in the dormers, a zombie butler, a bald uncle in love with the moon, an explosive-crazed bratty kid brother, vampirish mother and nightmarish Latin dad, the Reinecke family have their skeletons in the closet, bats in the belfry and secrets dying to be exposed. "Full Disclosure" isn't just a "truth or dare" game that the Grand Guignol family likes to play. It's what happens by the musical's 145-minute death span.
Andrew Lippa's serviceable songs prosecute the culture clash rather nicely, giving the Addams' survivors a torrid tango, a hilarious duet for Uncle Fester and a bouncing moon, an anthem for Morticia and the ancestors called "Just Around The Cor(o)ner," and other felicitous eruptions from the dark side.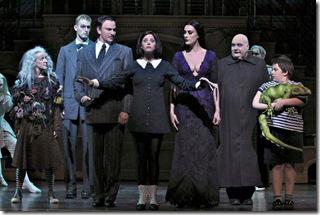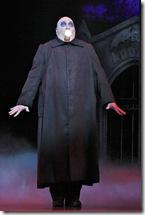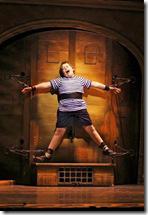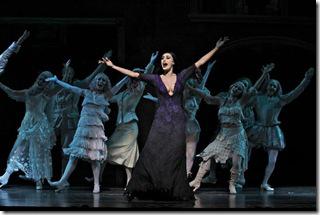 Douglas Sills' smooth-tongued, oily-unctuous Gomez is a rhapsodic romantic compared to Sara Gettelfinger's ice-queen Morticia. Add to their cunning chemistry Blake Hammond's gleeful Fester, Pippa Pearthree's decomposing Grandma, Cortney Wolfson's spunky Wednesday, Patrick D. Kennedy's prankster Pugsley and Tom Corbeil's mostly muted Lurch.
Brian Justin Crum is richly ordinary as Lucas (who must learn to take risks for love), while Martin Vidnovic and Victoria Huston-Elem prove to be much more complicated than their stereotypical stiffness suggests. Pancake monstrosities, the ten Addams Ancestors provide all the backup that ghosts "live" for.
As clever as this musical mash-up seems, I still think Paul Rudnick's film versions provide the perfect topsy-turvy Addams overkill. But you get song and dance here. For many, that's advantage enough.
Rating: ★★★
The Addams Family continues through January 1st at the Cadillac Palace Theatre, 151 W. Randolph (map).  Tickets are $37-$100, and are available by phone (800-775-2000) or online at TicketMaster.com (check for half-price tickets at Goldstar.com). More info at TheAddamsFamilyMusicalTour.com.  (Running time: 2 hours 25 minutes, which includes one intermission)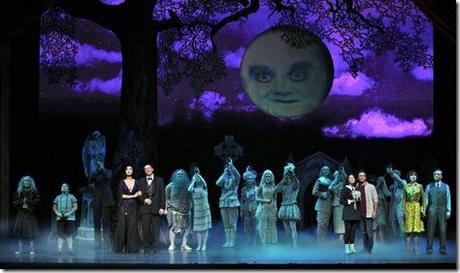 All photos by Jeremy Daniel
---
artists