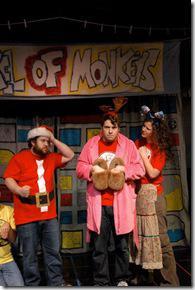 That's Weird, Grandma 
   Holiday Edition  
By students from Chicago Public Schools
   and Chicago Park District
Directed by Molly Brennan
The Neo-Futurarium, 5153 N. Ashland (map)
thru Jan 2  |  tickets: $5-$10   |  more info
  
Check for half-price tickets  
  
   Read entire review
  
---
'Grandma' a whimsical holiday field trip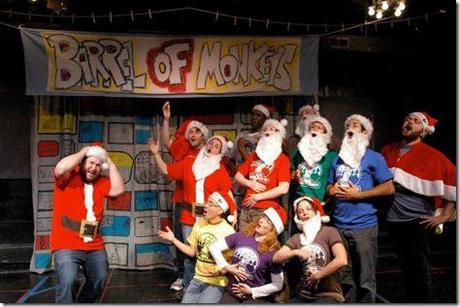 Barrel of Monkeys presents
That's Weird, Grandma – Holiday Edition
Review by Lauren Whalen 
Barrel of Monkeys are men and women on a mission: to give kids a voice. Through creative writing workshops for third, fourth and fifth graders in underserved Chicago Public Schools and in Chicago Park District programs, the arts education ensemble turns students' words into exuberant live theater pieces. In the holiday edition of That's Weird, Grandma, the troupe's weekly revue of child penned stories run the gamut from a muscle bound Santa to a geographically challenged little girl, resulting in a delightful evening for parents and kids alike.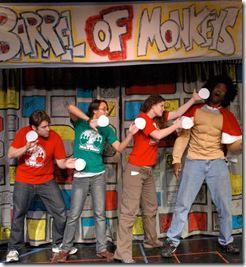 That's Weird, Grandma director and company artistic director Molly Brennan is a strong presence in the Chicago theater scene, most notably as Harpo Marx in Goodman's Animal Crackers and Smee in Lookingglass' innovative take on Peter Pan. Brennan's highly physical stage persona is very evident in her cast, who bounce their way through a myriad of roles with giggly glee. Each ensemble member possesses boundless energy and tangible passion for the stories they have helped create and interpret. There's a lighthearted silliness to their work, but gravity as well: these are works of art from kids who don't have much opportunity to express themselves. It's obvious each Barrel of Monkeys performer takes this mission to heart.
Sets, lighting and costumes are kept simple: actors sport jeans and T-shirts, adding and subtracting pieces as they portray elves, reindeer and journal-keeping gingerbread cookies. Voices and gestures are goofy, broad and ever-changing yet authentic. Cast members pitch in with merchandising, stage management and keyboard accompaniment with aplomb. And they roll with the punches of live theatre: at the performance I attended, one actress bravely soldiered on despite losing her voice, which was referenced with humor throughout the show. As added bonuses, the students' original stories appear in the program and audience members are asked to vote on their favorite pieces after curtain call.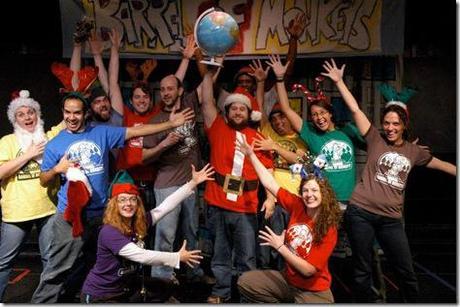 The production's short humorous vignettes feel like sketch comedy for children – with a few lessons wrapped up inside. The students' words are giving first priority, but the company's innovative interpretations are a treat to behold. How can one not enjoy a snowball fight with the feel of a John Woo film, a Santa Claus with an affinity for Taco Bell and an adventurous marshmallow named Bob? Barrel of Monkeys doesn't forget adult audience members: parodies of 1950's educational filmstrips and 1980's power ballads provide genuine belly laughs while remaining safe for small ears. Transitions between stories are mostly very smooth, and the show's opening and closing numbers provide fun bookends to the fast-paced performance.
Though one or two moments border on screechy, That's Weird, Grandma's holiday edition is a crowd pleaser in every sense. Kids will feed off the company's intense and engaging energy, while parents appreciate the family-friendly environment. I encourage those who enjoy the show to chip in a few dollars for the company's school programs. As arts education programs continue to shrink where they are needed most, it's encouraging to see the work of a company promote literacy and creativity in underserved youth. Keep fighting the good fight, Barrel of Monkeys!
Rating: ★★★½
That's Weird, Grandma Holiday Show continues through January 2nd at The Neo-Futurarium, 5153 N. Ashland (map), with performances Mondays at 8pm.  Tickets are $10 for adults, $5 for children under 12, and are available by phone (312-409-1954) or online at printtixusa.com. More info at BarrelofMonkeys.org.  (Running time: 1 hour, with no intermission)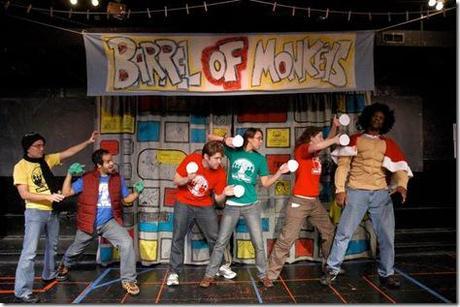 ---