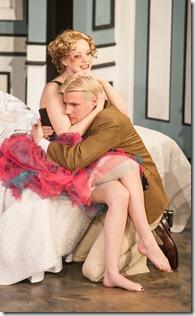 Tea with Edie and Fitz 
Written by Adam Pasen
Directed by Jim Schneider
Greenhouse Theater, 2257 N. Lincoln (map)
thru June 9  |  tickets: $30   |  more info
  
Check for half-price tickets 
  
  
   Read entire review
  
---
A hot, scintillating brew with a couple of lumps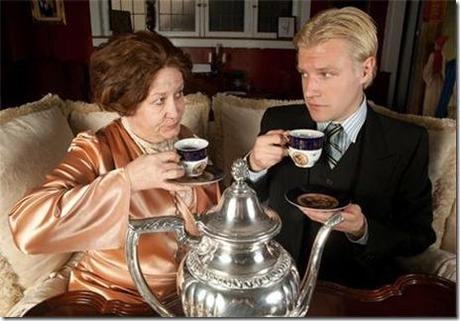 Dead Writers Theatre Collective presents
Tea with Edie and Fitz
Review by Katy Walsh 
Dead Writers Theatre Collective presents the Chicago premiere of Tea with Edie and Fritz – a show all about the fusion of writing.  Playwright Adam Pasen has imagined the the 1925 meeting of iconic writers; Edith Wharton and F. Scott Fitzgerald.  Historically, little is known about the actual event that would cause Wharton and Fitzgerald to 'defriend' after one tea party.  Pasen pulls us into the lives of these writers in the 1920s.  He chronicles the steps leading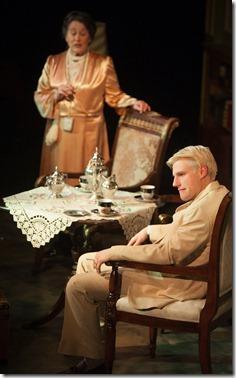 to Wharton's decision to invite "The Great Gatsby" newbie author to her home.  On the flip side, Pasen deconstructs Fitzgerald's life from the tea encounter and goes backwards to show the novelist's personal struggle to produce 'Gatsby.'  Pasen's clash of the titans is this intimate look at two very different writers and their influencing muses and styles. The clever dialog is riddled with literary references.  The context makes me want to gather the collection of Wharton and Fitzgerald's writing and read them simultaneously and chronologically.  I was enthralled by the writing of this play that served as Pasen's thesis for his PhD.  
The fusion theme continues in Director Jim Schneider's actualization of Pasen's words.  Schneider mixes stage and film. He infuses black-n-white projections on a small screen throughout the play.  During scene transitions, quotes from classic writers are timeless and timely projections. A few times during the show, a movie countdown is interspersed with words that indicate the reel is missing.  I imagine it's to show the backward and forward motion of the staged action. Yet, these images feel clunky and irrelevant.  In probably the most ambitious scene of the show, the combination of actors and film are used in a 'silent movie' illustration of the actual tea party.  The idea is innovative. Although Madison Niederhauser (Fitzgerald) nails the old-timey exaggerated facial expressions, the others seem slightly out of sync with the projections.
This 'film clip scene' happens early in the show, which may have been the issue on opening night.  The first twenty minutes seemed stilted.  Other than the natural and flamboyant Niederhauser, the rest of the ensemble took a few scenes to get comfortable in their roles.  Pasen's witty dialog didn't get the intended response until a solid Act 2.  Once they get their bearings, a splendid Patti Roeder (Wharton), effervescent Nora Ulrey (Zelda) and dignified Michael D. Graham (Henry James) captivate in their iconic roles.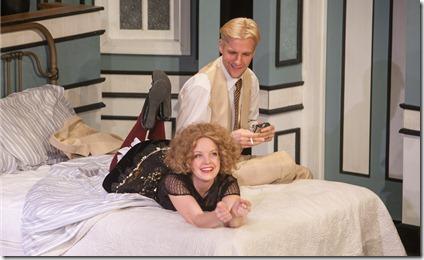 The fusion continues in Set Designer Edward Matthew Walter's Art Deco amalgamation. Walter skillfully showcases Wharton's grand estate alongside Fitzgerald's posh hotel suite. The backdrop is divided walls of each room comingled together. In the center is the pivoting hotel bed that turns into Wharton's desk. The look is nouveau riche meets old money.
Tea with Edie and Fritz is a hot brew with a couple of lumps. Once they melt together, it is a lingering sophisticated libation with a hint of a bittersweet-ness.
Rating: ★★★
Tea with Edie and Fitz continues through June 9th at Greenhouse Theater, 2257 N. Lincoln (map), with performances Thursdays and Fridays at 7:30pm, Saturdays at 2:30pm and 7:30pm, Sundays 2:30pm.  Tickets are $30, and are available by phone (773-404-7336) or online through GreenhouseTheater.org (check for half-price tickets at Goldstar.com). More at DeadWriters.net.  (Running time: 2 hours 30 minutes, includes an intermission)
Photos by Anthony Robert La Penna 
---
artists
cast
Patti Roeder (Edith Wharton), Madison Niederhauser (F. Scott Fitzgerald), Nora Ulrey (Zelda Fitzgerald), Michael D. Graham (Henry James), Christina Irwin, Luke Renn, Ben Muller, Peter Esposito, Bill Chamberlain, Sara Minton, Nelson Rodriquez, Megan Delay, Brandon Johnson, Bill Zorn.
behind the scenes
Jim Schneider (director), Kari Warfield (production stage manager), Matthew Bonaccorso (asst. stage manager), Reed Motz (asst. director), Kendra Kargenian (dialect coach), Edward Matthew Walter (set design), Elizabeth Wislar (costume design), Jeffrey Shields (props design), Angela Guest (props mistress), Kris Kontour (tech director), VES Creative (video), Anthony Robert La Penna (photos)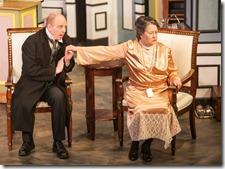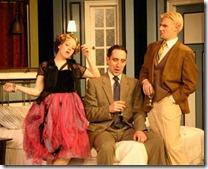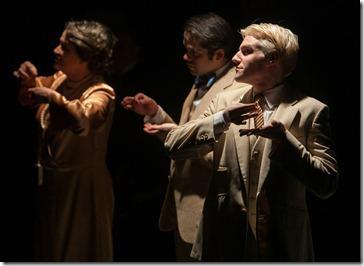 13-0502