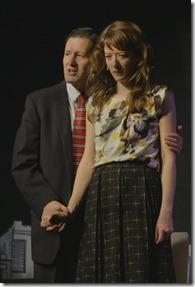 Sweet Smell of Success
Written by Marvin Hamlisch (music), 
   Craig Carnella (lyrics) & John Guare (book)
Directed by John D. Glover
at Theater Wit, 1229 W. Belmont (map)
thru Feb 2  |  tickets: $38   |  more info
  
Check for half-price tickets 
  
  
   Read review
  
---
Arresting and unique morality musical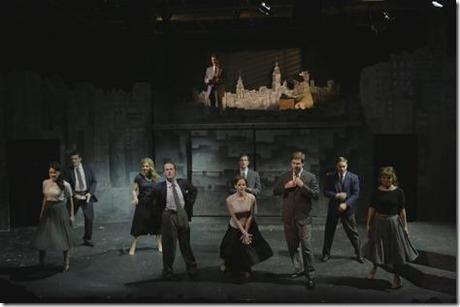 Kokandy Productions presents
Sweet Smell of Success
Review by Lauren Whalen 
Some romanticize the 1950's as a simpler, gentler time. Maybe it was – I wasn't born until several decades later, so I can't verify. However, even in the pre-Internet age, celebrity gossip was a prevailing trend. Cocaine and eating disorders weren't yet part of the zeitgeist, but heaven forbid a movie star or politician was accused of homosexuality, marijuana use or worst of all, Communism. If a tidbit made it to print, its truth or untruth was irrelevant – and a few key players could make or break an individual. Kokandy Productions' Sweet Smell of Success is a terrific musical noir, a throwback to a time when the printed word was king and one amoral writer held all the cards.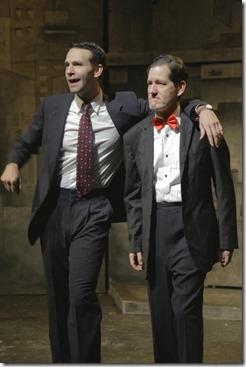 It's 1952, and New York City gossip columnist JJ Hunsecker (
Brian Rooney
) can give an unknown a stellar career or send a shining star straight into obscurity. He has 60 million readers and the world on a string – and his one love is his much younger half-sister Susan (
Victoria Blade
), a wannabe actress determined to make it on her own. JJ is so fiercely protective of Susan that he enlists the help of ambitious press agent Sidney Falcone (
David Schlumpf
) to trail Susan and ensure she's living a life JJ deems worthy of his beloved sibling. However, when Susan's relationship with struggling pianist Dallas (
Nathan Gardner
) threatens all JJ holds dear, drastic steps are taken in the name of power and control.
Sweet Smell of Success is based on the 1957 noir film starring Burt Lancaster as Hunsecker, a character very obviously based on notorious gossip columnist Walter Winchell. This musical adaptation, starring John Lithgow as Hunsecker and Brian d'Arcy James as Sidney, debuted on Broadway in 2002 after a Chicago tryout – and closed after only three months. Watching the show, it's easy to see why: noirs don't end happily for anyone and often contain shocking acts of questionable morality. Not exactly feel-good, tourist-friendly concepts – especially when you add in an anti-hero who's borderline obsessed with a blood relative. However, in a smaller space and more open-minded theater scene, a darker musical can fare quite well – and thanks to John D. Glover's smart direction, stellar production values and a first-rate cast, this Sweet Smell is a resounding Success.
Glover strikes a perfect balance interpreting the material: he doesn't shy away from the darkness, nor does he exploit it. And he doesn't try to make the ruthless JJ into a cuddly teddy bear, nor does he hesitate to humanize him. JJ's love for Susan is sweet at times, scary at others – it's nice he wants to shield her from a world he knows is cruel, but creepy that he's attempting to control a grown woman's every move – and Glover highlights all of this. Aaron Benham's music direction of both actors and live orchestra brings Marvin Hamlisch's sometimes-forgettable score to new life, and Steven Spanopoulos' choreography is exciting, fresh and flawless. Zachary Gipson's newsprint-esque set and Kate Setzer Kamphausen's costumes (shades of blacks, whites and grays with the occasional pop of color) have a cinematic quality that's both brilliant and gritty, and Cat Wison's lighting accurately conveys the seedy underworld of the city that never sleeps.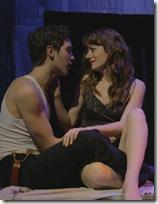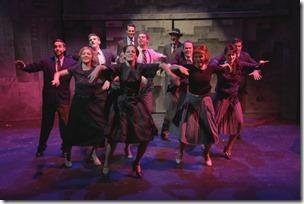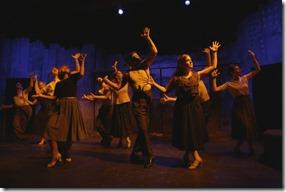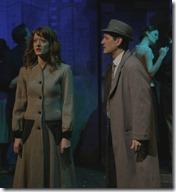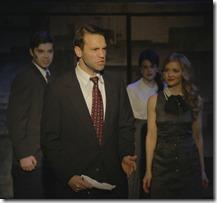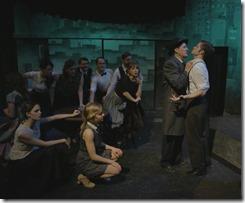 Glover's top-notch cast never stumbles and consistently delivers. Golden-voiced Jeff nominee Blade gives Susan a fragile beauty and a well-founded paranoia that has her looking over her shoulder at every turn. Gardner makes Dallas one of the show's most likable characters, and Christina Hall has an excellent va-va-voom solo as Sidney's waitress girlfriend Rita. Sweet Smell's killer ensemble flows through many different roles with the greatest of ease and strut their stuff in powerful group numbers. As JJ, stage and screen vet Rooney never falters in his own conviction – for such a hardened man, JJ always believes his own hype, and Rooney's portrayal highlights all the nuances of a frighteningly powerful man, without ever resorting to cartoon villain. Among such an able cast, Schlumpf is the true standout. His voice seems to defy the laws of physics, and his careful interpretation of Sidney's descent into desperation is not one to be missed.
In the past two years, Kokandy Productions has become the little company that could. From 2012's thoroughly entertaining The Great American Trailer Park Musical to 2013's stunning The Last Five Years to this Sweet Smell of Success (all of which I have been fortunate to review), I couldn't be more pleased that such a smart, thoughtful ensemble is making a name for itself in the bustling city theater scene. As with their previous endeavors, this Sweet Smell is a surefire winner. I can't wait to see what they do next.
Rating: ★★★½
Sweet Smell of Success continues through February 2nd at Theater Wit, 1229 W. Belmont (map), with performances Wednesdays-Fridays at 8pm, Saturdays at 3pm and 8pm, Sundays 3pm.  Tickets are $38, and are available by phone (773-975-8150) or online through TheaterWit.org (check for half-price tickets at Goldstar.com). More information at KokandyProductions.com.  (Running time: 2 hours 30 minutes, includes an intermission)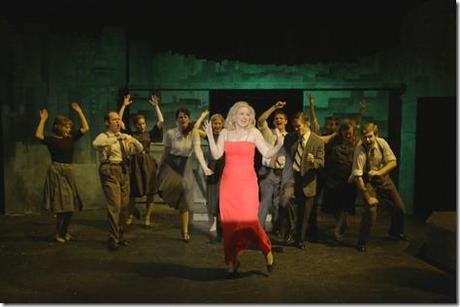 Photos by Joshua Albanese Photography 
---
artists
cast
Brian Rooney (JJ Hunsecker), David Schlumpf (Sidney), Nathan Gardner (Dallas), Victoria Blade (Susan), Christina Hall (Rita), Madeline Acquaviva, Christin Boulette, Shaun Baer, Mike Danovich\, Zach Drane, Kim Green, Jordan Gryzbowski, Rus Rainear, Brennan Roach, Julie Schroll, Stephanie Souza, Stephanie Wohar (ensemble)
orchestra
Justin Amolsch (bass), Adam DeGroot (reeds), Ben Dillinger (bass), Scott Simon (percussion), Aaron Benham (piano)
behind the scenes
John D. Glover (director), Aaron Benham (music direction), Steven Spanopoulos (choreography), AJ Wright (assistant director), Zachary Gipson (scenic design), Kate Setzer Kamphausen (costume design), Johnny Buranosky (properties), Cat Wison (lighting design), Mikey Moran (sound design), Jessica Forella (stage manager)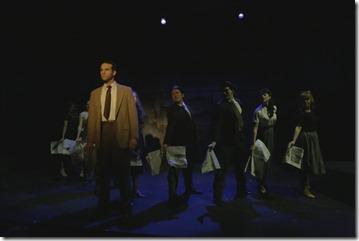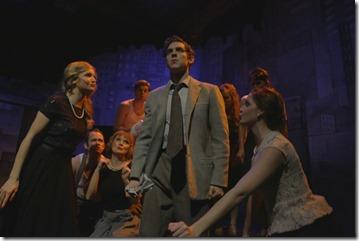 14-0113