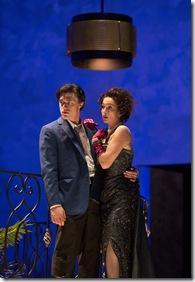 Sweet Bird of Youth 
Written by Tennessee Williams 
Directed by David Cromer 
at Goodman Theatre, 170 N. Dearborn (map)
thru Oct 28  |  tickets: $27-$88   |  more info
  
Check for half-price tickets 
  
  
   Read entire review
  
---
A set can squash a show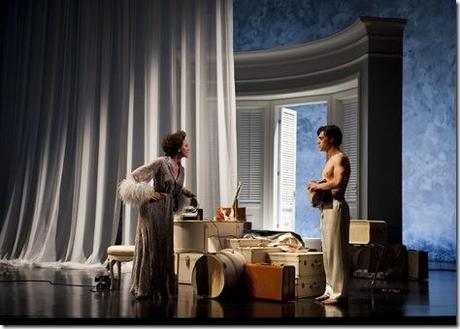 Goodman Theatre presents
Sweet Bird of Youth
Review by Lawrence Bommer
Even when Tennessee Williams goes overboard he dives deeper into our desperation–daily, monthly and lifelong–than any pseudo-sentimentalists who ape his cosmic compassion. Though a lesser effort than Cat on a Hot Tin Roof which preceded it and Night of the Iguana which followed, Williams' 1959 Sweet Bird of Youth, a once-bold look at two survivors' self-destruction, carries in its three hours (and three acts) a lode of sympathy for its doomed aspirants that almost makes up for its dogged overplotting and organized hysteria.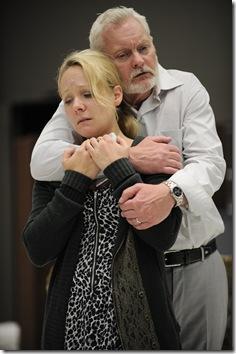 Misfits who have washed up on the seedy Gulf port of St. Cloud, Hollywood legend Alexandra Del Lago (who calls herself "Princess Kosmonopolis") and hunky beach boy Chance Wayne have stumbled into a strange and unsymbiotic liaison. At 29 he's an aging hustler, blackmailer and wanna-be movie star who's latched onto this alcoholic druggie, hoping to exploit Princess' waning Hollywood influence (where she is about to make a comeback) to land a career for himself and his childhood sweetheart Heavenly. Fogged in by hashish and goofballs, Princess barely recalls the erotic encouragement and other many "dependable distractions" that Chance offers her.
Chance's absurd pipedream is untouched by the fact that he had been chased from St. Cloud for giving Heavenly a social disease that induced her father, a racist political boss, to inflict medical mutilation on his daughter.
Williams, who grafts his own gay-intensified fear of time's ravages onto Princess, and who plays out a revenge fantasy against decaying hustlers through Chance, clearly luxuriates in the exquisite self-pity of these "monsters" (though Chance receives a retribution not unlike Sebastian's in Suddenly Last Summer). Princess, Williams' optimistic version of Norma Desmond, has too much talent to succumb for long; for her a breakdown merely provides a publicity opportunity, an obstacle to surmount en route to her next screen triumph.
The real enemy is time, the foe they fight when they think they're attacking each other.
Though hobbled by a second act that seems as out of control as Williams was at the time he wrote it, David Cromer's Goodman Theatre staging draws strength from the quieter despair (when his otherwise baroque characters display an aching vulnerability), mostly skirting, if barely, the soap-operatic excesses.
Though Finn Wittrock's muscular and erotic Chance is also a chastening portrait of narcissism betrayed, the supposed draw here is film star Diane Lane's anguished but nuanced Princess. As a self-declared "monster" and unreliable cash cow, she creates a dangerously mercurial diva who can move from comatose dependency to steely independence, a femme fatale with unretracted claws. But Lane's lassitude takes its toll: This princess is played out, just when it would be enthralling to see her fight her demons, the worst of which is the death of hope due to the triumph of time. She also needs to project better, because this film is very live.
Among numerous supporting roles (wastefully written considering this is really a two-person play), Jennifer Engstrom is hilarious as a kept woman with exposure in her heart, John Judd digs into his Big Daddy role as Heavenly's hypocritical father and Sean Cooper has a cunning cameo as a political heckler.
Though Keith Parham's supposedly impressionistic lighting is ugly and obvious, James Schuette's costumes manage to establish period and place. The problem is his incredibly overdone set, which yawns above the characters as it revolves in a vain attempt to look cinematic, reflects film projections of their inner lives and otherwise crushes the story under the sheer weight of its own excess. Once again Goodman Theatre, eager to show off a budget too big for its britches, has forgotten that less is always more.
Rating: ★★★
Sweet Bird of Youth continues through October 28th at Goodman Theatre, 170 N. Dearborn (map), with performances Wednesdays at 7:30pm, Thursdays at 2pm and 7:30pm, Fridays at 8pm, Saturdays at 2pm and 8pm, Sundays 2pm and 7:30pm.  Tickets are $27-$88, and are available by phone (312-443-3800) or online through their website (check for half-price tickets at Goldstar.com). More information at GoodmanTheatre.org.  (Running time: 3 hours, includes two intermissions)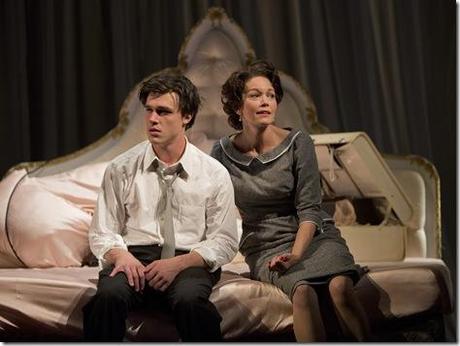 Photos by Liz Lauren
---
artists
cast
Diane Lane (Princess Kosmonopolis); Finn Wittrock (Chance Wayne); John Byrnes (Dan Hatcher); Sean Cooper (Heckler); Maggie Corbett (Edna); Jennifer Engstrom (Miss Lucy); Peter Fitzsimmons (Scotty); Kristina Johnson (Heavenly Finley); John Judd (Boss Finley); Colm O'Reilly (George Scudder); Tyler Ravelson (Stuff); Penny Slusher (Aunt Nonnie); D'Wayne Taylor (Charles); Vincent Teninty (Tom Jr).; Dan Waller (Bud);  R. Charles Wilkerson (Fly); Kara Zediker (Violet)
behind the scenes
David Cromer (director); James Schuette (costumes, set); Keith Parham (lighting); Josh Schmidt (original music, sound design); Maya Ciarrocchi (projections); David Woolley (fight choreography); Kate Devore (dialect and voice coach); Neena Arndt (dramaturg); Joseph Drummond (production stage manager); Kathleen Petroziello (stage manager); Liz Lauren (photos)
12-0957