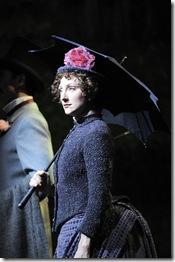 Sunday in the Park with George 
By Stephen Sondheim (music, lyrics)
   and James Lapine (book)
Directed by Gary Griffin 
at Chicago Shakespeare, Navy Pier (map)
thru Nov 4  |  tickets: $48-$78   |  more info
  
Check for half-price tickets 
  
  
   Read entire review
  
---
A dazzling, flawless 'Sunday'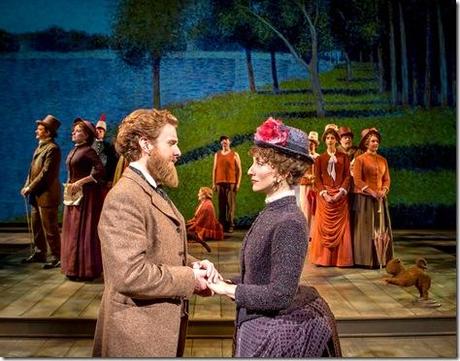 Chicago Shakespeare Theater presents
Sunday in the Park with George
Review by Catey Sullivan 
Creation, love, legacy and mortality. Are there more fraught topics for musical theater? (or any art form for that matter?). It takes an intellect on the level of Stephen Sondheim's to make them all coalesce into a single, transcendent and richly accessible story. Sunday in the Park With George shimmers with layers of depth and color, both literally and figuratively. Directed by Gary Griffin, the Chicago Shakespeare staging of Sondheim's ambitious work is a production of light and magic and meaning, covering the spectrum of human emotions.
Sondheim's structure for the piece is potentially jarring. The first act is a love story set in 1880s France. Impressionist painter Georges Seurat and his perfectly named model/lover/muse Dot spend their Sundays under the hot sun of a small suburban park; she posing and ruminating on the state of the art and their relationship, he wholly absorbed in creating. In his absorption and her lively restlessness, Sondheim (music and lyrics) and book writer James Lapine craft a portrait of a tumultuous relationship between two people who belong together and love each other deeply but cannot sustain a long-term relationship. It's a picture aching with passion, joy and sadness.
In Georges' obsessive quest to create something of lasting beauty and significance – and his equally bone-deep worry that he will fail to do so – Sunday in the Park with George presents a character roiling with extraordinary artistic gifts and emotionally crippling fears. In Dot, we have a woman pulled by divisive internal forces. On the one hand, she's imbued with a pragmatic, strong-willed sense of survival; on the other, a romantic willingness to give up a lifetime of security if only the true object of her affections would shed even a centimeter of the artistic armor he's plated himself with. Neither George nor Dot is willing to compromise, as the gorgeous love song/lament "We Do Not Belong Together" makes so heartbreakingly clear.
The second half of Sunday in the Park With George breaks – or seems initially to break – entirely with the romance of the first, opening in the cold, angular world of a U.S. art gallery in the 1980s. Here, another George is premiering his multi-media installation Chromolume #7, a sculpture of sound and light inspired by Seurat's masterpiece "Sunday on the Grande Jatte". Yet despite the leap in time and place, the two acts fuse together as seamlessly as the tens of thousands of colored flecks that comprise Seurat's paintings. George the modern artist is grappling with the same doubts as his 19th century namesake. The line between the two men – artistically, temperamentally and genetically is as strong and vivid as the blazing beams of light shooting out from the Chromolume. And while that's clear early on, it becomes breathtakingly so in a final, monochromatic scene that's both breathtaking and dazzling.
Gary Griffin has drawn a flawless cast together for this formidable work, pulling his leads in from New York and filling in the ensemble with a starry roster of Chicago-based actors. Carmen Cusack is resplendent in the ultra-demanding duel role of Dot, believably aging at least 60 years when she appears in the second act as George's grandmother (and Dot's daughter) Marie. It's a testament to her formidable powers of acting that she ages without a wisp of artificiality. Dot, when she's not posing, is in near constant movement, the youthful embodiment of restless exuberance. Marie is wheelchair bound, the sparks of her being emanating almost solely from her eyes. Both women are thrilling, and that they originate from the same person is almost gasp-inducing.
Jason Danieley's Georges/George is also excellent, the former almost dour in his endless concentration, the latter turning on the charm when attempting to procure grants and succumbing to despair when attempting to light the fires of creation.
As for the ensemble, it's peppered with memorable supporting characters, notably Sean Fortunato as a highly successful (and arrogant) artist of 1880s France and a bitter (and arrogant) former sensation in the 1980s. And as George's former wife, Heidi Kettenring speaks volumes without saying a word.
The overarching visual star of Sunday in the Park with George are Mike Tutaj's video projections which gloriously bring Seurat's technique and works to life. The famous first act ending, wherein life imitates art, will quite simply take your breath way.
Rating: ★★★★
Sunday in the Park with George continues through November 4th at Chicago Shakespeare Theater at Navy Pier, 800 E. Grand (map), with performances Tuesdays-Fridays at 7:30pm, Wednesdays at 1pm, Saturdays at 3pm and 8pm, Sundays 2pm.  Tickets are $48-$78, and are available by phone (312-595-5600) or online through their website (check for half-price tix at Goldstar.com). More info at ChicagoShakes.com.  (Running time: 2 hours 40 minutes, includes an intermission)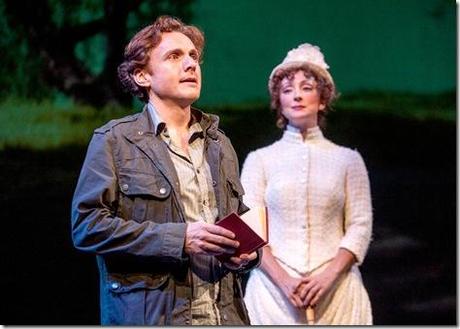 Photos by Liz Lauren
---
artists
cast
Jason Danieley (Georges, George); Carmen Cusack (Dot, Marie); Rachel Cantor (Celeste #1, Naomi Eisen); McKinley Carter (Yvonne, Betty); Sean Fortunato (Jules, Alex); Kevin Gudahl (Man, Bob Greenberg); Derek Hasenstab (Franz, Dennis); Ora Jones (Nurse, Harriet Pawling); Heidi Kettenring (Frieda, Elaine); Elizabeth Lanza (Celeste #2, Photographer); Michael Aaron Lindner (Louis, Billy Webster); Benjamin Magnuson (Boatman, Charles Redmond); Madison Olszewski (Louise, Boy); Linda Stephens (Old Lady, Blair Daniels); Travis Taylor (Soldier, Lee Randolph)
orchestra 
Ryan T. Nelson (conductor, piano, celeste); Andrew McCann, Michelle Lee Elliott (violins); Dominic Johnson (viola); Jill Kaeding (cello); Ben Melsky (harp); Maria Honigschnabel (synthesizer); Sean McNeely, Michael Favreau (woodwinds); Sharon Jones (horn); Ethan Deppe (percussion, synthesizer programming)
behind the scenes
Gary Griffin (director); Brad Haak (musical director); Kevin Depinet (set); Mara Blumenfeld (costumes); Philip S. Rosenberg (lighting); Mike Tutaj (projections); Dan Mead, Ray Nardelli (sound designers); Melissa Veal (wigs, make-up); Michael Starobin (orchestrations); Ryan T. Nelson (conductor); Harrison McEldowney (additional musical staging); Bob Mason (casting); Deborah Acker (stage manager); Sharon L. Wilson (asst. stage manager); Rick Boynton (producer); Barbara Gaines (artistic director); Criss Henderson (executive director); Liz Lauren (photos)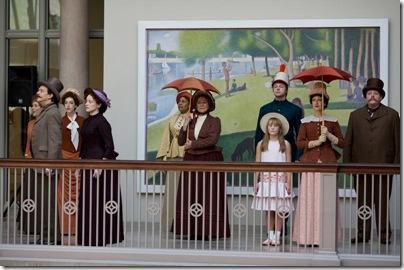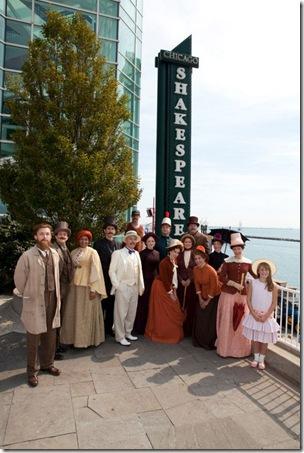 12-1001