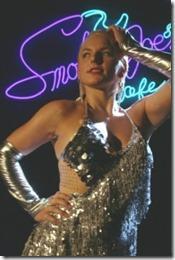 Smokey Joe's Café: 
  The Songs of Lieber & Stoller 
Words/Music by Jerry Lieber and Mike Stoller
Reconceived and Directed by Brenda Didier
The Royal George Theatre, 1641 N. Halsted (map)
thru May 26  |  tickets: $24-$46   |  more info
  
Check for half-price tickets 
  
  
   Read entire review
  
---
Great songs, great performances, great times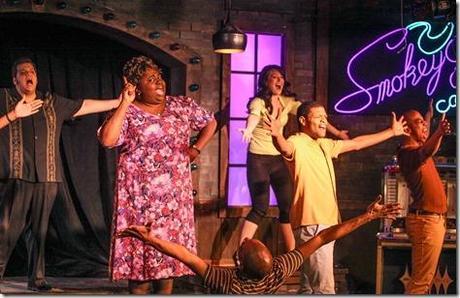 SJC Chicago i/a/w Theo Ubique Cabaret Theatre presents
Smokey Joe's Café – The Songs of Lieber & Stoller 
Review by Joy Campbell
Smokey Joe's Café had a successful Broadway run with over 2,000 performances. Chicago audiences now have another chance to see what all the fuss is about as Theo Ubique Cabaret Theatre (along with SJC Chicago) remounts its successful 2012 production of the show, now at the Royal George Cabaret Theater. In this intimate setting, audiences are treated to the astoundingly prolific and varied body of work created by Jerry Lieber and Mike Stoller, whose contributions made an indelible mark on American music. In the comforting familiarity of a neighborhood night spot, Director Brenda Didier and a nine-member ensemble take us through the 1960s and early '70s with American classics such as "On Broadway," Kansas City," "Stand By Me," "Hound Dog," "Jailhouse Rock," among many others. Handsome guys, gorgeous gals, and costumes by Bill Morey to knock your eyes out make this a visual as well as musical feast, and a terrific four-piece live band tops off the good time.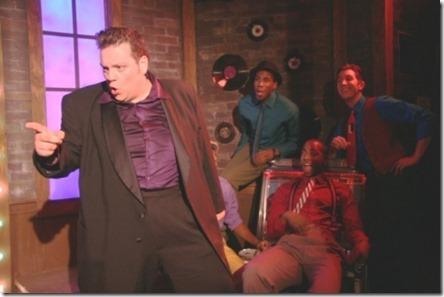 The music is used to tell a story that draws us into a place of lifelong friendships, love, and heartbreak. The show opens sweetly with the beautifully nostalgic "Neighborhood," surrounding us with rich harmonies that swirl like the dust mote around the vintage Rock-ola jukebox. As memories take shape we are drawn in by exuberant choreography, gorgeous voices, and stories told through surprisingly familiar songs (more than once my friend and I commented, "Oh, they wrote THAT?") Cocky young men flirt ineptly to "Young Blood," Sydney Charles puts the "oh no you don't" in a hilarious rendition of "Don Juan," and the energy soars as the women deliver a turbo-charged rendition of "I'm a Woman." Vasily Deris takes a piece of our hearts when he croons his sorrow in "I Who Have Nothing," and when Britt-Marie Siversten shimmies, I am certain she breaks several laws of physics. Each cast member is a standout in his and her own right; as an ensemble, they are a force of nature. There is not a low note in this wonderful evening of extraordinary talent and music.  It makes us wish we could all have a Smokey Joe's in our own neighborhood, and these kinds of friends with which to share it.
Rating: ★★★★
Smoky Joe's Café continues through May 26th at The Royal George Cabaret Theatre, 1614 N. Halsted (map), with performances Thursdays/Fridays at 7:30pm, Saturdays 5pm and 8pm, Sundays 2pm and 6pm.  Tickets are $25-$46, and are available by phone (312-988-9000) or online through Ticketmaster.com (check for half-price tickets at Goldstar.com). More information at SmokeyJoesCafeChicago.com.  (Running time: 1 hour 45 minutes, includes an intermission)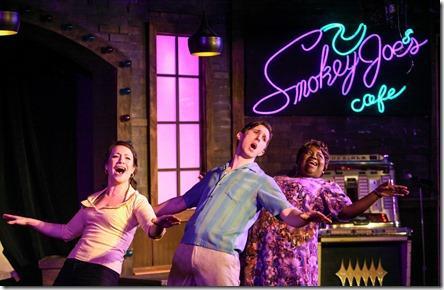 Video was created for the show's 2012 run.
---
artists
cast
Justin Adair, Kasey Alfonso, Sydney Charles, TJ Crawford, Robin K. Dasilva, Vasily Deris, Jaymes Osborne, Steven Perkins, Britt-Marie Sivertsen
band
Kory Danielson (conductor, piano), Danny Howard (drums), Zachary Moore (bass), Joshua Therriault (sax)
behind the scenes
Brenda Didier (director/choreographer); Steve Hiltebrand (associate director, associate producer); Jeremy Ramey (musical director); Rachael Holiday (stage manager); Adam Veness (set designer); Michael M. Nardulli (lighting designer); Mike Ross (sound designer); Bill Morey (costume designer); Paige Keedy (props designer); Andrew Waters (assistant choreographer), Anthony Robert La Penna (photos)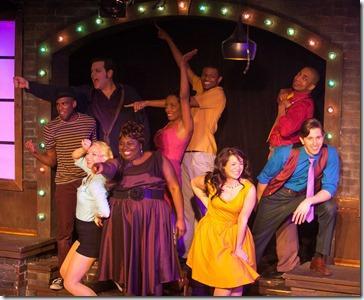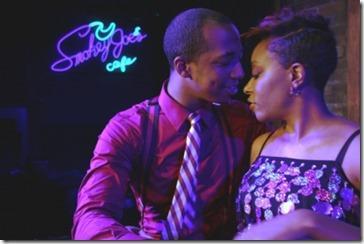 13-0341