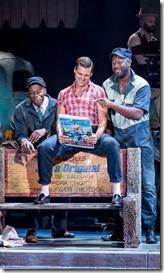 Drury Lanes delivers a powerhouse production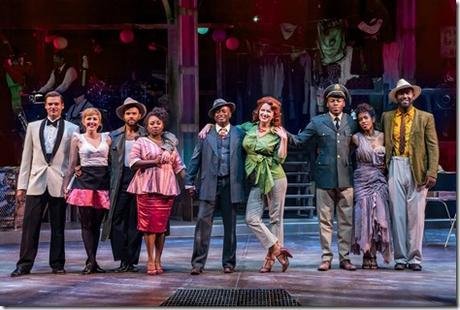 Review by Catey Sullivan
It's not just smoke coming from Smokey Joe's Cafe . The revue of 39 songs by Jerry Leiber and Mike Stoller smolders and burns with a heat and an intensity that all but sets the stage afire. With a non-stop score that includes everything from novelty songs ("Charlie Brown") to stand-up-and-dance rock 'n roll touchstones ("Hound Dog") to tear-inducing ballads ("Spanish Harlem"), the Drury Lane production pretty much blows the roof right off the Oakbrook Terrace venue. Obviously the venerable dinner theater is neither roofless nor scorched, but metaphorically? The place oughtta be in ruins.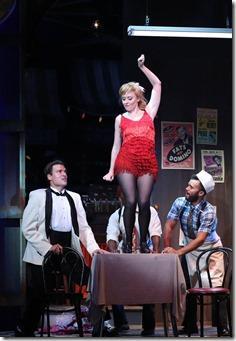 The last big production of
Smokey Joe
that came through town, via a Broadway in Chicago tour in 2000, was a perfunctory revue - a competent showcase of music without a narrative or characters to speak of. Conversely, Director
Marcia Milgrom Dodge
has done things quite differently at Drury Lane. The result is a powerhouse production, both musically and emotionally.
Dodge adds story, characters and a highly Chicago-specific setting to the juke-box show. Kevin Depinet's lavishly detailed set puts the audience square in the middle of Maxwell Street circa 1960, grounding the show in the very era that spawned the score's impossibly catchy songs.
Back then, Maxwell Street was a burgeoning open-air market that Simone de Bouvier compared to the grand bazaars of Marrakesh. You could buy socks by the gross, Polish sausages, lace-front wigs, knock-off Rolexes and (if you knew where to look), marijuana at the near southwest-side open air market. Deemed "Ground Zero for the Blues," Maxwell Street was a musical hotspot where Muddy Waters and Bo Diddly often jammed, and where Mick Jagger once showed up for an impromptu harmonica lesson. Studs Terkel frequented the girlie shows. Marcel Marceau studied passers-by for his mime act.
Depinet's set captures the grit and the vibrancy of both time and place, from the rusting el tracks that frame the set to the used clothing stall draped with slightly forlorn fur stoles. A thousand tiny details make the set seem so real you can practically smell the grease from the used car parts vendor and the burnt coffee sloshing in the pot at the sticky-floored diner. Yet, as evocative as Depinet's set is, the star attraction of is Dodge's nine-person ensemble. Their impeccable vocal blend is impeccable - so much so that the a cappella opening notes will send chills down your back.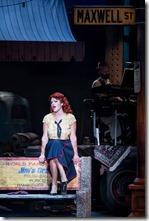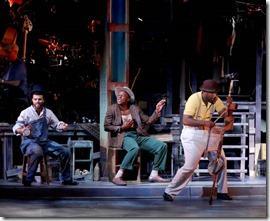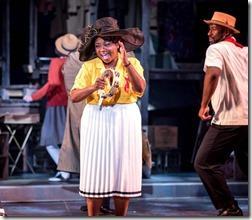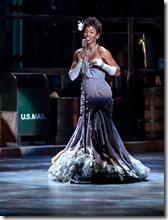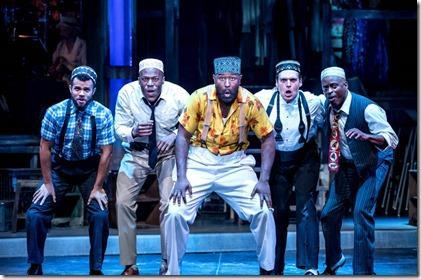 In the opening tune - the little-known "Neighborhood" - Dodge establishes each actor (Donica Lynn, Justin Keyes, Chris Sams, , Meghan Murphy, , Will Skrip, Tyrone L. Robinson and Carrie Abernathy) as a unique character, each one interwoven with the others to create a cross section of humanity that is uniquely Chicago and universally recognizable.
While the ensemble's harmonies are seamless, it is the soloists here - in particular the oh-my-god-I-can-see-the-Promised-Land voice of Lynn - that repeatedly stop the show. Lynn can deliver vocal pyrotechnics that explode up and down a three-octave range with all the color and force of a fireworks finale. But unlike so many contemporary singers, Lynn remains absolutely true to the notes no matter how acrobatic their delivery. There's no showboating with her; when she riffs through a down-and-dirty contralto growl or soars into a stratospheric soprano descant, every last tone has urgency and purpose. Forget Elvis - Lynn's "Hound Dog" is surely making the late, great Moms Mabley smile. And the Act One closer "Saved" is drenched in glory that'll flood your synapses with endorphins, even if you're a bone-atheist.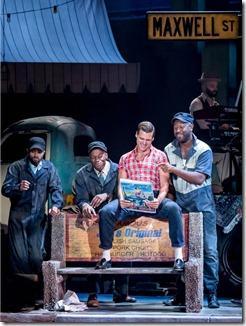 Murphy also delivers forcefield-level vocal power, paired with a presence that makes Joan Holloway Harris look like a nun. At the risk of stating the obvious, that's a combo that slays. With "I Keep Forgettin' " she radiates the unbelievable heartbreak and hair-tearing cognitive dissonance of every woman who has ever been dumped. With the duet "Love Me/Don't," the heat is so palpable you'll want to tell Murphy and vocal partner Blake to get a room already (but not until they're finished singing). And in the enthralling story that unfolds in "Pearl's a Singer," Murphy delivers a "Pianoman"-like tale aching with loss in the first verse and bursting with unstoppable empowerment in the second.
Abernathy and Orman are dancers first and singers second, but they, too, deliver. Abernathy's pas de deux with Sams in "Spanish Harlem" is both as delicate and steely-strong as the rose that blooms through the asphalt In the song. When Orman and Abernathy team up for "Trouble," they set the vixen-meter at 11 for a hilarious, slithery tease of a number featuring a kissing booth. When all four women go to church with "I'm a Woman" Your head will catch on fire in a great surge of empowering energy, and you will want to go home and start slinging lard around just because you can, goddammit.
Then there's Keyes, who - based on the skills he deploys here - should not lack for work again. As a comic, he's uproarious, part Charlie Chaplin and part Richard Pryor. He careens off with the show in "Shopping for Clothes" and "D.W. Washburn." But it's in the 11 o'clock anthem "I Who Have Nothing," that Keyes turns into a mega-watt star. The song has him alone in a spotlight, downstage center as he crescendos through a slow-building rumble that seems to vibrate the very seats by the time he thunders into the final notes. If you're not picking your jaw up off the floor by the song's end, you need to check yourself for a pulse.
By the time the ensemble goes into the "Neighborhood" reprise that (almost) closes the show, you'll feel like these people are your old friends. And when the "Stand By Me" finale kicks into high gear, you'll already be missing both the people and the place.
Smokey Joe's Cafe continues through October 23rd at Drury Lane Theatre, 100 Drury Lane, Oakbrook Terrace (map), with performances Wednesdays at 1:30pm, Thursdays 1:30pm & 8pm, Fridays 8pm, Saturdays 5pm & 8:30pm, Sundays 2pm & 6pm. Tickets are $45-$60, and are available by phone (630-745-3000) or online through Ticketmaster.com (check for half-price tickets at Goldstar.com ). More information at DruryLaneTheatre.com. (Running time: 2 hours 10 minutes, includes an intermission)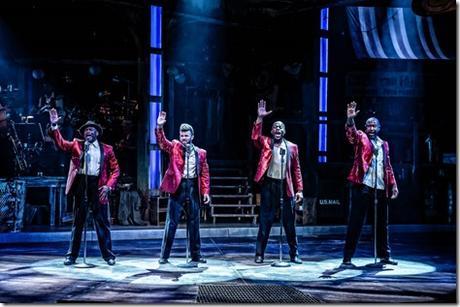 behind the scenes
Marcia Milgrom Dodge (director, choreographer), Kevin Depinet (scenic design), Sully Ratke (costume design), Paul Miller (lighting design), Ryan Hickey (sound design), Michael Baxter (associate director, choreographer), Luicia Lombardi (production stage manager), (dance captain), Brett Beiner (photographer)
Tags: 16-0913, Amy Orman, Brett Beiner, Carrie Abernathy, Carrie Louise Abernathy, Catey Sullivan, Chicago musical theater, Chicago Theater, Chris Sams, Denzel Tsopnang, Donica lynn, Drury Lane Theatre, Jerry Leiber, Jos N. Banks, Justin Keyes, Keirsten Hodgens, Kevin Depinet, Luicia Lombardi, Marcia Milgrom Dodge, Meghan Murphy, Michael Baxter, Mike Stoller, Paul Miller, post, Ryan Hickey, Sean Blake, Shari Mocheit, Sully Ratke, Tyrone L. Robinson, Will Herndon, Will Skrip
Category: 2016 Reviews, Catey Sullivan, Drury Lane Oakbrook, Musical, Musical Revue