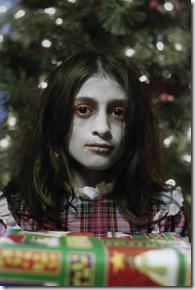 Silent Night
   of the Living Dead 
Written by Sean Harklerode and Chad Wise
Directed by Chad Wise
at Theater Wit, 1229 W. Belmont (map)
thru Dec 30  |  tickets: $18   |  more info
  
Check for half-price tickets 
  
  
   Read entire review
  
---
Plausible spoof for a skit, but not a full-length play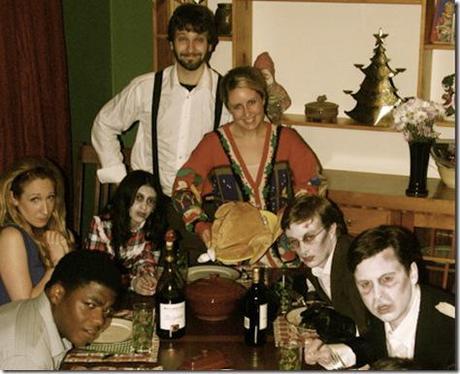 New Millennium Theatre presents
Silent Night of the Living Dead
Review by J.H. Palmer
New Millennium Theatre Company brings yet another film spoof to the stage: Silent Night of the Living Dead, which takes as its inspiration George Romero's groundbreaking 1968 horror film "Night of the Living Dead", incongruously mashed up with Stanley Kramer's groundbreaking 1967 film about race relations "Guess Who's Coming to Dinner?", blended together and thrown against the backdrop of Christmas.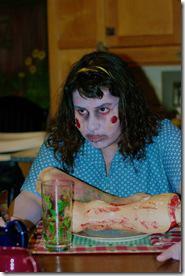 There are moments that work well in this production: the use of pre-recorded "news" footage describing the carnage that takes place at area malls as zombies wreak havoc at local shopping centers;
Andrea Emerick
's portrayal of the zoned-out, unresponsive Barbara is a good homage to
Judith O'Dea's
onscreen interpretation; another highpoint is
Josh Razavi
as the narrator, dressed as Frosty the Snoman and delivering his lines in a Burl Ives tone of voice.
The play opens promisingly enough, with the opening scene bringing us to the graveyard where, in NOTLD, the zombies first make their appearance. Unfortunately, for the most part, the rest of the play falls flat. Brevity is the source of wit, and most of the gags run too long, don't come across as funny, and the pacing drags. As Ben, David Guy is forced to act as the straight man in a sea of heavy-handed dialog that is meant to be funny but comes across as disappointing, depressing, and uncomfortable. Most of the action centers on an interminable Christmas dinner scene that feels like a Saturday Night Live sketch that should have been cut. At the dinner table, zombies are tied to their chairs with tinsel, which felt flimsy even from where I sat in the audience.
The rest of the play drags on to its inevitable conclusion, leaving the audience feeling more like they've reached the end of a short prison sentence than a piece of theater. The only thing that "Night of the Living Dead" shares in common with "Guess Who's Coming to Dinner" is that they were released a year apart; if they are to be successfully blended together with comic intentions, it will take much more than what we've been given here.
Rating: ★½
Silent Night of the Living Dead continues through December 30th at Theater Wit, 1229 W. Belmont (map), with performances Thursdays-Saturdays at 8pm.  Tickets are $18, and are available by phone (773-975-8150) or online at TheaterWit.org. More information at www.nmtchicago.org.  (Running time: 90 minutes with no intermission)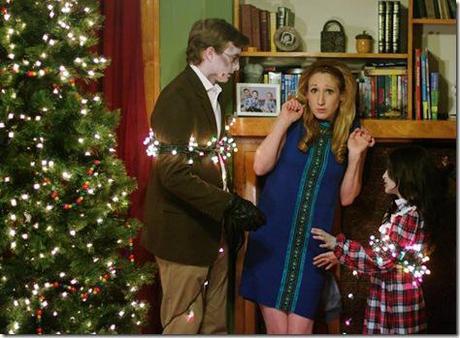 Photos by Peter Fuither
---
artists