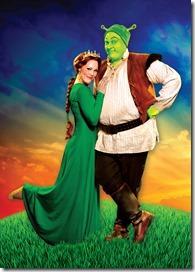 Shrek the Musical 
Book and Lyrics by David Lindsay-Abaire
Music by Jeanine Tesori
Directed by Rachel Rockwell
Chicago Shakespeare Theater, Navy Pier (map)
thru Sept 1  |  tickets: $18-$25   |  more info
  
Check for half-price tickets 
  
  
   Read entire review 
  
---
A magical summer show for kids young and old!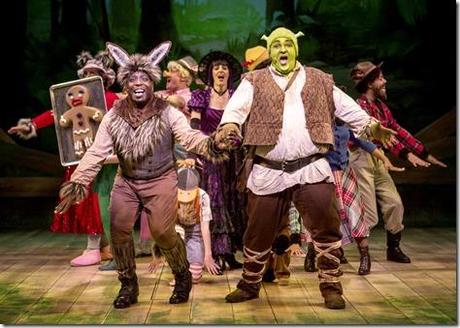 Chicago Shakespeare Theater presents
Shrek the Musical
Review by John Olson
Most of us believe theater is at least a little bit magical, but Chicago Shakespeare's summer production of Shrek the Musical confirms it. How else did they put up a show with such performances and production values that surpass those of the musical's first national tour (which premiered in Chicago three years ago this month) while charging only $18 – $25 per ticket, if not by magic? It's no secret Chicago has the local talent to pull it off, (with most of the performers handling two or three roles), or the design and musical direction skill. But whether it's through smart budgeting, donations, subsidies or what, Chicago Shakes has put up a first rate production that delivers every bit of the entertainment value you'll find in the best of the touring productions that play our big Loop theatres. And for a third or fourth of the price!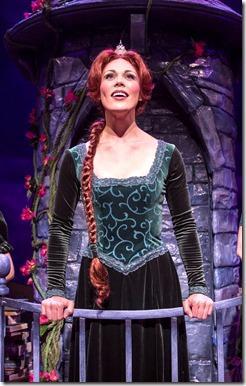 Their
Shrek the Musical
is this year's summer show for young audiences, and the original script and score have been pared down to 80 minutes from two and a half hours. The cuts don't hurt the storytelling at all, though, and to view this as a scaled-down version for kids would be a mistake. It's a full-blown, gorgeously designed production that can be compared with the best of the musicals at places like Drury Lane and the Marriott. The appeal of
Shrek
, of course, has been as a "fractured fairy tale" – having fun with the familiar characters and conventions of storybook land, done with an abundance of inside jokes to keep the adults as entertained as the kids. Truth be told, one could even argue that
Shrek the Musical
is not even all that much of a kids' show. With its many references to popular musicals and the dense, witty lyrics by
David Lindsay-Abaire
, there's a lot that will go over the kids' heads and indeed some of the kids in the audience seemed to have trouble staying focused. The farting/belching duel between Shrek and Fiona got them back, though!
Michael Aaron Lindner has the title role, and he makes a sweet, lovable lug of the green ogre who, in a deal with the evil Lord Farquaad to rescue the Lord's intended bride Fiona from a dragon, ends up wooing and winning the princess himself. Linder is one of the best singer/actors on the local scene and carries this musical with a ton of heart. His Fiona is played by Summer Naomi Smart, and she gives her character a charmingly spunky sort of girl power along with a gorgeous soprano that makes her a totally winning leading lady. James Earl Jones II is a sharp and funny Donkey, filling the hooves of the character initially voiced in the film by Eddie Murphy. The diminutive Lord Farquaad is played (on his knees) by Travis Taylor as a comically bumbling villain who is unlikely to scare the smaller kids in the audience, even as he threatens to torture an animated gingerbread man on a baking tray . The Dragon's big song, "Forever," is belted nicely by Alexis J. Rogers, with solid backup by the three knights she's imprisoned as her guards. The excellent ensemble handles their character roles with skill and dances the heck out of director-choreographer Rachel Rockwell's clever moves.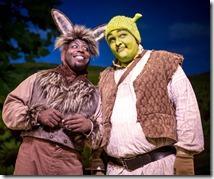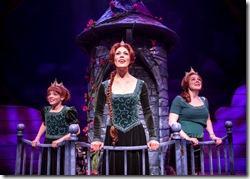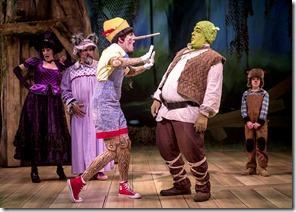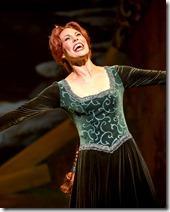 Rockwell, with a major assist from projections designer Mike Tutaj, gives the musical a cinematic flow. The Courtyard Theater's proscenium is filled with a screen hosting marvelous illustrations and animations of Shrek's swamp, a poppy field straight out of "The Wizard of Oz" with poppy props on stage, the dragon's lair, and more. Scott Davis's set populates the thrust stage with 3D elements like houses and trees. The dragon is a large scale puppet manipulated by three cast members, and though there's no credit for puppet design, the special effects are credited to James Savage. Savage, along with lighting designer Jesse Klug, create some magical settings that – with Theresa Ham's costumes and Melissa Veal's wigs and makeup – keep the proceedings a continually surprising visual treat for kids and adults alike. Jeannine Tesori's upbeat score is very effectively reduced for a four-piece orchestra by Ryan T. Nelson, and it's all blended with the cast's terrific voices by music director Michael Mahler and sound designer Garth Helm.
We often talk of the importance of children's theater as an introduction to the art for kids that will build theatergoing into a lifelong habit for many of them. With this production of Shrek the Musical at just $18-25 a ticket, Chicago Shakespeare is giving adults a great opportunity to sample the quality of live musical theater this city regularly provides as well. The all-daytime schedule might inhibit some from giving it a look, but there are of course Saturday and Sunday matinees as well.
Rating: ★★★½
Shrek the Musical continues through September 1st at Chicago Shakespeare Theater, Navy Pier, 800 E. Grand (map), with performances Wednesdays at 11am, Thursdays-Sundays at 11am and 2pm.  Tickets are $18-$25, and are available by phone (312-595-5600) or online through ChicagoShakes.com (check for half-price tickets at Goldstar.com). More information at ChicagoShakes.com/Shrek.  (Running time: 80 minutes, NO intermission)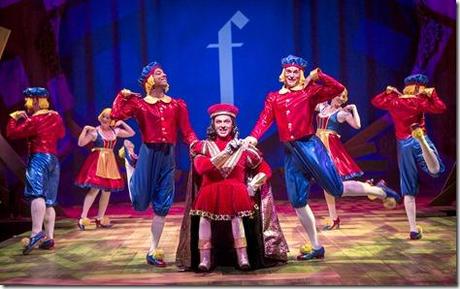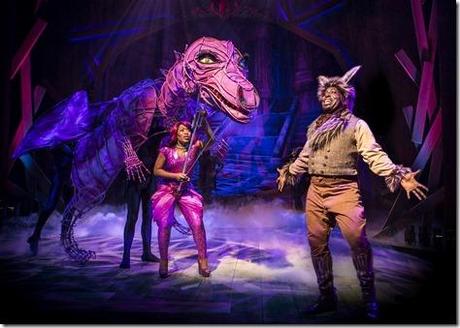 Photos by Liz Lauren
---
artists
cast
Michael Aaron Lindner (Shrek), Summer Naomi Smart (Fiona), Travis Taylor (Lord Farquaad, Farquaad's Guard), James Earl Jones II (Donkey), Alexis J. Rogers (Mama Ogre, Mama Bear, Dragon, Blind Mouse), Joey Stone (Papa Ogre, Papa Bear), Cameron Conforti, Matthew Uzarraga (Baby Shrek, Baby Bear), Adam Fane (Pinocchio), Norm Boucher (Big Bad Wolf, Thelonius, Dwarf), Liam Quealy, Will Skrip (Little Pigs, Knights), Tommy Lucas (through Aug 11: Little Pig, Farquaad's Guard, Knight, Bishop), Jon Jorgenson (beginning Aug 11: Little Pig, Farquaad's Guard, Knight, Bishop), Sarah Page (Wicked Witch, Blind Mouse), Caroline Heffernan, Emily Leahy (Ugly Ducklings, Young Fiona), Rebecca Pink (Peter Pan, Gingy, Bluebird, Blind Mouse).
behind the scenes
Rachel Rockwell (director and choreographer), Michael Mahler (music director), Mike Tutaj (projections design), Scott Davis (scenic designer), Theresa Ham (costume design), Jesse Klug (lighting design), Garth Helm (sound design), Melissa Veal (wig and make-up design), James Savage (special effects design), Bob Mason (casting), Ryan T. Nelson (orchestral reduction), Deborah Acker (production stage manager), Liz Lauren (photos).
13-0719