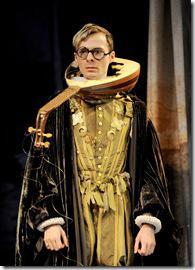 Short Shakespeare! 
   The Taming of the Shrew 
Written by William Shakespeare 
Adapted and Staged by Rachel Rockwell
Chicago Shakespeare, Navy Pier (map)
thru April 7  |  tickets: $16-$20   |  more info
  
Check for half-price tickets 
  
  
   Read entire review
  
---
Rockwell creates a frolicking, sublime romantic comedy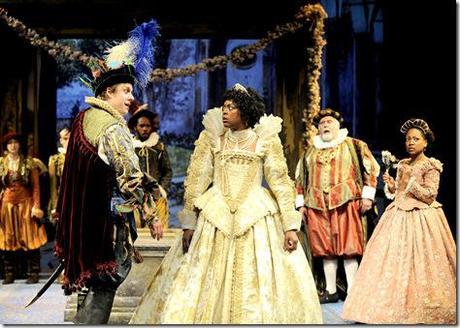 Chicago Shakespeare Theater presents
Short Shakespeare! The Taming of the Shrew
Review by Katy Walsh 
Ninety minutes with no intermission is a growing trend in the theater industry.  Playwrights are adapting new plays for an attention-span-challenged world.  People want information in tweet size nuggets.   Everyone, at all times, is expecting a very important call or text.  They can't be off the grid for any length of time. So, how do you take a classic and shorten it?  How do you quickly tame a shrew?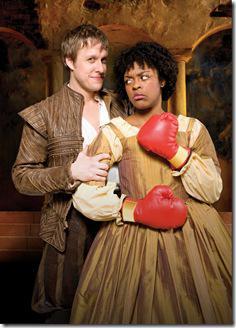 Chicago Shakespeare Theater presents
Short Shakespeare! The Taming of the Shrew.
  The town is in love with Bianca.  She's pretty. She's sweet. She's a prize.  The men are smitten.  But before some lucky guy can wed her, somebody needs to marry her cursed sister, Katherina.  She's sassy.  She's tough.  She's a bitch. It's going to take a man with a lot cojones to bed her down.  Petruchio just arrived in town.  He's cocky.  He's driven.  He's a match.
Short Shakespeare! The Taming of the Shrew
is a timeless romantic comedy for today's modern world.  
Adapter and director Rachel Rockwell masterfully condenses Shakespeare's comedy.  Rockwell stays true to the context but hones in on the love.  Instead of the notion that Petruchio browbeats Katherina into submission, Rockwell shows their mutual attraction and transformation.  It's sexy and playful.  On opening day, I've never heard so much applause *during* a show.  The audience loved the performances so much that they spontaneously clapped frequently.  Not just at the end of the scene, but often just at the end of a great line.  The ensemble is sublime and the audience appreciated it.  In the leads, Matt Mueller (Petruchio) and Ericka Ratcliff (Katharina) sizzle.  Mueller delivers his prose with swagger and contemporary attitude.  Ratcliff's facial expressions and presence is moxie-to-the-max.  The twosome is a fun and fiery coupling.  The entire cast is on their game.  It's a winning combination.  A couple comedic standouts among the shrew team are Alex Goodrich (Tranio) and Matthew Sherbach (Hortensio).  Both Goodrich and Sherbach seem to get a laugh with only one word uttered or one hand fluttered.  They are hysterical!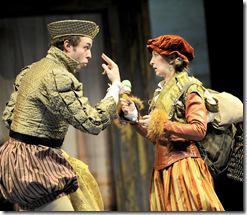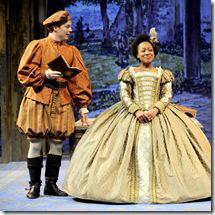 Chicago Shakes presents its Short Shakespeare in order to introduce a new generation to plays that are hundreds of years old.  As part of this education series, there is a pre and post show explanation.  Before the show starts, Jessie Fisher (Biondella) comes out and welcomes.  Fisher puts the audience at ease and gives tips for acclimating to the unfamiliar language.  After the show, the cast holds a Q&A facilitated by Director of Education Marilyn J. Halperin.  These are wonderful techniques to cultivate an appreciation of the Bard.  And Short Shakespeare! The Taming of the Shrew is a perfect starter play.  The frolicking comedy is definitely less intimidating than some of Shakespeare's dramas.  
Rockwell doesn't domesticate this shrew. She crushes it!  Short Shakespeare! The Taming of the Shrew is outstanding.  I loved every seventy-five minutes of it – a must see for young and old alike!
Rating: ★★★★
Short Shakespeare! The Taming of the Shrew continues through April 7th at Chicago Shakespeare Theater, Navy Pier (map), with performances Saturdays at 11am.  Tickets are $16-$20, and are available by phone (312-595-5600) or online here (check for half-price tickets at Goldstar.com). More information at ChicagoShakes.com.  (Running time: 75 minutes, no intermission)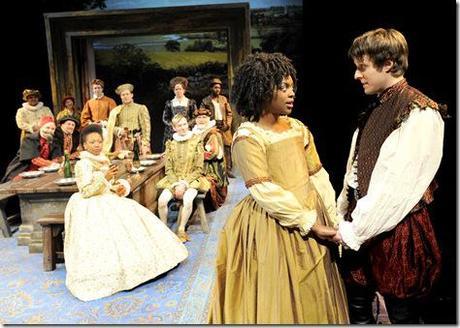 All photos by Liz Lauren
---