Short Shakespeare!
   Romeo and Juliet 
Written by William Shakespeare
Adapted and Directed by Rachel Rockwell  
at Chicago Shakespeare, Navy Pier (map)
thru March 23  |  tickets: $16-$20   |  more info
  
Check for half-price tickets 
  
  
   Read entire review
  
---
Abridged adaptation great way to introduce kids to Shakespeare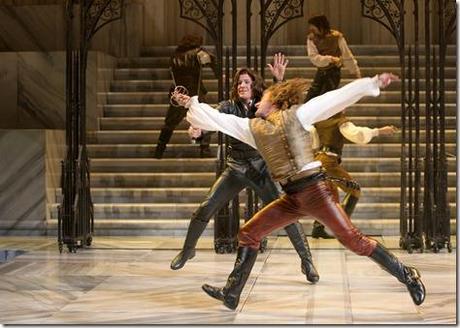 Chicago Shakespeare Theater presents
Short Shakespeare! Romeo and Juliet
Review by Joy Campbell
In adapting the mother of all teen dramas, Jeff Award-winning director Rachel Rockwell has trimmed Shakespeare's script to a lean 75 minutes to create a "family-friendly introduction to Shakespeare." Purists worried about such radical surgery need not fear: Rockwell has done an excellent job of distilling the script to its core elements, leaving essential plot lines and famed passages untouched, and retaining the flow and rhythm of the script.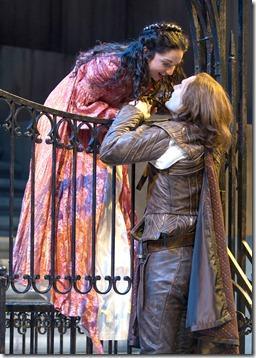 Recommended for kids 10 and up, this stripped-down version features no long monologues, no lengthy existential ponderings, no bawdy scenes inserted for the benefit of the groundlings (although it does not shy away from the tasteful, elbow-nudging allusions to sex, which of course went over very well with the young folks). The script sticks to the main story line, retaining the scenes that show Romeo hanging out with his pals, mooning over unrequited love for Rosaline; the feud between the Montagues and Capulets (complete with, of course, lots of sword fighting); and of course the tragic ending. The pace is energetic but not rushed; the many scene changes are accomplished quickly, aided by
Scott Davis
' stripped-down set consisting of three sets of wheeled gothic metal arches that configure variously to form windows, doors, passageways, and of course, the famed balcony. Candelabra and lanterns lend a period effect. Recorded music is also used at times, although during the swordfighting scenes the volume makes it difficult to hear lines.
Selecting a piece whose central characters are relatable to young audiences is a savvy move. Laura Rook's excellent Juliet is a giddy, excited teenager whose exchanges with her mother (Melissa Carlson) and her Nurse (Maureen Gallagher) clearly rang true with the young people in the audience, judging by their responses. Romeo's (Christopher Allen) teen angst over Rosaline's rejection of him, and his subsequent besotted reaction to Juliet also seemed to resonate. The cast is excellent, and the many school groups in the audience were noticeably engaged. Looking around, I was reminded that kids can appreciate a lot more than we often give them credit for, and that live theater provides an electricity and immediacy not found on a flat screen. Not to mention that the beauty of the Chicago Shakespeare theater, both its interior grandeur and its lobby's breathtaking views of the city, makes for a memorable experience for kids attending theater for the first time. For parents, there are the benefits of easy discounted parking and the proximity to Navy Pier's food court.
Appropriately, there are instructive aspects to the production. Before the show, one of the actors gives the audience an upbeat primer on live-theater etiquette, explaining the impact that certain disruptions (electronic devices, talking) can have on performers in live theater, and to give some advice on how to watch the show ("If you don't understand the words, pay attention to our expressions, the tone of our voices, our actions, and you will get a good idea of what is happening based on context"). As a means of connecting with the audience, it's a nice touch. After the performance, the cast engages in a 15-minute Q&A with the audience, who at the performance I attended asked questions ranging from "Is this based on a true story?" to "How do you swordfight and not get hurt?" The program folds out to questions and exercises about the play to help kids further consider the story and plot. After the show, actors are available on the lobby for one-one one conversations with audience members.
This truncated version of Romeo and Juliet is not just for kids, however. For those wishing to try Shakespeare but who are intimidated by a commitment to a full-length production, this show is an excellent way to get a real appreciation for Shakespeare that is less demanding but fully entertaining nonetheless.
Rating: ★★★
Short Shakespeare! Romeo and Juliet continues through March 23rd at Chicago Shakespeare Theater, Navy Pier, 800 E. Grand (map), with performances Saturdays at 11am.  Tickets are $16-$20, and are available by phone (312-595-5600) or online through their website (check for half-price tickets at Goldstar.com). More information at ChicagoShakes.com.  (Running time: 75 minutes without intermission)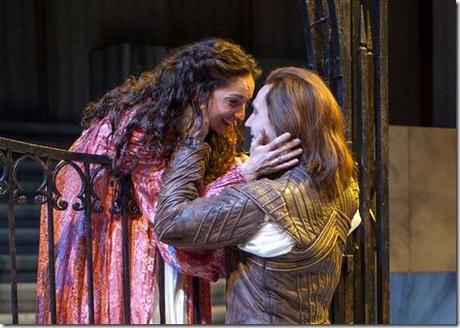 Photos by Michael Brosilow 
---
artists
cast
Laura Rook (Juliet); Kurt Ehrmann (Lord Capulet); Melissa Carlson (Lady Capulet); Maureen Gallagher (Nurse); Samuel Ashdown (Tybalt); Alejandro Cordoba, Edgar Miguel Sanchez (Sampson); Tim Gittings (Peter, Friar John); Christopher Allen (Romeo); Lynn Robert Berg (Lord Montague, Friar Laurence); Nicholas Harazin (Benvolio); Christopher Sheard (Balthazar, Apothecary); Kamal Angelo Bolden, Levenix Riddle (Prince Escalus, Paris); Jeb Burris (Mercutio)
behind the scenes
Rachel Rockwell (director); Scott Davis (scenic designer); Theresa Ham (costume designer); Greg Hofmann (lighting designer); Ethan Deppe (composer); Melissa Veal (wig and make-up designer); Chelsea Meyers (properties master); Matt Hawkins (fight choreographer); Matt Schwader (verse coach), Michael Brosilow (photos)
13-0248