John Godber's Salt of the Earth debuted 25 years ago during a transitional period for the United Kingdom, as then Prime Minister Margaret Thatcher was in the process of closing over one-hundred of the country's coal mines. Generations of blue collar laborers were giving way to a workforce of college-educated people.
This class conflict purports to be the central focus of Godber's play, though it is less about the conflict itself and more the chronicles of a family during this period. The action spans four decades (1947-1988) and is partially based on Godber's own experiences growing up in northern England. These two factors combine to create a rather unfocused narrative.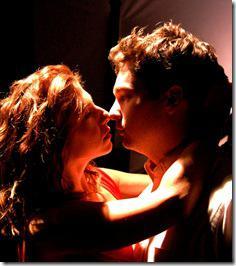 Harry (
Rob Glidden
) and May (
Kathryn Bartholomew
) are a couple who argue as much as they laugh. They are elated when they learn that May is pregnant, which inspires some jealousy in her sister Annie (
Suzanne Miller
), who is unable to have a baby with her husband Roy (
Joshua Katzker
). This is treated as though it will be a central conflict, but it soon becomes an afterthought.
The action is slow until there is a cave-in at the mine in which Harry and Roy work. This is the most powerful moment in the play, with exceptional sound and lighting combined with an understated monologue from Glidden. Unfortunately, the event is barely even acknowledged subsequently, and it becomes just another bullet point in a list of "and then this happened."
As time advances, we see a glimpse of Harry and May's son Paul (Kevin Lambert) and his eccentric friend Tosh (Dan Meisner). These actors inject a lot of energy onto the stage, but they go overboard with some of the physicality used to indicate how young they are. In contrast, there is little done with makeup to advance the age of any of the characters over this 40-year span, even though a 10-minute intermission seemingly provides ample opportunity for that to happen.
Paul's flirtations with his high school sweetheart Kay (Stevie Chaddock Lambert) make for one of the more interesting relationships in the play. The two actors have great chemistry onstage (which makes sense, as they are married in real life). Paul meets someone else in London after going to university (played by the same actress, who does an exemplary job of making them two distinct characters). It's ultimately unclear, however, why he chooses one over the other.
May has intermittent health issues that, once again, don't amount to much in the overall arc of the play. They might have been a factor in May estranging herself from both her sister and her son, as those two events appear to come out of nowhere. May's decision of whether or not to reconcile with them could have made for a great central focus, rather than just the last event in a timeline of sometimes-connected events.
The cast does a commendable job of carrying this often muddled script, as their interactions create a lot of interesting situations and relationships. Exposition is a necessary evil when 40 years are condensed into one evening onstage, but the points in which the characters address the audience to advance the timeline don't work nearly as well as those in which the characters directly interact. They also typically do better with dramatic moments than they do with the humor, which is sometimes overplayed.
One of the production's triumphs is the Northern English accents used by the cast (kudos to dialect coach Dan Meisner). They come off as authentic without compromising the audience's ability to understand the words, which isn't an easy task. There are instances when the accents drop – as well as the lines – but they don't detract much from the overall enjoyment of the show.
Salt of the Earth works well as a slice-of-life documentary on Yorkshire culture a generation or two ago. As an actual narrative, it leaves much to be desired. Fortunately, the Ka-Tet Theatre ensemble does enough to boost the script's shortcomings into an interesting evening of theatre.
Rating: ★★½
Salt of the Earth continues through August 11th at City Lit Theatre, 1020 W. Bryn Mawr (map), with performances Thursdays-Saturdays at 7:30pm, and select Sundays at 2:30pm.  Tickets are $20, and are available by phone (800-838-3006) or online throughBrownPaperTickets.com (check for half-price tickets at Goldstar.com). More information at KaTetTheatre.org.  (Running time: 1 hour 50 minutes, includes an intermission)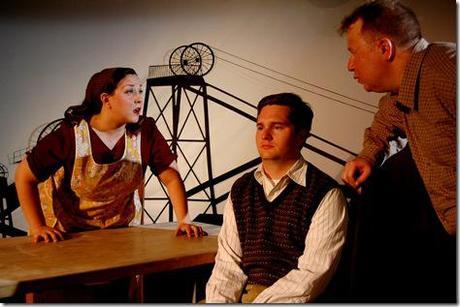 Photos by Kaleigh Lockhart
---
artists
cast
Kathryn Bartholomew (May), Suzanne Miller (Annie), Rob Glidden (Harry), Joshua Katzker (Roy),Kevin Lambert (Paul), Stevie Chaddock Lambert (Kay/Cherry), Dan Meisner (Tosh/Mr. Poole),Misti Patrella (Mrs. Gillespie/Mrs. Potter)
behind the scenes
Thomas Murray (director); Tina Frey (stage manager); Caitlin Boylan (production manager); Barbara Trinh (props); Henry Behel (scenic designer, tech director); Karen M. Thompson (lighting); Robert P. Lloyd (sound design); Rachel Lambert (costumes); Suzanne Miller (producer); Dan Meisner (producer, dialect coach); Scott Allen Luke (master carpenter, box office manager); Nicholas J. Carroll (master electrician); Kaleigh Lockhart (photos)