One of the first questions asked when a baby is born, or in the weeks following their birth is about their weight. Weight and babies go hand in hand - with health visitors and doctors using weigh to keep a close eye on the progress of a baby to ensure that they are getting plenty to eat and a baby who is gaining weight is generally seen as 'thriving'.
Isabelle's weight is something I like to keep a close eye on. As a breastfed baby, in particular, it's hard for me to ensure that she is getting plenty to eat, and so regular weight checks help put my mind at ease that she is getting plenty and is doing well. However, health visitor visits are few and far between after the first few months, so many parents like to own their own set of baby scales in order to keep track of their baby's weight gain in their own home.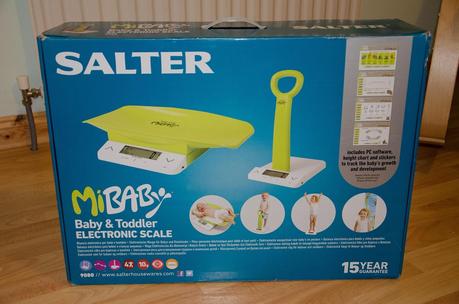 The Salter Mi Baby Baby & Toddler Electronic Scales available from Origin are one way of doing this. The scales are suitable, not only for babies, but for toddlers and children right up to 4 stone, and cleverly adapt to grow with your child for easy measurement.
The scales are so easy to set up - they even come with batteries which is rare these days! I literally took them from the box and was able to use them without even a cursory glance at the instructions. Like my health visitors' scales, the Mi Baby scales have a long 'tray' in which to lie a baby for easy measurement, and Isabelle was happy to lie down each time I wanted to weigh her (she has clothes on for the sake of her modesty here!)


The scales read out in kilos which, although isn't traditionally what us Brits use to talk about baby weight, is actually the measurement used by health care professionals for babies and is always easy to translate into pounds and ounces. The large digital display was clear and easy to read.
The scales then convert to toddler scales with the addition of a handle to help keep little ones steady and focused on the scales - as demonstrated by beautiful Jacob below. They simply stand on the scales as normal, and the read out is taken in the same way.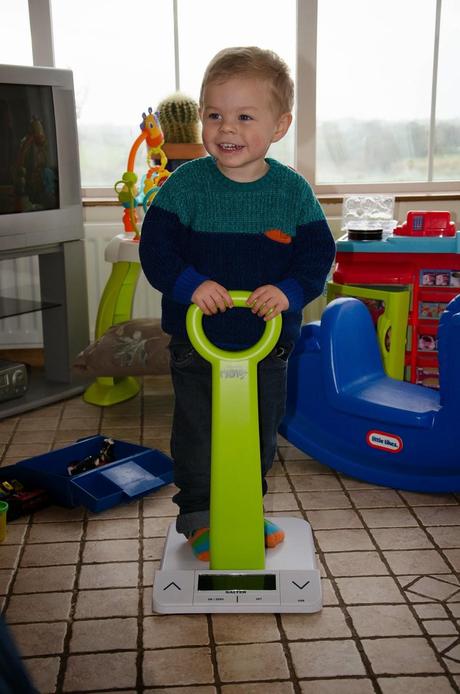 The scales also come with a great height chart to track your little ones growth upwards - two charts actually; one in feet and inches, the other in centimetres. There are stickers to easily pop onto the chart to show what height they are at each age, and plenty of blank stickers to fill in on your own, which I think is a simple but very practical idea.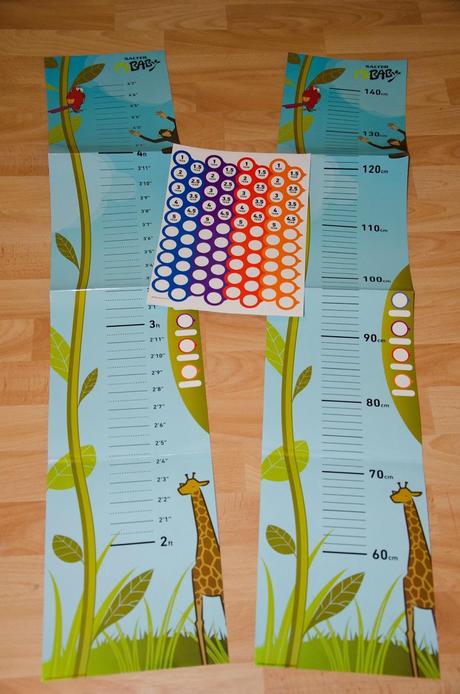 Along with being able to take readings of your baby or toddler's weight, what is really clever about the Mi Baby scales is that they come with PC software to track your little one's progress - their weight, height, BMI, teeth and developmental milestones. Using the software provided, you simply input the data in to the program, and you can save each child's information under their own section to keep track of their development, alongside up to 3 siblings. Think of it as the digital version of you 'red book' from the health visitor - one you can update easily, and keep track of very quickly.
Overall, the Mi Baby Scales are simple, easy to set up, and easy to use. Most of all, they give parents the peace of mind that their little one is growing up big and strong, all in the comfort of your own home. The Salter Baby and Toddler Mi Baby Scales are available from Origin for £79.99, and come with a 15 year guarantee.