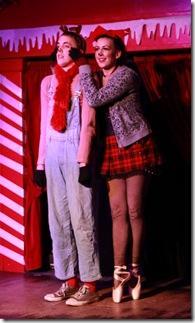 Rudolph the
   Red-Hosed Reindeer  
By David Cerda and Scott Lamberty
Directed by AJ Wright
at Mary's Attic, 5400 N. Clark (map)
thru Dec 29  |  tickets: $12-$22   |  more info
  
Check for half-price tickets 
  
  
   Read entire review
  
---
Lots of fun with these reindeer games!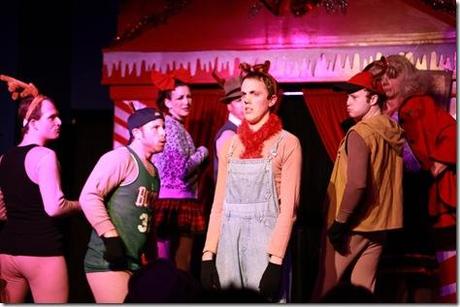 Hell in a Handbag Productions presents
Rudolph the Red-Hosed Reindeer
Review by Joy Campbell
Oh, it's hard to be different.
We're all familiar with the story of Rudolph, the reindeer barred from reindeer games for that one little difference. You remember, of course.
For the 15th year, Hell In a Handbag Productions riffs on the Rankin-Bass franchise, using the time-honored message of Rudolph (be yourself), updating it for a more mature adult audience.   Case in point: this time Rudolph is a cross-dresser.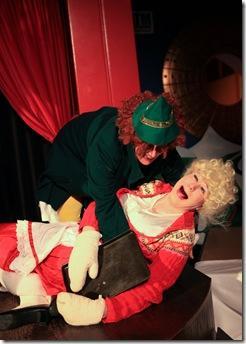 Artistic Director and Queen Mother of HIAHP
David Cerda
calls the Rudolph story "the precursor to the 'It Gets Better' campaign," and indeed, this tale of finding your own "complicated beauty" despite popular opprobrium is the reason this story has been so popular with kids for so long. Who has never felt odd or different; or found it hard to fit in?
"Rudolph" employs the trademark Hell In a Handbag genius for uproariously irreverent and laser-beam satire combined with ridiculously versatile talent to take a hard look at the pressures to conform that are part of the human condition.
Cross-dressing Rudolph (the remarkably expressive Alex Grelle) is an embarrassment to his father; Herbie (Chad) the pudgy, poorly-coiffed elf is an embarrassment to the shallow, gym-addicted elves around him who demand he be more of a pumped-up queen ("elves are supposed to be fabulous!"); Coach Comet (Michael S. Miller) is selling enhancement drugs so that his bucks can compete; and Santa (Michael Hampton) is a degenerate tyrant around whom even the does aren't safe.
Ed Jones is transcendentally funny as Mrs. Claus, the blowsy, drunken crack whore married to Kris Kringle. Their delightfully abusive fight scenes are straight out of Who's Afraid of Virginia Woolf? If only Liz had had a Carol Channing doll in which to confide…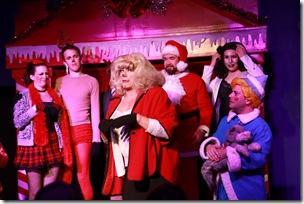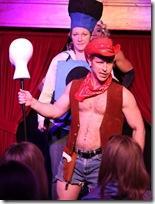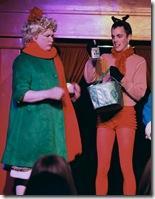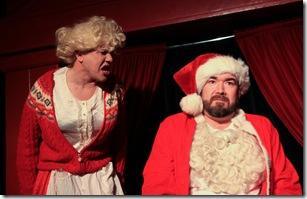 Barbed social and political commentary abounds; targets include the Tea Party, loss of manufacturing jobs overseas, "the 47%," the Elmo underage sex scandal, and my favorite, "legitimate rape" as represented by a particularly unusual doll on the Island of Misfit Toys.
Rudolph, Herbie, Clarice (Katherine Glavin), and butch Yukon Cornelia (a delightfully dense Lori Lee) eventually meet up with the dreaded Abominable Drag Beast, a creature with its own secret, and in the end everyone learns that the most important thing of all is to be yourself. Luckily for us, they learn it after 90 minutes of perfect comic timing, cleverly infectious songs, and a whole lot of fun. Bravo misfits, everywhere!
Rating: ★★★
Rudolph the Red-Hosed Reindeer continues through December 29th at Mary's Attic, 5400 N. Clark (map), with performances Thursday through Saturday at 7:30pm. Tickets are $12-$22 (VIP tix: $35-$100), and are available by phone (800-838-3006) or online through BrownPaperTickets.com (check for half-price tickets at Goldstar.com). More information at HandBagProductions.org.  (Running time: 90 minutes, no intermission)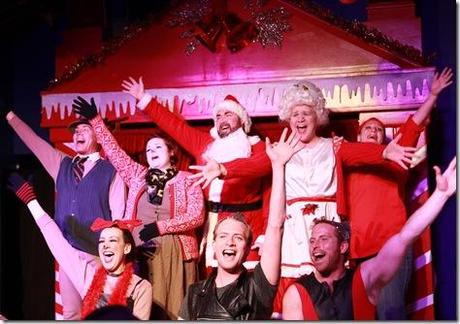 Photos by Rick Aguilar Studios 
---
artists
cast
Eli Branson (Tom Donner, King Moon Racer); Billie Bryant (Jane Donner, Dolly); John Cardone (Spike, Misfit Toy); Christopher Carpenter (Sam the Snowman); David Cerda (Gladys Dasher); Chad (Herbie); Barbara Figgins (Elfina, Misfit Toy); Katherine Glavin (Clarice Comet); Alex Grelle (Rudolph); Michael Hampton (Santa Claus); Ed Jones (Ruth Claus, others), Lori Lee (Yukon Cornelia); Terry McCarthy (Connie Vixen, Trailer Trash Barbie); Michael S. Miller (Coach Comet, Charlie in the Box); Joshua Peterson (Score, Misfit Toy); David Lipschutz (understudy)
behind the scenes
AJ Wright (director, associate producer); Steve Love (choreography); Kate Setzer Kamphausen (costumes); Peter Neville (video production); Derek Van Tassel (asst. director); R. Christopher Maxwell (stage manager); Stephen Hermann (scenic designer); Marie Quinn (sound designer); Jacob Green (wig designer); Chris Carpenter (violence designer); Jeff Shields (prop designer); Michael S. Miller (graphics); Katherine Glavin (dance captain); Rick Aguilar (publicity photography); David Cerda (executive producer); Rick Aguilar Studios (photos)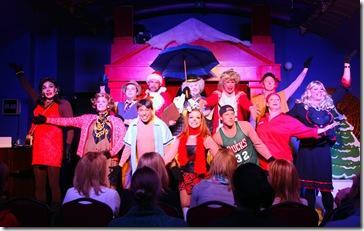 12-1202