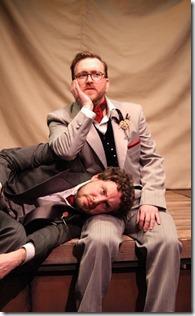 Rosencrantz and
   Guildenstern Are Dead
Written by Tom Stoppard  
Directed by Beth Wolf
at Athenaeum Theatre, 2936 N. Southport (map)
thru May 24  |  tickets: $12-$22   |  more info
  
Check for half-price tickets 
  
  
   Read review
  
---
Truly intoxicating theatre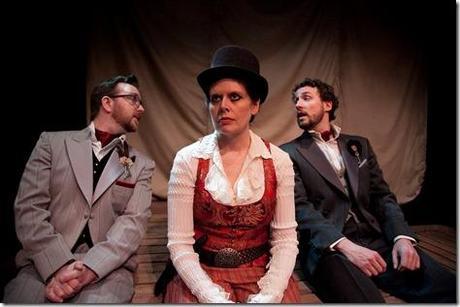 Promethean Theatre Ensemble presents
Rosencrantz and Guildenstern Are Dead
Review by Clint May 
Tom Stoppard's way with words and high-minded themes is equal parts dazzling and dizzying. Fans of Pinter, Mrożek and Beckett must include this work*—which put him on the map in 1966—as one of the pinnacle achievements of absurdist theater (and theater in general). It's unique among its brethren in that there is a method for the madness in the dreamlike surreality of its protagonists. As beings created for another work of literature, Rosencrantz and Guildenstern exist purely to serve its plot. When Shakespeare's attention is not focused on them, his creations are bereft of purpose and "free" to expound philosophically on the nature of existence with only their slightly sketched histories and intellects brought to bear. Only when the plot's machinations move to encompass them do they snap into coherence again. It's as though Stoppard found these two hapless clowns behind the curtain of a production of Hamlet and wrote down what he saw.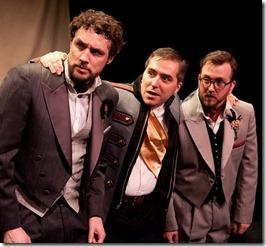 Promethean Theatre's steampunk-styled realization of this epi-universe is fantastically cast and expertly directed. Even clocking it at nearly the same length of an average production of Hamlet itself, the time flies by. Two intermissions are necessary more for catching a breath than a lavatory visit. Truly intoxicating theater.
From the moment a man on a horse delivers a summons to Elsinore Castle, the hapless pair of Rosencrantz (Nick Lake) and Guildenstern (Tom McGrath) begin noticing strange occurrences. A game of coin flipping turns against the law of averages by giving only heads with every flip. When they encounter the troupe of bloodbath-loving tragedians en route to inadvertently catch the conscience of the king, they are almost dragged into a reenactment of the rape of the Sabine women. Suddenly inside the castle, they receive instructions to spy on their boyhood friend Hamlet (Brendan Hutt) and discover the source of his seeming insanity. They continue to run into the tragedians and their leader (Cameron Feagin), who comments upon the pair's discussions and gives clairvoyant demonstrations with her rapacious band of thespians.
Given the bluntness of its title (taken directly from Hamlet's final scene), it's only natural that Rosencrantz and Guildenstern frequently deals in the nature of existence, particularly in relation to an unavoidable death in a deterministic universe. Even when they see their fate prefigured in The Murder of Gonzago, they cannot avoid their scripted end. Issues of identity and memory are continually revisited as the pair continue to forget which one they are, how they got to their present location, or what it was they were meant to do. This leads to frequent moments of dry humor as they inadvertently unearth the foibles underpinning our supposedly logical world or simply mistake Hamlet's soliloquies for a crazy person talking to himself.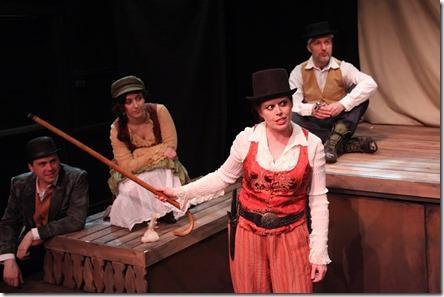 Lake and McGrath are a formidable match with a pitch-perfect rapport. Not only do they deliver Stoppard's complex wordplay with expert timing (the tempo must be tuned to the swift), they bring more than the usual depth of feeling. Though Stoppard calls for them to be mostly interchangeable, they find a way to be deliciously idiosyncratic. However, it's the roguish Feagin who steals every scene with her manic, kohl-encircled eyes and wicked exegesis on the interplay of art and life—she is the existential dilemma incarnate. Beth Wolf's direction is tight and focused in the face of the breathless pacing that's required, and she has wisely ensured that her main men are only dimly aware of their irony-filled lives (as opposed to other, more tongue-in-cheek interpretations). Her decision to set the world against a trendy steampunk backdrop is more of a take-it-or-leave it choice, though it does inspire some beautifully detailed and dapper costumes from Beth Laske-Miller. I just couldn't help but wish the anachronistic aesthetic had been brought into Sarah Dalton Lewis' set design. Though I say again, it's hardly here or there—the production could be performed in burlap sacks on hay bales and still be stunning.
If all the world is indeed a stage, we laugh at these antics in self-defense. Absurdist theater taps into our shared fears of the meaningless of life in the face of an invisible author (whether that author is sentient or not is irrelevant). Rosencrantz and Guildenstern Are Dead is a roller coaster ride of heady brilliance, but taken with these two poignant, pathetic paupers, it's one of the most rewarding trips in theaterdom.
Rating: ★★★★
*One thing I've never been able to figure out is why so many absurdist works feature two men either exclusively or as the main characters, as all those referenced works including this one have done.
Rosencrantz and Guildenstern Are Dead continues through May 24th at Athenaeum Theatre, 2936 N. Southport (map), with performances Thursdays-Saturdays at 7:30pm, Sundays 2pm.  Tickets are $12-$22, and are available by phone (773-935-6875) or online at OvationTix.com(check for half-price tickets at Goldstar.com). More information at PrometheanTheatre.org.  (Running time: 2 hours 30 minutes, includes two intermissions)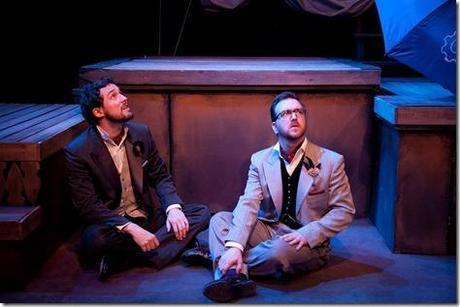 Photos by Johnny Knight 
---
artists
cast
Gary Barth (Claudius, Tragedian), David Cady, Jr. (Polonius, Tragedian), Jared Dennis (Horatio, Tragedian), Ashlee Edgemon (Ophelia, Tragedian), Cameron Feagin (Player), Brendan Hutt (Hamlet), Nick Lake (Rosencrantz), Tom McGrath (Guildenstern), Cami René Philgreen (Ambassador, Tragedian, Pirate), Melissa Reeves (Gertrude, Tragedian), Elizabeth Rentfro (Soldier, Tragedian, Pirate)
behind the scenes
Beth Wolf (director), Nicole Hand (assistant director), Nathaniel Nesheim-Case (stage manager), Sarah Dalton Lewis (scenic design), Megan Turnquist (lighting design), Beth Laske-Miller (costume design), Michael Kune (sound design), Cate Gillespie (dialect coach), Ross Lemmon (props design), Dave Skvarla (violence design), John Arthur Lewis (production manager), Johnny Knight (photos)
14-0450