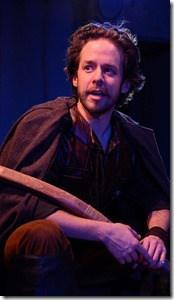 Robin Hood
   and Maid Marian 
Adapted by Forks & Hope 
at Hugen Hall, 3829 N. Broadway (map)
thru Dec 23  |  tix: $15  | more info 
  
Check for half-price tickets  
  
---
A bullseye to the funny bone and the heart!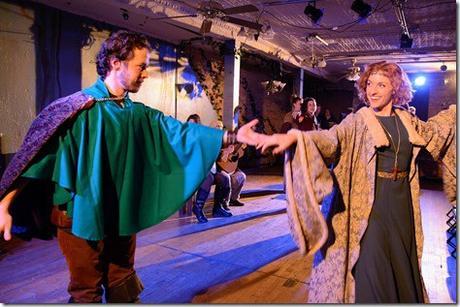 Strawdog Theatre Company i/a/w Forks & Hope presents
Robin Hood and Maid Marian
Review by Clint May 
A winsome and whimsical treat visits Hugen Hall for one of its final days as a performance space. Forks & Hope Ensemble—gaining a reputation for lovingly adapting works by great poets—turns their talents to Alfred Lord Tennyson's lesser-known "The Foresters," or Robin Hood and Maid Marian with original music by Arthur Sullivan. Infused with homespun charm, this tale of love among the trees and honor among the thieves is a jovial visit to one of the most well-known of landmarks in folklore. Forks & Hope gracefully mingles tongue-in-cheek Monty Python-esque humor with heartfelt emotion in this world-premiere that will make men and women alike merry indeed.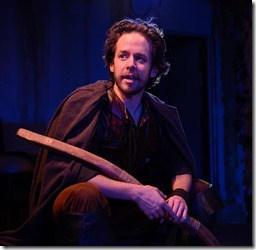 Though many versions of the master archer exist, Tennyson sticks with the one now most commonly used, based on Martin Parker's "historical" 1632 ballad. Robin (Caleb Probst) is a disenfranchised Earl fleeing the persecution of Prince John (Andrew Bailes) while waiting for his noble—and presumed dead—brother King Richard to return from the Crusades and restore justice to the land. Once established with his Merry Men, he makes the law of the land his own and does what he is now most known for: robs from the rich—or at least, the vulgar supporters of Prince John—to give to the poor. He must also vie for the hand of his beloved Maid Marian (Kelsey Shipley), the proto-feminist with a heart of gold who isn't quite so sure about all these thieving shenanigans.
Hewing faithfully to Tennyson's dialog but dusting off any pretense of starch for a more frisky delivery, Robin Hood is the ballad for the Occupy Wall Streeters (and any age's occupiers, they would be Occupy Sherwooders I suppose) who seek to add a note of righteousness to their redistribution of wealth. There's a cafe vibe and thrift shop aesthetic to both the intimacy of the tone and the craft of the production (notably Raquel Adorno's inventive costuming). Non-traditional gender casting gives us a delightfully boisterous Suzanna Ziko as Little John, innocently infatuated with the headstrong Kate (Kaitlyn Majoy). Sporting the hair and scruff of another Robin Hood player (Russell Crowe), Probst is winning with his chemistry with the ever comely Shipley as Marian (no wilting maid here, she's a yeowoman to match any yeoman—watch for the delivery when she states as such). The entire cast is brimming over with zaniness from sight gags to some whistling birds to just a whiff of meta.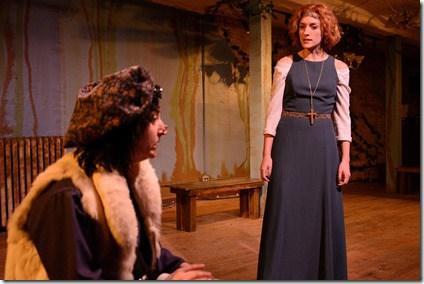 What a treat to hear a familiar story that wraps you up on a cold night with a sly goofy grin that beguiles the heartfelt intent. You know all the beats but the best stories always deserve a revisit, and Sherwood is no exception. Cozy as a night with good friends*, Forks & Hope—still relatively new to the scene—once again deliver a story with their particular brand of do-it-yourself gags and wit.
* The door to Hugen Hall was open during the performance, and I, sitting near, happened to be able to witness the cast behind-the-scenes in the darkened lobby, and it's clear from the interactions I was able to observe that they are having a ton of fun and like each other a lot, which lends enormous lovability to everything on stage.
Rating: ★★★
Robin Hood and Maid Marian continues through December 23rd at Strawdog's Hugen Hall, 3829 N. Broadway (map), with performances Saturdays 4pm, Sundays 12pm, Mondays and Tuesdays 8pm.  Tickets are $15, and are available by phone (773-528-9696) or online at OvationTix.com (check for half-price tickets at Goldstar.com). More information at Strawdog.org.  (Running time: 2 hours, includes an intermission)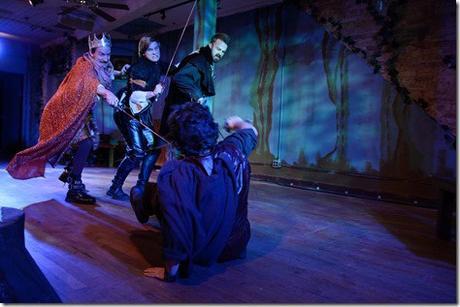 Photos by Tom McGrath
---
artists
cast
Andrew Bailes (Prince John), David Fink (Much), Addison Heimann (Mercenary, Abbott, Walter Lea), Kaitlyn Majoy (Kate), Emilie Modaff (Old Woman, Justiciary, Sailor), Austin Oie (Will Scarlet), Caleb Probst (Robin Hood), Stuart Ritter (King Richard, Pursuivant), Amber Robinson (Sir Richard Lea), Lee Russell (Friar Tuck), Kelsey Shipley (Maid Marian), Christian Stokes (Sheriff of Nottingham), Suzanna Ziko (Little John)
behind the scenes
Matt Pierce (director), John Kelly (lighting design), Sam Hubbard (fight choreographer), Jeremy Campbell (scenic design), Raquel Adorno (costume design), Jamie Karas (properties design), Austin Oie (music director), Aileen McGroddy (movement director), Becky Warner (stage manager), Cassandra Rose (dramaturg), Mike Mroch (production manager), Tom McGrath (photos)
15-1169