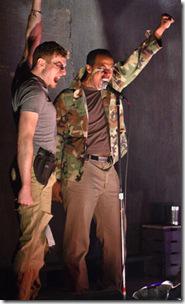 Rise of the Numberless
Written by Patriac Coakley, Andrew Hobgood,
Evan Linder, Chris Gingrich, Julie B. Nichols 
Directed by Andrew Hobgood
at Flat Iron Building, 1579 N. Milwaukee (map)
thru May 26   |  tickets: $20-$25   |  more info
  
Check for half-price tickets 
  
  
   Read entire review 
The numberless just doesn't add up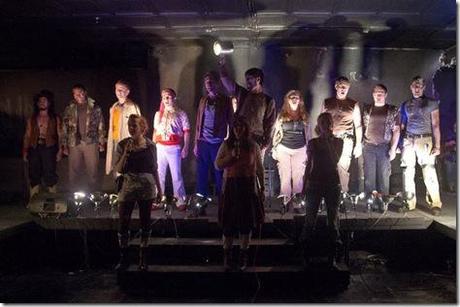 Bailiwick Chicago and The New Colony present
Rise of the Numberless
Review by Clint May
For something with aspirations of celebrating the rejection of numbers, Rise of the Numberless certainly paints by them. A punk rock angst driven by shrieking, indistinct lyrics, it borrows from superior sources without adding anything distinctive. It has the maturity of a script written by a first-semester college freshmen who fell asleep studying Philip K. Dick and listening to Hedwig and the Angry Inch. Shrill, and irritating, its first sign of desperation starts before you enter. Stamped with a QR code on the wrist and handed some ear plugs, you're made a part of the underground resistance in a tawdry attempt to immerse the audience in a way the production never does.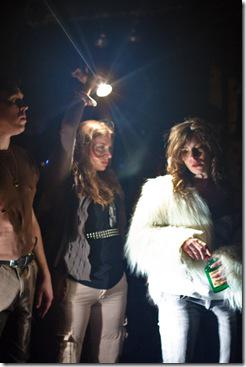 A passion play within a play,
Numberless
takes place on the night of the semi-centennial anniversary of a potential savior's' death. In an underground pod, the story is meant to illustrate through song and recreation the near mythological truth behind a big government cover-up. Cheat sheets in the press notes detail the lyrics, but as the audience doesn't get such a liberty, I felt it unfair to read beforehand. If the cast couldn't make the lyrics clear enough, why should I be allowed to cheat in a way the audience can't?
Numberless takes place long after cataclysmic natural events have destroyed a good deal of the US, and for some reason this leads to a popular senator-cum-president proposing a one-family-one-child act and thereby creating a dystopian sci-fi environ. I would think after that much loss of life, it'd be better to start repopulation, not limitation, but that's neither here nor there as logic was clearly dismissed pretty early on. The law mandates that citizens be numbered. Apparently, anything above "1" is cause for serious alarm as that means one's parents have procreated illegally. "Digits" are taught to despise the "numberless," who are forced to raid the above-grounders for food to survive. This is where it became clear to me that this underground owes most of its inspiration to 1993's "Demolition Man" if it were told from the resistance's point of view. And that was a pretty mediocre movie.
As a professed sci-fi nerd of grand proportions, I couldn't help but rattle off in my head the stories of Resistant Underground going against Evil Government that Numberless is aping. It's the attempt at being as diverse and heartfelt as the aforementioned Hedwig—complete with glam-rock makeup—that bothers me the most as I love *Hedwig* (which was also derived from other sources but in a deliciously delirious and refreshing way) and what it did to revitalize rock opera at the turn of the century. Now *there* was a musical that melded form, song and context. What's more sad is witnessing cast members I've seen do better reduced to this tripe, wearing costumes that look like the characters from Mad Max went shopping at American Apparel.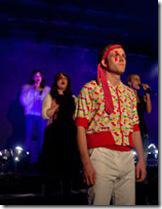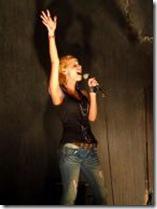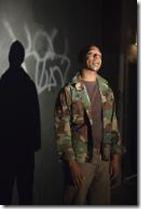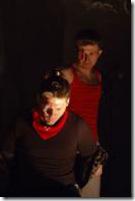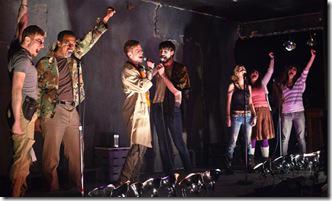 Nothing works here, from the hollow hipster angst of the script to the shrillness of the music (those ear plugs are not just a polite recommendation, they're a necessity in a small space with no concessions for volume). Reading the notes, I found it difficult to believe that – out of the three writers – nothing new is said about the nature of resistance. Sure, the piece trots out a few emotional tricks, but no character is ever fleshed out enough to engender attachment.  Numberless begs for emotional investment but ultimately leaves you, well…numb.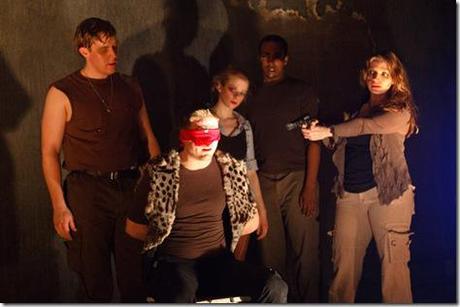 Rise of the Numberless continues through May 26th at the Flat Iron Building, 1579 N. Milwaukee (map), with performances Fridays and Saturdays at 7:30pm and 10pm.  Tickets are $20-$25, and are available online at Tixato.com (check for half-price tickets at
Goldstar.com
). More information at TheNewColony.org. 
(Running time: 90 minutes, no intermission)