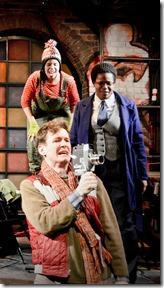 One for the record books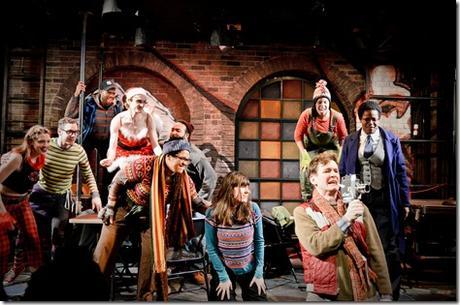 We all claim to have outgrown Rent and the bohemian problems of its main characters. "Why can't they all just pay their rent?" we snort, identifying more with slumlord Benny because, well, at least he has goals. But as my friend and plus-one pointed out, once the curtain goes up and the power goes out on protagonists Mark and Roger, the audience forgets all about who did and didn't fork over money for living space. Because Jonathan Larson's opus, and final work, isn't really about paying rent; rather, it's about finding beauty in a chaotic society where drugs, disease and poverty reign supreme. Twenty years after the show's premiere - and Larson's sudden, untimely death the night before his show's Off-Broadway opening - still resonates, and Theo Ubique's gritty, intimate production is one for the record books.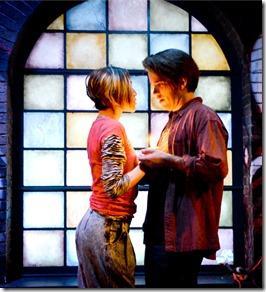 In a pre-Giuliani New York City, the tenants and squatters of Alphabet City are getting restless. Technology threatens to take over everything they hold dear, and many are afflicted with AIDS, so every day is both a struggle and a blessing. Fallen musician Roger (
Patrick Rooney
) is a recovering heroin addict who holes up in his illegal sublet, and his roommate Mark (
Matt Edmonds
) resolves to make a film that's authentic. On Christmas Eve, they get a phone call from their old friend Tom Collins (
Chuckie Benson
), and the following year is a whirlwind of music, loss and love.
is at once very simple and very complex. Based on Puccini's , the rock musical broke ground off-Broadway in 1996, with a diverse cast of actors and musicians and a frankness about drug use, sexuality and the AIDS virus that shocked some and compelled even more. For young people, was and continues to be life-changing, even as countless national tours increasingly Disneyfied the musical's more realistic aspects. Thankfully, smaller theater companies have also embraced this show as their own. American Theater Company and About Face Theatre's 2012 co-production made the most of the ATC's studio space, resulting in an emotional, personal evening.
Theo Ubique, a cabaret theater company, follows suit by emphasizing the play's cutting-edge themes and raunchy yet profound content. Scenic designer Adam Veness employs graffiti and street artists to transform the No Exit Café from stately to vibrantly graphic. (My friend, who'd never seen a Theo Ubique production, mistook the space for a dive bar.) Posters from Roger's former band's gigs adorn the walls with dirty glee. Actors (clad in Izumi Inaba's costumes, the clothing of authentically starving artists) roam the aisles and multi-leveled stage, spectators and participants both, pulling in the audience still further. There's no escaping that half the characters have been handed a death sentence, that consequently all stakes are higher than ever, and that loud yet genuine performance artist Maureen (Courtney Jones) just wants everyone to moo with her as she protests the gentrification of Alphabet City.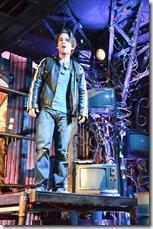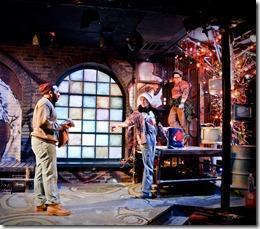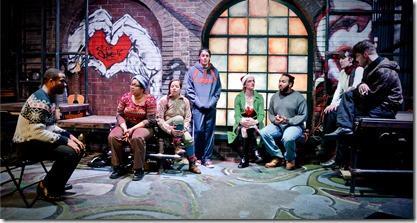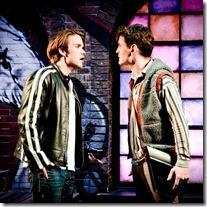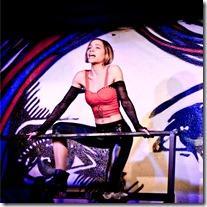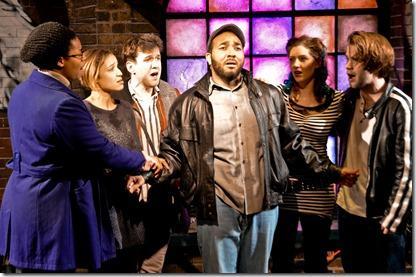 My main issue with this is auditory. Because the actors do not wear microphones and because of the show's staging, many lyrics and lines of dialogue are lost to those who aren't intimately familiar with the musical. Theo Ubique is a smaller space, but the melodies and words of are complex, and several numbers have performers simultaneously singing different phrases. Audience members have a more difficult time engaging when they're not able to comprehend the words. Also, though Savannah Hoover's Mimi is beautifully vulnerable, her voice and mannerisms are often too polished for the rough-around-the-edges character originated by singer Daphne Rubin-Vega. Hoover is still in school, a senior at Columbia College Chicago, and it's possible she hasn't quite let go of her training just yet.
Thankfully, Rent has more bright spots than dark. Director Scott Weinstein makes choices that border on genius, changing the focus of Mimi's Act II love ballad "Without You" and amplifying the group's collective grief in Collins' stirring reprise of "I'll Cover You." Roger's "One Song Glory" feels more like an introspective soliloquy than the musical whine it sometimes is, thanks to Weinstein, music director Jeremy Ramey and actor Patrick Rooney. (Also, Rooney's floppy hair and scruff are perfectly grunge-appropriate.) And Maureen's performance art has just the right balance of outrageousness and hilarity, just as Larson likely intended (props to Inaba for the character's colorful hair extensions). Rent 's chorus is small but mighty,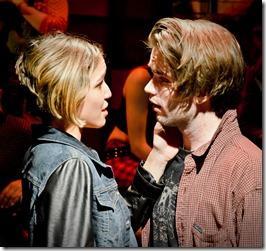 featuring standouts
Deanalís Resto
,
Ron King
and
Danielle Davis
, the latter of which provides a fierce beatbox. The principals are just as strong, particularly the lightning-electric Jones,
Nicole Michelle Haskins
' lovably square Joanne,
Aubrey McGrath
's somewhat nontraditional Angel and Edmonds' just-cynical-enough Mark.
Jaymes Osborne
lends his trademark golden vocals to Benny, and Benson's Collins is soulful with a smart-aleck twist befitting the professor-anarchist.
One could argue that the audience grows with Rent , now that its initial fans are embarking upon or are well into adulthood, facing the endless debate of art versus commerce, and making a life versus making a living. At this point, most of us have now dealt with the death of a loved one. The message of Act II opener, "Seasons of Love" is even more poignant as one gets older. (I've sung it at a friend's memorial, in fact.) As the cast of Theo Ubique's stellar production harmonized, I wiped the tears from my face and found myself almost unconsciously nodding in resolution and in agreement with the play's main credo: No day but today.
continues through May 1st at No Exit Café, 6970 N. Glenwood (map), with performances Thursdays at 7:30pm, Fridays and Saturdays 8pm, Sundays 7pm. Tickets are $39-$44 (student rush tix: $15), and are available online at (check for half-price tickets at Goldstar.com ). More information at Theo-U.com. (Running time: 2 hours 15 minutes, includes an intermission. Dinner available with advance purchase for an extra $25. Menu below)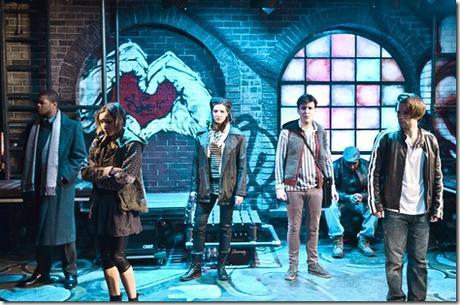 Matt Edmonds (Mark), Patrick Rooney (Roger), Savannah Hoover (Mimi), Nicole Michelle Haskins (Joanne), Courtney Jones (Maureen), Chuckie Benson (Collins), Aubrey McGrath (Angel), Jaymes Osborne (Benny), Danielle Davis (ensemble, u/s Joanne), Parker Guidry (ensemble, u/s Angel), Luke Linsteadt (ensemble, u/s Roger), Ella Pennington (ensemble, u/s Maureen), Deanalís Resto (ensemble, u/s Mimi), (ensemble), Julia Rose Duray (female swing)
Jeremy Ramey (piano, music director), Kevin Brown (drums), Jake Saleh (bass), Justin LaForte (guitar)
behind the scenes
Scott Weinstein (director), Jeremy Ramey (music director), Daniel Spagnuolo (choroeographer), Mary-Catherine Mikalayunas (production stage manager), Hannah Dawe (assistant director), Adam Veness (scenic design, photos), Kristof Janezic (lighting design), Izumi Inaba (costume design), Brock Alter (projection design), Katie Beeks (properties design)
graffiti artists
Adam Veness , DEB8, Onionz, Nems, Ghetto P., Bebs, Beef, Rare, Flee, Track, Justin Grey, Jin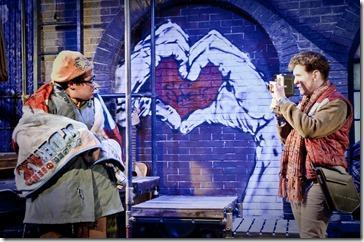 (inspired by NYC and the original setting of )
Alphabet City Salad with *A*pples, *B*eets, *C*arrots, *D*ill, and Mixed Greens First Course:
with Balsamic Vinaigrette​
Baked Chili Mac and Cheese topped with Sour Cream and Chives. Main Course:
​
(A ​delicious ​ staple in the starving artists diet adapted from Life Cafe's original menu​.)
Available both vegetarian and with meat, and gluten free, upon prior request.
Warm and decadent Black and White Brownie. Dessert:
(A take on the iconic NYC Black and White Cookie)
Buy Dinner Ticket Packages
Tags: 16-0331, Adam Veness, Aubrey McGrath, Bebs, Beef, Brock Alter, Chicago musical theater, Chicago Theater, Chuckie Benson, Courtney Jones, Daniel Spagnuolo, Danielle Davis, Daphne Rubin-Vega, Deanalís Resto, DEB8, Ella Pennington, Flee, Ghetto P., Hannah Dawe, Izumi Inaba, Jake Saleh, Jaymes Osborne, Jeremy Ramey, Jin, Jonathan Larson, Julia Rose Duray, Justin Grey, Justin LaForte, Katie Beeks, Kevin Brown, Kristof Janezic, Lauren Whalen, Luke Linsteadt, Mary-Catherine Mikalayunas, Matt Edmonds, Nems, Nicole Michelle Haskins, No Exit Cafe, Onionz, Parker Guidry, Patrick Rooney, post, Rare, Ron King, Savannah Hoover, Scott Weinstein, Theo Ubique Cabaret Theatre, Track
Category: 2016 Reviews, Lauren Whalen, Musical, No Exit Cafe, Theo Ubique Cabaret Theatre