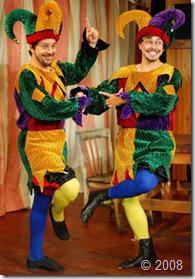 Ren Faire! 
   A Fistful of Ducats
Written by Matt Engle  
Directed by Kyle Hamman 
at Prop Thtr, 3502 N. Elston (map) 
thru Sept 2  |  tickets: $20   |  more info 
  
Check for half-price tickets  
  
  
  Read entire review 
---
A huckster showdown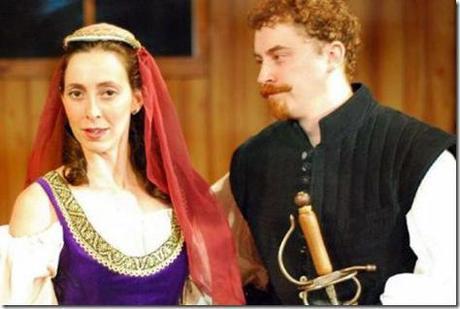 Factory Theater presents
Ren Faire! A Fistful of Ducats
Review by Lawrence Bommer
Familiar fun/summer fluff, Ren Faire! A Fistful of Ducats, is an 85-minute hybrid of spaghetti western and Elizabethan swordplay. Matt Engle's buddies versus baddies comedy celebrate a company that's not all that different from the Factory Theater who create them: A plucky bunch of ex-hippies, who put on (in every sense) Henry VIII's Renaissance Faire every summer, are threatened by inspectors and foreclosure with extinction.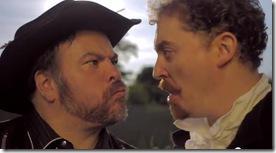 Who's behind this forced eviction? The merry pranksters' foe lies right across the interstate—a jingoistic to fascist Wild West Show who flaunts the American purity of their theme entertainment. All but twisting his moustache with melodramatic menace, their ignorant boss (
Mike Ooi
) denounces the Ren jesters, wenches, swordsmen, jugglers, buffoons, street musicians, mud beggars, and peddlers as sinful and foreign. Why can't their make-believe stay in America where it belongs?
As the title suggests, the silly one-act is a clash of styles as much as outlooks. On one side you have zany jesters who act out scenes from "Steel Magnolias" in Tudor style. Opposing these good clowns is a former Ren Faire star (Kevin Alves), who has turned against his former dueling partner (Engle), now a hired gunman for the Wild West baddies. It's all seen from the perspective of newbie swordswoman Andy (Justine C, Turner) who's quickly accepted into the carnie family and makes their struggle her own.
Inevitably, the escalating hostilities boil down to a sword versus gun showdown between the virtuous impersonators and the phony cowboys. Given director Kyle Hamman's obvious sympathy for the underdogs, the outcome is inevitable.
No subtleties are wasted on Engle's showbiz stereotypes (like Jennifer Pompa's beef-loving goodtime girl) or anything-for-a-laugh slapstick, sight gags, groaner jokes and gross-out jibes (the last a tad unsuccessful at also being clever). The beer they serve in the lobby before the show seems as essential to the experience as 3D glasses to its fare. On opening night the lighting flickered on and off but the sound effects were on the money.
Rating: ★★★
Ren Faire! A Fistful of Ducats! continues through September 2nd at Prop Thtr, 3502 N. Elston (map), with performances Fridays and Saturdays at 8pm, Sundays 3pm.  Tickets are $20, and are available by phone (312-409-3247) or online throughOvationTix.com (check for half-price tickets at Goldstar.com). More information atTheFactoryTheater.com.  (Running time: 85 minutes, no intermission)
---
artists
cast
Hannah Alcorn (Tatyana), Kevin Alves (Lucky Jim), Matt Engle* (Hero), Eric Frederickson (Dave),Sarah Rose Graber* (Emma), Carmine Grisolia (Mickey), John Luzar (Raynoth), Johnny Moran* (Ol' Jerky), Mike Ooi* (Bill Pickens), Scott OKen* (Doug), Nathan Paul (Bobbini), Jennifer Pompa* (Tammy), Jack Rubin (Mudbegger #1), Chris Savell (Mudbegger #2), Justine C. Turner (Andy), Johnathan Wallace (LeShawn), Curtis Williams (Wesley), Robyn Coffin* (understudy)
behind the scenes
Kyle Hamman (director); Curtis Williams (music direcgtor); Hank Boland (asst. director); CW van Baale* (tech director); Joe Gehr* (production manager); Monica M. Brown (stage manager); John Wilson (set); Sean Mallary (lighting); Chas Vrba* (sound); Rachel Sypniewski* (costumes); Thea Wigglesworth (props); Jason Moody (graphics); Craig Eisenhammer (web designer); Patrick Holland (Youtube trailer director); Matt Engle*, Jennifer Pompa* (fight choreography); Paul Metreyeon (photos)