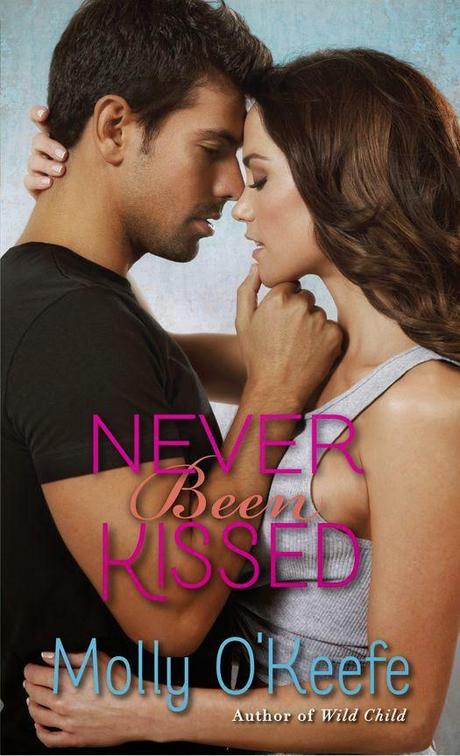 Some months you know are going to be great. This July ROCKED, not just because it's summer, but because readers were able to catch up with the Molly O'Keefe's Boys of Bishop in not one, but TWO books!
First of all, if you haven't yet read the first book in the series, Wild Child, you should grab it now. No, it's not necessary to read this series in order as these are stand-alone titles, but you should. You. Really. Should. I loved Wild Child when I read it last fall (see my review) and have been counting first the months, then weeks, then days till these two titles were published.
In Wild Child, I'll admit I fell in love with Bishop, Arkansas and Molly's writing (I'd never read any of her books before). Coming from a town that also saw its economy devastated when its only major employer pulled out, I emphasized with the citizens of Bishop who seemed like they'd try anything to get a new employer in town. I worried about them. Really. I. Did. So I'm so glad to be able to catch up with what's been happening in book two, Never Been Kissed, and book three, Between the Sheets.
When I opened Never Been Kissed, I thought perhaps I had the wrong book as the setting wasn't Bishop, but Cook's Bay, Moorea, in the Polynesian Islands. (I actually double checked the title to make sure.) But of course it was correct and in this first chapter we learn a bit more about the rather enigmatic Brody Baxter. Remember him? In Wild Child  he had popped in to Bishop in order to help his brother Luke prepare Pour, the family bar Pour, for service.
Brody is an ex-Marine, invalided out, and now guarding a corrupt politician and his mistress at a vacation hideaway. His discontent with his life emanates from the page and captured my attention and concern.
"The world issued an open invitation to humanity to fail itself. To be selfish and small. Mean, even evil at times. And most people, in Brody's experience, found it impossible to turn down that invitation." (page 8)
Oh my. My heart cracked when I read this. With three sentences Molly O'Keefe encapsulated the isolation and emptiness of Brody and made me just want to comfort him. Yes, in many ways he's an alpha hero, but he's one that I have a feeling will do the unexpected as we journey with him in this story.
Soon he's off to rescue the sister of another politician from Somali pirates. It's clear from Brody's reaction to the news that Harrison, her brother brings, that Ashley Montgomery is someone with whom Brody had a past. But what that past involved isn't clear - except it didn't seem good.
When Brody rescues Ashley, it's not a guns-blazing scenario. But the scene shows not only the depravity of the kidnappers, but also the desperation of the marginalized people who shelter them. O'Keefe doesn't excuse them for their actions. To the contrary. But one of the many reasons I love reading her books is her ability to convey the story not just in black in white, but in all the many shades in between.
She also writes some of the most vivid and passionate love scenes - again in a way that "takes you there." Yes, from the moment of Ash's rescue, it's clear that whatever transpired between Brody and Ash in the past was also very alive in the present. Their chemistry sizzles off the page.
Ash is someone I'd love to know. While it's clear that she's been constricted by pressures from her family and, indeed, herself, she's one of the amazingly kind, trusting, and faithful people I've read about. Really, you'd want her as your best friend. Plus she's fun! Even when battered and fearful from her ordeal as a hostage, she remains positive and hopeful.
My heart cracked for her though when she arrived at her grandmother's (now her own) luxurious Manhattan apartment and found her picture-perfect mother there. The quintessential politician's wife, it's clear that Patty (don't call her Mom) doesn't see who Ashley is. When her mother offers her soup (a standard mother thing to do), Ashley's reaction made me cry.
"And weakened as Ashley was, she had a vision, lovely and strange, of Patty actually heating up the soup. Standing over a stove, stirring a pot.
Magically, Patty would be wearing an apron. For her.
If her mother would actually do that … so much would be forgiven. That's how little pride Ashley had left." (p 40-41)
Of course, Patty doesn't make the soup, but delegates Brody to the kitchen to do so as though he were her servant. (As he probably is in her eyes.) Yet, from this brief passage, O'Keefe clearly lets us know the demons that Ash has faced all her life.
In addition to Brody and Ash, Luke and Bishop cafe owner Cora's prickly friendship is equally engaging. I adored Luke, who like a puppy dog, seemed to have boundless enthusiasm and optimism as he struggles to make Pour a going concern. (Such a contrast to his adopted brother, Brody.) He can't cook? Well he'll still have a chili night, even if the chili is inedible. And he'll smile - a lot. Cora is a street savvy kitchen magician, whose cafe is constantly filled. Their spiky interactions, then mutually accepted ceasefire is so much fun to read.
Luke and Brody's father just made me smile with his exterior gruffness that camouflages a tender heart. There's humor threaded throughout this story and it's added in at just the right time for the reader to chuckle a bit and relax. Molly O'Keefe has perfect timing with this - as she does with the more serious scenes.
So what happens with Brody and Ash, these two very interesting yet wounded souls? If you guess they make their way to Bishop, Arkansas, you're right. Their journey, not measured in miles, but trust, faith, love, hope is one I'll remember - and reread many times. If I hadn't already added Molly O'Keefe to my must-read, auto-buy list before this, I would after reading Never Been Kissed.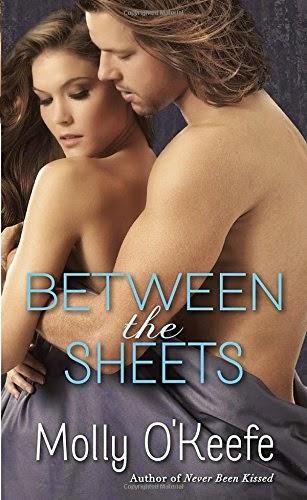 I admit to crying when I was reading Wild Child  especially during the oh-so-public meltdown of art teacher and Bishop saint Shelby Monroe. In Between the Sheets we get to see what has happened to Shelby a year after her cracker fling turned ugly.
Now dealing with the day-in, day-out ever constant and debilitating life with a parent, her mother, slipping further into the shadow world of dementia, Shelby is an island in Bishop. It's clear that she doesn't ask for help, really I wonder if she even knows how. But the same woman who had that fling rears her head early on when reacting to the late night noise emanating from her new neighbors garage.
I had wondered if Wyatt or Tye, a tall, good looking, biker-dude briefly seen in Never Been Kissed as Brody's new assistant, would have a role in a future book. (I sure hoped he would. And he does!) Yes, Tye is the hero of Between the Sheets and he and his newly discovered son just ran away with my heart.
I'll admit to suffering and sympathizing with Shelby with each devolving encounter she had with her mother, with each time her chin raised as she outstared someone who thought of the words broadcast about her on national TV, and with each time she crawled back into her shell after trying her wings. I understood Shelby all too well.
"And she couldn't help it - she just gave up holding onto who she was. She just dropped every jagged edge she'd been clinging to and she let her world fall away. All of her pretenses." (page 99)
Once again, Molly O'Keefe explodes the traditional trope and creates characters that breathe. Tye is no typical bad boy, even if he rode into town on a bike, and Shelby is not a downtrodden heroine in need of rescue. Their passion-filled matings are flat-out steamy, but oh-so-revealing about what is said and what is silent.
"Volatile energy poured off her and he was surprised the light bulbs overhead didn't shatter as she walked under them. As she got closer, her energy, like a virus, spread to him and he felt the hot coil of need in his belly." (page 101)
I'll admit to tears. Again. And yes, this story was emotionally draining AND at the same time uplifting. Between the Sheets did what great books should do and let me live beside these people of Bishop and come to care about them. A Lot. I think tears and Molly O'Keefe books are like weeping eyes when peeling onions, with both layers and layers are revealed and tears are expected … with each turn of the page or stroke of the knife.
The only thing I'll complain about is that the book ended. I wanted to keep reading about Tye and Shelby, Luke and Cora, Brody and Ash, Monica and Jackson. So, I'll be looking forward to reading Molly O'Keefe's next Boys of Bishop title, Indecent Proposal (pub date 30 Sep 2014), that will focus on Ashley's rising politician brother, Harrison Montgomery, and his mysterious and unexpected marriage to Ryan.
So if you've been searching for an author who captures your imagination and your heart with characters and stories that resonate with the real choices and situations we all face, add Molly O'Keefe to your must-buy list too. Really. Do. Her stories stand-out. Her storytelling voice is exceptional. Her love scenes are passionate, gritty, moving, and tender. In reality she's become one of my favorite authors whose stories will be on my bookshelf for as long as I'll be reading.


From the Publisher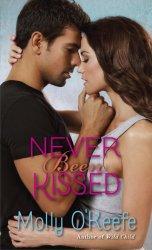 The Boys of Bishop, Book 2
Never Been Kissed (The Boys of Bishop) by Molly O'Keefe
Bantam Dell (Random House Publishing Group) ⎜ ISBN (ISBN13: 9780345549013 ⎜ Price $7.99 ⎜ Pub Date Jul 1 2014
As the daughter of a wealthy politician, Ashley Montgomery has had enough of her parents' expectations for her future and is going her own way, volunteering to work at a refugee camp in Africa. But her act of charity turns dangerous when she takes a boat trip and is abducted by Somali pirates. Enter Brody Baxter, who was a bodyguard for the Montgomery family ten years ago and doesn't think twice about coming to Ashley's rescue. Handsome and tough, Brody has always done what needed to be done. So he swoops in, saves Ashley, and brings her to a place where she can rest and recuperate without the glare of the press and her demanding family: Brody's small hometown of Bishop, Arkansas. But Ashley soon realizes that she's not the only one in need of healing.
Holed up with Ashley in a tiny apartment over his brother's bar in Bishop, Brody is tempted and torn in ways he never anticipated. Beautiful Ashley, vibrant despite her ordeal, fearless enough to love him beyond his wall of self-punishment, is now determined to save him. But with a little faith and a lot of love, they just may find happiness in each others' arms.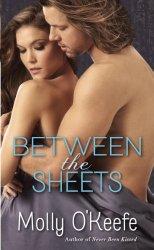 The Boys of Bishop, Book 3
Between the Sheets by Molly O'Keefe
Bantam Dell (Random House Publishing Group) ⎜ ISBN 9780345549037 ⎜ Price $7.99 ⎜ Pub Date Jul 29 2014
After years of running, Wyatt Svenson has now parked himself in Bishop, Arkansas, trying to do the right thing and parent a son he didn't even know he had until recently. Over six feet tall and packed with muscles and power, Ty likes to get his hands dirty, fixing his motorcycle at night and keeping his mind away from the mistakes he's made. Then his pretty neighbor shows up on his driveway, doesn't bother to introduce herself, and complains about the noise. First impression? She should loosen up. Funny that she turns out to be his son's elementary school art teacher—and the only one willing to help his troubled boy. Ty needs her. In more ways than one.
Though Shelby Monroe is safe in her structured life, she is drawn to Ty's bad-boy edge and rugged sexuality. What if she just lets it all go: her worries about her mother, her fear of heartbreak, and her tight self control? What if she grabs Ty and takes a ride on the wild side? "What if" becomes reality—intense, exhilarating . . . and addictive. But Ty wants more than a secret affair. He wants it all with Shelby. But will she take a chance and open her heart? Ty is determined to convince Shelby to take the biggest risk of her life: on him.