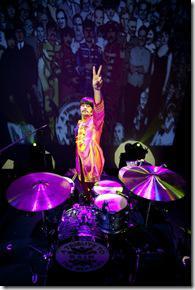 Rain
Music by John Lennon, Paul McCartney,
George Harrison and Ringo Starr 
Produced by MagicSpace Entertainment
at Oriental Theatre, 24 W. Randolph (map)
thru July 1  |  tickets: $25-$75   |  more info
  
Check for half-price tickets 
  
  
   Read entire review
  
---
'Rain' a multi-generational experience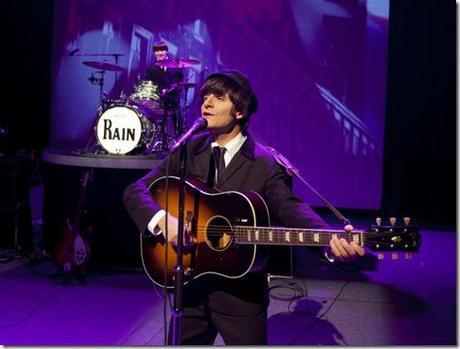 MagicSpace Entertainment and Broadway in Chicago presents
Rain: A Tribute to the Beatles
Review by Lauren Whalen 
I remember my own personal Beatlemania: I was 14 years old and my parents didn't understand me, but John, Paul, George and Ringo did. "Let It Be" spoke to me in a way no song has before or since, and even though I didn't quite comprehend "I Am the Walrus" I knew it was somehow profound. As I searched for meaning, mouthed the lyrics and memorized the harmonies, I wrapped my flannel shirt tighter around me and hit "repeat" on my CD player. The year was 1994.
What began as a British invasion boy band has captivated multiple generations: my parents', my own and those that followed. This phenomenon was never more evident than at the opening performance of Broadway in Chicago's limited run of Rain: A Tribute to the Beatles. Rain is a Beatles tribute show, nothing more, nothing less. And yet the Oriental Theatre was filled with adoring Fab Four fans ranging in age from 10 to 90. Everyone knew the words. Everyone sang along. Everyone remembered the magic of The Beatles – together.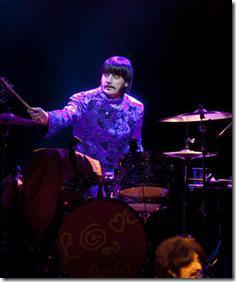 Rain takes us through The Beatles' greatest hits, from their mop top debut on "The Ed Sullivan Show" to their final days as long-haired rooftop rockers. Other than a little onstage banter, there's no dialog. Large screens in the backdrop and on either side of the stage play commercials from the '60's (fun) and "Yellow Submarine"-esque clip art (valiant effort, if a bit derivative). The four actor-musicians, occasionally supplemented by one keyboardist, change wigs and suits as they cycle through everything from "I Want to Hold Your Hand" to "Hey Jude".
So why go to Rain at all? Why spend the money? Why not pop in CD's or put on records (if you're an oldster or a hipster) and enjoy the real Beatles from the comfort of your couch?
It helps that the band does a bang-up job. Jim Irizarry is spot-on with John's trademark smirking intelligence and sly humor. As the more soulful Paul, Mac Ruffing croons like a champ: his "Let It Be" is lovely, and "I Saw Her Standing There" a fun, poppy highlight. Though he more resembles Chris Parnell than George Harrison, Tom Teeley plays a smashing lead guitar. And Douglas Cox's Ringo is pure fun: he mugs gamely while flashing the peace sign, knowing precisely his place in the group and milking it for all it's worth.
What's most delightful about Rain, however, is the communal experience. Whether you're screaming along to "Revolution" or reverently lip synching "Two of Us", each audience member is entranced by the music's power. Everyone – even if you weren't born until long after John Lennon died – has their own personal memories of The Beatles, and hearing even one guitar riff brings everything back. In a large theater such as the Oriental, these memories fill the air and come together. Decades after their breakup, The Beatles are still a band who unites the world like no other. It doesn't matter if the clip art is cheesy. It doesn't matter that they're not the real Fab Four. In a way, it doesn't matter who's singing the songs. What matters is they are sung.
Rating: ★★★½
yRain: A Tribute to the Beatles continues through July 1st at Oriental Theatre (Ford Center for the Performing Arts), 24 W. Randolph (map). Tickets are $25-$75, and are available by phone (800-775-2000), at one of three walk-up box offices (locations), or online through TicketMaster.com (check for half-price tickets at Goldstar.com). More information at RainTribute.com.  (Running time: 2 hours 20 minutes, includes an intermission)
Photos by Mark Cornelison 
---
artists