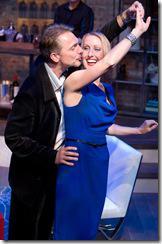 Putting It Together 
Devised by Stephen Sondheim and Julia McKenzie 
Music and lyrics by Stephen Sondheim
Directed by Brenda Didier
at Theater Wit, 1229 W. Belmont (map)
thru Oct 16   |  tickets: $32-$38  |   more info
Check for half-price tickets
   Read entire review
---
Porchlight puts together a sensational Sondheim review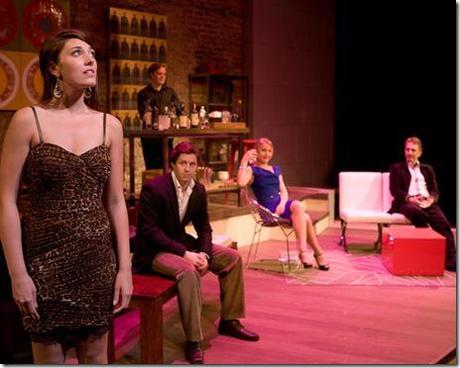 Porchlight Music Theatre presents
Putting It Together
Review by Katy Walsh 
Me: Look, Alex Weisman.
Theatre Bob: Yep, he's in the show.
Me: Which show?
Theatre Bob: This one.
Me: What?
Having never seen Stephen Sondheim's Putting It Together, I thought Alex Weisman was Porchlight's special guest making the obligatory cell phone announcement. He unassumingly meanders on stage and hilariously kicks off the show with a sequence from The Frogs. During his introduction, the band casually arrives and takes their place on stage. Weisman and Pianist Austin Cook banter with delightful jocular familiarity. From the playful start, it's obvious that Porchlight Music Theatre has done a fantastical job Putting It Together.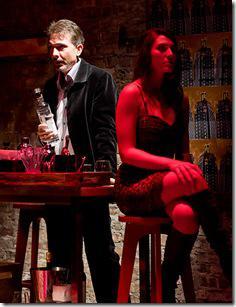 The show was originally devised by Sondheim and Julia McKenzie to be a cabaret showcase of Stephen's popular tunes from musicals like Company and A Little Night Music. Taking that concept and Chicago-izing it, Director Brenda Didier formats the show as a party. A successful couple hosts a gathering where negotiations for love and fame are shaken not stirred. The cocktails flow and so does the music. One song leads into another. The sequential order of the music tells a story and the actors effectively add in the back story. Didier masterfully makes it into an evening of 'the art of making art.'
The musical direction of Austin Cook sets the festive tone for the party. It's a 'like you play piano, bass and drums' combo. Cook is distractingly adorable as the animated piano player, and the band doesn't disappear into the background. The trio chitchat, do shots and rock this party! The hostess for the evening is the stylish McKinley Carter. Carter is magnificent as a diva playing a diva. Her rendition of 'The Ladies that Lunch' is dripping with elegant disdain. Her 'There Is always a Woman' duet with Aja Goes is the showstopper. It's the musical version of a verbal cat fight. Delicious! Playing and being a newcomer to Chicago theatre, Goes makes a memorable first impression. Her pitch and comedic timing are perfect. The talented guys hold-their-own but the ladies are unforgettable. Weisman, in particular, amuses with his signature antics. A fresh-faced Weisman zings a punchline with one well-placed look or gesture. For the opening, Weisman was not always audible. I'm not sure if it was a faulty microphone or his soft-spoken singing.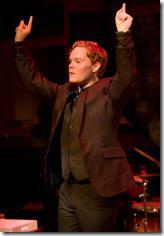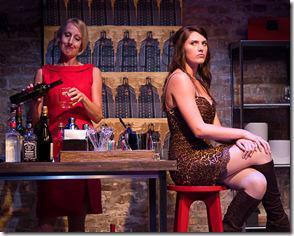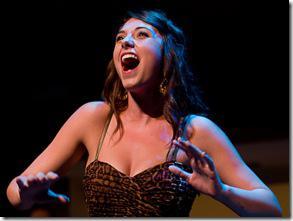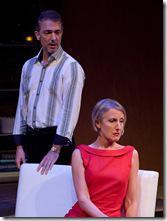 The party scene is enhanced by Designer John Zukier. Mid-century furniture and colorful artwork creates a fashionable apartment for the successful couple. It's just all works! Never before has a play so resembled the song that the title is based on…
'Bit by bit, putting it together,
Piece by piece, only way to make a work of art,
Every moment makes a contribution,
Every little detail plays a part,
Having just a vision's no solution,
Everything depends on execution.'
Putting It Together has been executed brilliantly!
Rating: ★★★½
Putting It Together – Promo from Porchlight Music Theatre on Vimeo.
Porchlight Music Theatre's Putting It Together continues through October 16th at Theater Wit, 1229 W. Belmont (map), with performances Thursdays and Fridays at 7:30, Saturdays at 8pm and Sundays at 2pm and 6pm . Tickets are $32-$38, and can be purchased by phone (773-975-8150) or online at PorchlightMusicTheatre.com. More information here. (Running time: One hour and forty-five minutes, with one intermission)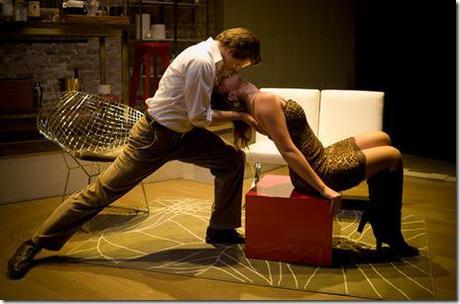 All photos by Jeremy Rill
---
artists
cast
McKinley Carter (Woman #1); Aja Goes (Woman #2); Adam Pelty (Man #1); Michael Reckling (Man #2); Alex Weisman (Man #3); David Sajewich (Understudy, Man #1); Sara Stern (Understudy, Woman #1); Luis Herrera Jr. (Understudy, Man #2); Tom McGunn (Understudy, Man #3); Jill Sesso (Understudy, Woman #2)
musicians
Austin Cook (conductor, piano); Sam Filip (bass); Matthew Sitz (percussion)
behind the scenes
Brenda Didier (director); John Zukier (scenic); Julie Ballard (lighting); Matthew Guthier (costumes); Joseph Fosco (sound); Matthew Lew (artwork); David A. Loranca (stage manager); Kelli Marino (dramaturg); Jeremy Rill (photos)
---
Director and Music Director