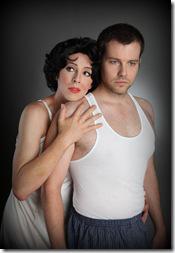 Pussy on the House
Written by Ryan Landry
Directed by Matthew Gunnels
at Athenaeum Theatre, 2936 N. Southport (map)
thru Oct 30   |  tickets: $20-$25  |  more info
Check for half-price tickets
  
  
   Read entire review
---
Tennessee Williams on the hot seat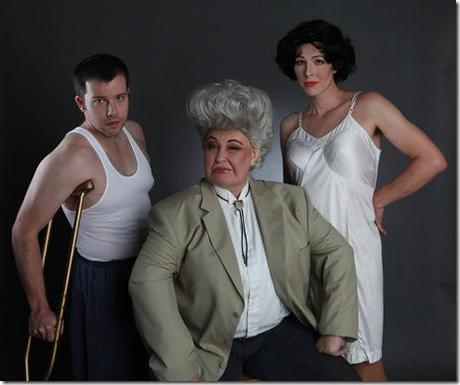 Hell in a Handbag Productions presents
Pussy on the House
Review by Lawrence Bommer
Not to be confused (except when it wants to be) with "Cat on a Hot Tin Roof," this lavender-hued remake of Tennessee Williams' potboiling family feud works equally well as a good-natured parody and an implied update. The kerfuffle remains–a clan conflict between the childless Maggie the Cat and her closeted husband Brick, against the too-fecund Mae and her oafish hubbie Gooper for the blessing (and funding) of their Dixie-doodle parents. Besieged by Mae's "no-neck monsters" and metaphorical skeletons in symbolic closets, a birthday party becomes a battleground: The Pollup dynasty dissolves in recriminations, backbiting, and attempted murder.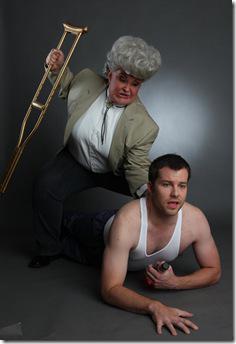 Pussy on the Roof
,
Ryan Landry
's deliciously twisted 2004 reworking, alters the domestic squabble in artful ways. The Pollups now own the biggest polyester plantation in the South—run, not by the patriarch Big Daddy but the matriarch Big Mama, assisted by "Aunt" Sukey, her lesbian lover of 32 years. "Skipper," Brick's dead gay lover, is now a stuffed raccoon. (It's presumably bestiality rather than homosexuality that haunts Brick, who, far from being a former football star, was a top children's TV star who performed with his furry sidekick, now a taxidermist memento.)
Fleeing his fractured family, Brick has camped out, so to speak, on the manse's roof–which makes every entrance a ladder-climbing challenge. (Justin Longnecker's cluttered and crowded rooftop is a maze of clever obstacles.) Brick shelters in a treehouse, which also serves as a setting for flashbacks to courtship days with Maggie and the goofy T.V. show with "Skipper."
It's hard to spoof an already overwrought script, a roller coaster that rushes from melodrama to soap opera in an instant. (Nobody exaggerated Tennessee Williams better than himself.) But to Williams' toxic stew Landry adds Mae's homophobic nastiness as she denounces the "muff-diving" Big Mama and her dogged partner Sukey. There's also surprising tenderness in the two scenes between Big Mama and Brick, as the Dixie dominatrix shares memories of a drag-queen dad in order to buck up Brick against the bigots who torment them.
Matthew Gunnels' staging could easily play these newly minted stereotypes for easy laughs. (John Nasca's costumes are hilarious enough in their own right.) But, at least in the mother-son scenes, Honey West's tough-loving but tender-hearted Big Mama (sporting an explosive Afro/butch dyke wig) and Eric Lindahl's sad-sack Brick achieve a kind of survivors' poignancy amid the automatic histrionics.
Likewise Jeremy Myers' elegant Maggie (who resembles a younger version of David Cerda, the troupe's prima impersonator) is more than just a gender-bending sex kitten—she genuinely wants to lure Brick away from raccoons.
Embroiled in the petulant hysteria of a wet hen, Cerda snarls and snaps splenetically as a much-preggers Mae, festooned in a lime-green gown that will appear in your next nightmare, while Christopher Carpenter lowers his I.Q. splendidly to play missing-link Gooper. Ed Jones, dolled up with more jewelry than King Tut's tomb, glows and sparkles as Sukey, her fussbudget style and gray globe of a wig recalling Vickie Lawrence's T.V. mama. Finally Jason Grimm plays Clamidia Jean (one of Mae's whelps), as well as a big-bosomed servant, venal preacher and reluctant doctor.
These rooftop shenanigans sometimes wear thin as they feel forced. But the pell-mell, helter-skelter, take-no-prisoners daffiness of Gunnel's delightedly grotesque ensemble offer exuberant distractions. As the show argues, life offers us no free lunches, or as Landry delicately puts it, "pussy on the house."
Rating: ★★★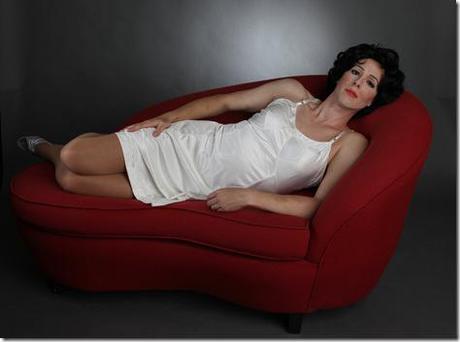 Pussy on the House continues through October 30th at the Athenaeum Theatre, Studio Space #3, 2936 N. Southport (map), with performances Thursdays-Saturdays at 8pm and Sundays at 5pm. Tickets are $20-$25, and can be purchased by phone (800-838-3006) or online at BrownPaperTickets.com. More info at HandbagProductions.org.
All photos by Rick Aguilar Studios
---
artists
cast
Jason Grimm (Clamidia Jean/Polly/Doc/Preacher); Jeremy Myers (Maggie Pollup);
Eric Lindahl (Brick Pollup); David Cerda (Mae Pollup); Ed Jones (Sukey Pollup); Christopher Carpenter (Gooper Pollup); Honey West (Big Mama Pullup)
behind the scenes
Matthew Gunnels (director); AJ Wright (asst. director); Justin Longnecker (scenic); Jeff Shields (props, stage manager); R. Christopher Maxwell (asst. stage manager); Carrie Hill (lighting); Christopher Kriz (sound); John Nasca (costumes); Robert Hilliard (wig and make-up); Chris Carpenter (violence design); Michael S. Miller (graphics); Lolly Extract, Amber Marsh (puppets, construction); Allison Tolman (producer); David Cerda (executive producer); Rick Aguilar (photos)