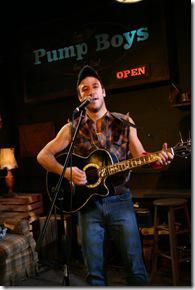 Pump Boys 
  
   and Dinettes 
Directed by Fred Anzevino 
at No Exit Café, 6970 N. Glenwood (map)
thru Jan 15  |  tickets: $29-$34   |  more info
  
Check for half-price tickets 
  
  
   Read entire review
  
---
A high-octane, roof-raising, barn-burning hootenanny!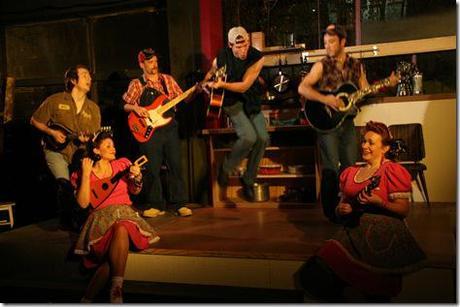 Theo Ubique Cabaret Theatre presents
Pump Boys and Dinettes
Review by Lawrence Bommer
It's possible to wax nostalgic for a life you never felt. That's the populist appeal of Pump Boys and Dinettes, a wildly popular blue-collar fantasy of a friendly truck stop where two spunky waitress-sisters and four good ole gas-station attendants serve up songs at the Double Cupp diner on Highway 57. "You can eat and get gas"–and suddenly grow an extended family.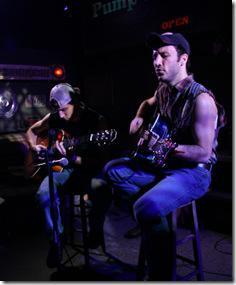 Adam Veness
' painstakingly blue-collar and warm-hearted setting transforms the entire No Exit Café into a combination auto shop and greasy spoon eatery, its time-treated texture revealed by a stuffed armadillo and marlin, trophy hupcaps, headlight lamp, license-plate art, kitchen detritus, and several piles of bigass tires.
Right at (down)home, Fred Anzevino's easy-loving, perfectly cast staging exudes intimacy (the set surrounds the audience), simplicity (only six singer-musicians) and stereotypes (guys avid for fishing, drinking and getting a "farmer tan," gals ready with coffee and homemade pies).
Immersive staging, complete with the actual dinettes doing double-duty as actual servers, completes the illusion of a late-50's world that's just met Elvis Presley and will never let go of Dolly Parton.  It's easy to sink into this raunchy roadhouse/sweetly domesticated bipolar setting.  The cast is completely earnest and perfectly cast, and their toe-tapping rhythms will have all but the most hard-hearted smiling in acknowledgment to their simple but heartfelt truths.
Playing up a storm on their kitchen implements, warm-hearted, tap-dancing hostesses Christina Hall and Danni Smith could make even city slickers feel welcome, while Smith's blues ballad "Be Good or Be Gone" and Hall's rueful "The Best Man" show how well the sisters have mapped out love. (In a bit of overextended whimsy, they also work the crowd for tips while the guys conduct a raffle during intermission for a coveted air freshener.)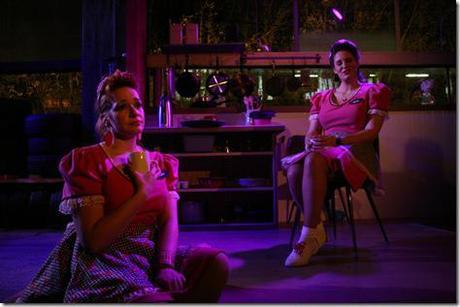 Among the pump boys, Courtney Crouse is good-natured, cornpone philosopher Jim, a likable lug with an incoherent yen for Rhetta. ("I'll clear all the beer cans out of my car if you go out with me!") Handsome, affable Jim DeSelm (also the splendid music director) grabs guffaws as he recalls the night Dolly Parton was almost his. Alex Stage is dour Jackson, hopelessly stuck on a mall cashier, and Eddie (Cody Siragusa) is mainly–and strategically–silent. Diving into the country-western, bluesy, doo-wop, "pump rock" score, they unleash a high-octane, roof-raising, barn-burning hootenanny.
Sassy and soulful, Pump Boys and Dinettes is a delightful throwback sure to leave you grinning and humming as you exit No Exit and enter a world more cynical and complicated than the characters need to know or we to endure.
Rating: ★★★★
Pump Boys and Dinettes continues through January 15th at the No Exit Café, 6970 N. Glenwood (map), with performances Thursdays at 7:30pm, Fridays and Saturdays at 8pm, and Sundays at 7pm.  Tickets are $29-$34, and are available by phone (800-595-4849) or online at Tix.com (check for half-price tickets at Goldstar.com). More information at theo-u.com.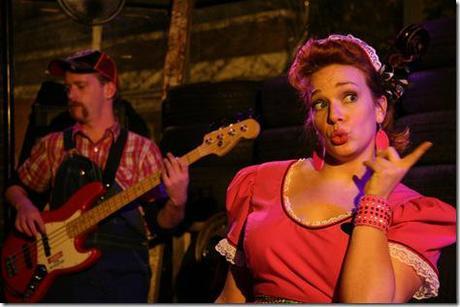 All photos by David Heimann
---