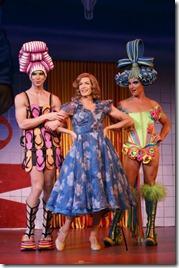 Priscilla Queen of the Desert 
Book by Steven Elliott and Alan Scott
Directed by Simon Phillips
at Auditorium Theatre, 50 E. Congress (map)
thru March 30  |  tickets: $25-85   |  more info
  
Check for half-price tickets 
  
  
   Read entire review
  
---
A glittering disco ball with a copious heart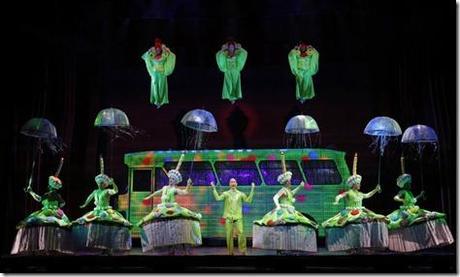 Broadway in Chicago presents
Priscilla Queen of the Desert
Review by Lauren Whalen 
Road trips make for great stories. Add in two drag queens and a transsexual, a secret love child and a disco soundtrack, and the story's even greater. Priscilla Queen of the Desert could easily be straight-up camp. Instead, the musical adaptation of the 1994 Australian cult film (starring a young Guy Pearce) has moments of real gravity and heart tucked away in its snappy one-liners and sparkling high heels. Priscilla Queen of the Desert is a celebration of individuality and acceptance – sung, danced and clad in the most fabulous way possible.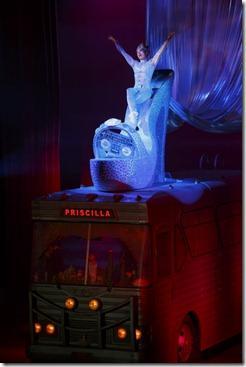 Tick (
Wade McCollum
) is a successful Sydney queen with a secret: an eight-year-old son he's never met. When Tick's sweet ex (
Christy Faber
) offers him a gig at her casino and a chance to spend time with young Benji, he's excited but hesitant. Tick decides not to go it alone, dragging along old-school showgirl Bernadette (
Scott Willis
) and whippersnapper Felicia (
Bryan West
) – in a gigantic bus dubbed "Priscilla, Queen of the Desert". As the glittering trio encounter rednecks, breakdowns and honky tonk bars along the Australian Outback, they remember who they really are – and find love in the most unexpected places.
Priscilla will either appeal to you, or it won't. Fortunately, as it was a film first – I've never seen it, but those who have tell me the musical follows it closely – potential audience members have an easily accessible context. (Stephan Elliott co-wrote and directed both the film and the stage musical.) Like any drag show worth its wigs and tape, Priscilla is rife with bawdy humor, adult puns and choreography. It's a jukebox musical, with every 70's/80's dance floor hit from opening number "It's Raining Men" to the weird classic "MacArthur Park". A Greek chorus of flying divas presides over the action – they are actual women, but the majority of the ensemble is not.
Priscilla sets itself apart from mere camp. Elliott and Allan Scott's book has a sparkling wit, and there's real character development behind the dirty jokes. Though they're mainly elaborate production numbers, the transitions from dialog to song feel quite organic. Thanks to the excellent writing and the three leads' stellar performances, you'll empathize with the main characters: Tick's refusal to label his sexuality and his terror at how his son will perceive him; Bernadette's loneliness and longing for a showgirl era gone by; and Felicia's puppyish energy that sometimes leads to trouble. The message of embracing one's true nature is never forced, and a few sad scenes show that most of the world has a lot to learn.
The best part of Priscilla, however, is its costumes. It's no wonder designers Tim Chappel and Lizzy Gardiner won Academy and Tony Awards. Nothing is simple or muted, everything is elaborate and bright. From towering wigs to elegant gowns to outfits made of flip-flops, Priscilla's costume design is a constant source of surprise and delight: even those who have seen the movie may gasp in delight at the live theater manifestation. Add to it relatable characters, strong performances and a fast-moving comedic story, and Priscilla Queen of the Desert is a rollicking, sassy good time. This week or next, dance your way over to the Auditorium Theatre. Stilettos optional.
Rating: ★★★½
Priscilla Queen of the Desert continues through Date at Auditorium Theatre, 50 E. Congress (map), with performances Tuesdays-Fridays at 7:30pm (with 2pm Wednesday matinee), Saturdays at 2pm and 8pm, Sundays 2pm and 7:30pm.  Tickets are $25-$85, and are available by phone (800-775-2000) or online through Ticketmaster.com (check for half-price tickets at Goldstar.com). More information at BroadwayinChicago.com or PriscillaOnTour.com.  (Running time: 2 hours 15 minutes, includes an intermission. Note: This play is recommended for ages 13+)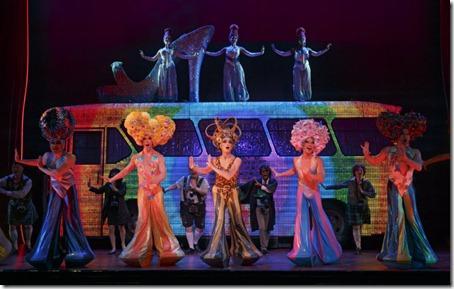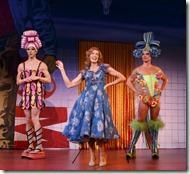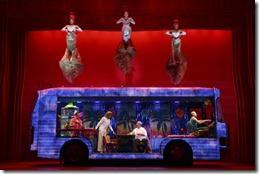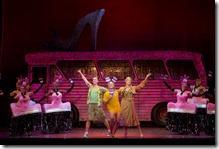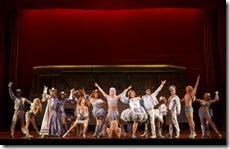 Photos by Joan Marcus
---
artists
cast
Wade McCollum (Tick/Mitzi), Scott Willis (Bernadette), Bryan West (Adam/Felicia), Joe Hart (Bob), Shane Davis/Will B. (Benji), Nik Alexzander (Miss Understanding), Christy Faber (Marion), Travis Taber (Farrah/Young Bernadette), Emily Afton, Bre Jackson, Brit West (Divas), Babs Rubenstein (Shirley), Taurean Everett (Jimmy), Chelsea Zeno (Cynthia), David Koch (Frank)
Ensemble: Emily Afton, Nik Alexzander, Andrew Chappelle, Alex Deleo, Taurean Everett, Christy Faber, Bre Jackson, Chris Klink, David Koch, Neal Mayer, Alex Ringler, Babs Rubenstein, Travis Taber, Brit West, Chelsea Zeno
behind the scenes
Simon Phillips (director), David Hyslop (assistant director), Ross Coleman (choreographer), Joshua Buscher (associate choreographer), Andrew Hallsworth (original associate choreographer), Ralph Meitzler (dance captain, fight captain), Amy Hillner Larsen (assistant dance captain), Brian Thomson (scenic design), Tim Chappel, Lizzy Gardiner (costume design), Nick Schliper, Jonathan Spencer (lighting), Jonathan Deans, Peter Fitzgerald (sound design), Stephen "Spud" Murphy (orchestrations, musical supervision, arrangements), Charlie Hull (orchestrations), Jeff Marder (music supervisor, synthesizer programmer), Brent Frederick (music director), TL Music International (music coordinator), Tesley + Company (casting), MB Productions (technical supervisor), Joan Marcus (photos)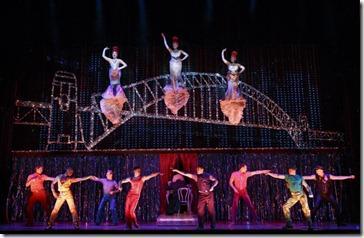 13-0346