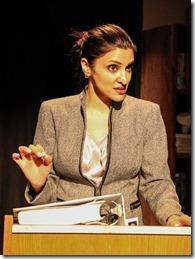 Principal Principle
Written by Joe Zarrow
Directed by Scott Bishop
at Theater Wit, 1229 W. Belmont (map)
thru May 18  |  tickets: $18-$27   |  more info
  
Check for half-price tickets 
  
  
   Read review
  
---
World premiere examines Chicago's public schools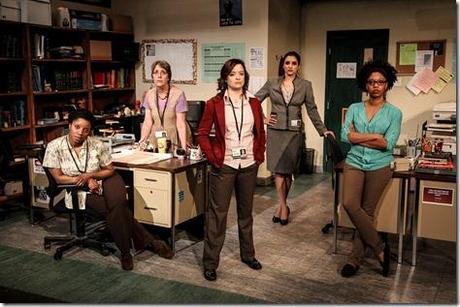 Stage Left Theatre and Theatre Seven of Chicago presents
Principal Principle
Review by Lawrence Bommer
Playwright Joe Zarrow is a former teacher in our beleaguered Chicago school system. He's clearly paid his dues. Zarrow was also caught up in the causes and consequences of the 2012 strike. Let's just say, he knows his show. Rife with insider info and inhabited by five representative teachers and one ambitious principal, the detailed faculty office in Chinua Achebe Academy High School depicts a continuing crisis – an effort in education that's a daily ordeal for even bad teachers and truant students.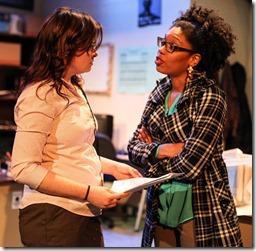 The setting is a public high school on the South Side with a 95% African-American student body. None, however, are directly depicted in the play:
Principal Principle
, a world premiere by Stage Left Theatre and Theatre Seven, is all about the teachers, specifically the grueling challenges of one school year as seen by a novice who all too quickly goes from idealism to burnout.
After leaving her white-collar job for eight months of teacher training in a special "corps," Kay Josephs (dynamic if doomed Cassy Sanders) is a Naperville white girl eager to make a difference teaching English—even, or especially, to inner city non-dropouts whose parents are either MIA or work three jobs. Along with a broken copy machine and ubiquitous PA announcements, Kay discovers a seemingly broken system where teachers are rated like TV shows, instructors must "teach to the (standardized) test," and a binder from the Cornell Review determines the syllabus and examinations for assembly-line learning.
Despite her lack of experience, Kay finds herself persuaded by the metrics-driven principal (Arya Daire, caught in the crossfire) to become a "master teacher," observing the other English teachers and in effect spying on them for signs of insubordination. Clearly, the sacred cow in a school in "turn around" is to never question the semi-corporate agenda of this blue-collar training facility and its "Common Core" curriculum. Are these teachers, you wonder, supposed to learn from each other or snitch on the underachievers?
Trapped between their academic faith and a school for folly, Kay's colleagues have made calculated adjustments to survive if not prosper. On the verge of retirement, white veteran Denise Corey (Barbara Roeder Harris, a mother hen with a few golden eggs) has learned to accommodate the whims of pedagogical fashion while retaining her passion for the pupils she's changed. Head of the department, Ola Lawrence (patient Elana Elyce) adjudicates scholastic disputes as she preserves a status quo that's clearly not good enough.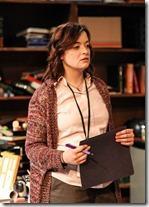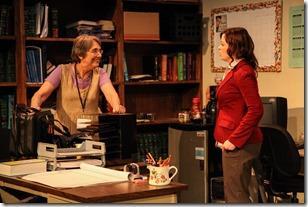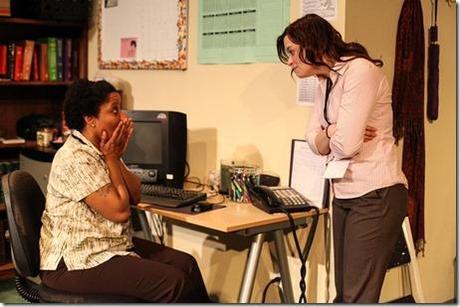 Finally, there's iconoclast Shelley Woods (passionate McKenzie Chinn), Kay's quondam partner and eventual rival. Unwilling to inflict the supposed "racism" of Mark Twain's 1885 classic on her students, she barely teaches "Huckleberry Finn" (a greater loss to her students than she'll allow). She purports to balance that American treasure against the rhetoric of Frederick Douglass and the humanism of Lorraine Hansberry.
Unfortunately, Shelley also believes that "objectivity is overrated." She cuts corners as she departs from the lesson plans that the school's annual proficiency test will measure. In attempting to "get around the binder," she takes risks for both her students and her career. When Shelley attacks Kay for failing to consider the sensitivities of her South Side students (with all that implies), a squabble erupts that burns them both. The principal's attempt to "mediate" unleashes a Darwinian duel to the death. This school year does not end well.
Structurally, Principal Principle can get bogged down in its attempt to capture every contradiction, conundrum and absurdity in a school system geared to preserve the illusion of opportunity and disguise the reality of inequality. By intermission, too little seems at stake.
But by the end Zarrow has provided as much compassion as criticism, indicting a semi-privatized CPS that's over-regulated and underfunded (though, strangely, the lack of resources and the challenges in discipline are topics Zarrow omits). Scott Bishop's staging nails the details and never misses the heartbreak. If rewards are tied to results, give Principal Principle a "B+."
Rating: ★★★
Principal Principle continues through May 18th at Theater Wit, 1229 W. Belmont (map), with performances Thursdays-Saturdays at 8pm, Sundays 3pm.  Tickets are $18-$27, and are available by phone (773-975-8150) or online through TheaterWit.org (check for half-price tickets at Goldstar.com). More information at StageLeftTheatre.com.  (Running time: 2 hours, includes an intermission)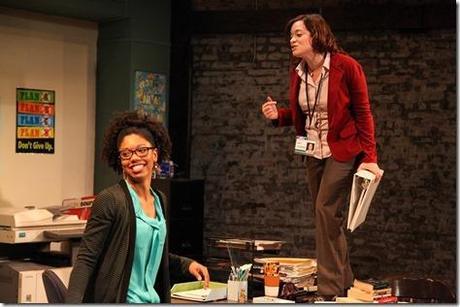 Photos by Emily Schwartz
---
artists
cast
Cassy Sanders (Kay), McKenzie Chinn (Shelley), Arya Daire (Ms. Banerjee), Elana Elyce (Ola), Barbara Harris (Denise)
behind the scenes
Scott Bishop (director), John Kohn III (lighting design), Adam Smith (sound design), Zev Valancy (dramaturg), Brenda Winstead (costume design), Jason Crutchfield (stage manager), Emmaline Keddy-Hector (production management), Joe Schermoly (scenic design), Cassy Schillo (properties master), Emily Schwartz (photos)
14-0431