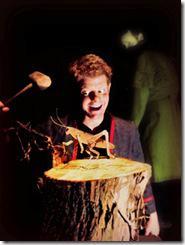 Pinocchio (The Wooden Boy) 
Written and Directed by Greg Allen 
at the Neo-Futurarium, 5153 N. Ashland (map)
thru April 14  |  tickets: $10-$20   |  more info
  
Check for half-price tickets 
  
  
   Read entire review
  
---
Disappointment on a futuristic scale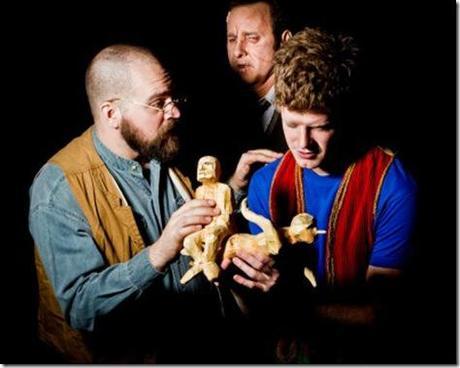 The Neo-Futurists presents
Strange and Terrible True Tale of Pinocchio (the Wooden Boy) 
as Told by Frankenstein's Monster (the Wretched Creature)
Review by J.H. Palmer
There are scant few productions that can stand up to the rigors of a running time that goes over the two and a half hour marker: Wagner's Ring Cycle; Angels in America; and Les Miserables spring to mind — Pinocchio (The Wooden Boy) clocks in at a hefty two hours and forty five minutes including one ten minute intermission, a full 30 minutes over its advertised running time. It's the first thing I mention because it made me angry to have to sit for that long when this play clearly needs to be edited — judiciously. By the final scene when (spoiler alert) Frankenstein snaps Pinocchio's neck, I was fit to do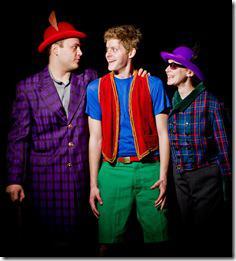 the same just to win my freedom from the prison of the Neo-Futurarium. To say that it is disappointing is an understatement: I have seen GREAT things come from the Neo-Futurarium – just a few months ago I couldn't stop gushing about Burning Bluebeard (my review), returning a second time and paying full price because I loved it so much I couldn't live with myself without seeing it again. I'm disappointed the way a concertgoer with tickets to an R.E.M. show discovers too late that they have tickets to see R.E.O. Speedwagon. I wanted to shout from my seat: "you have so much potential, why are you doing this to yourself?"
The play begins promisingly enough: The Monster (Guy Massey) makes his entrance as the strains of Johnny Cash singing "The Beast in Me" sets a somber and reflective tone, and bellows "I am not Frankenstein!" He explains, in no uncertain terms, that this is not a play for children: "If there are children here they should get the fuck out."
Pinocchio (Robert Fenton) is created by Geppetto (Dan Kerr-Hobert) in his shop, represented by a curtain that is lit from behind. Props and shadows are cleverly used to demonstrate the creation of Pinocchio,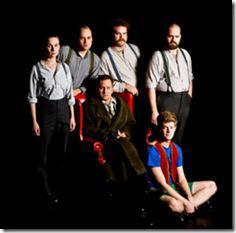 who is assembled bit by bit in front of the audience. The use of silhouette is simple and effective, and creates a sense of stage magic that is supported by shadow puppet screens and an amazing Punch and Judy-style puppet stage that comes to life in surprising and striking ways. The use of multiple forms of puppetry makes sense in the context of the story of Pinocchio, and is possibly the best thing about the production; it's a shame that it gets lost in a tangle of tangential storylines. At best, I would call this production a shaggy dog story.
Pinocchio gets caught up in a never-ending litany of misadventures, each less compelling than the previous, with characters that are one-dimensional and unlikeable, with thinly drawn correlations between Pinocchio and Frankenstein. Attempts at humor are broad, dated (insert Natalie Wood punch line, circa 1981, in response to the question: "what's wood but doesn't float?"), and mean-spirited. When Pinocchio meets Jiminy Cricket — represented by a puppet, he squashes the cricket and a cascade of white gooey liquid bursts forth. This bit gets used four times, and never gets any funnier; it feels like an episode of Fractured Fairytales gone wrong.
In a recent TheaterMania article, director Greg Allen is asked:
TM: And why Frankenstein, as compared to other monsters from literature, for instance, Dracula?

GA: Mary Shelley's Frankenstein is the perfect foil for Collodi's character: Pinocchio and Frankenstein's Monster are really the two best-known characters who are "created" without a mother. Both stories are also primarily about an innocent central character trying to find his father. And yet they are opposite sides of the same coin: the Creature is seen as an adult who is outcast and reviled because of his monstrous appearance even though he is basically kind, and Pinocchio is seen as a child and therefore constantly forgiven even though he is basically evil. This dichotomy gave me the perfect setting to explore issues of fatherhood, betrayal, forgiveness, perception, and identity, as well as draw some really fascinating stage echoes.
This dichotomy Allen talks about makes for a good premise, and it would have been interesting to explore the parallels and differences between Pinocchio and Frankenstein. Unfortunately, this play is so scattered, unfocused, and in such drastic need of editing that the comparison begins and ends with the fact that both Pinocchio and Frankenstein are created from inanimate material, and are motherless. If you must go to this play, build some time into your schedule for a stop at Simon's Tavern afterwards; it's likely the only part of the evening you'll enjoy.
Rating: ★
Pinocchio (The Wooden Boy) continues through April 14th at the Neo-Futurarium, 5153 N. Ashland (map), with performances Thursdays-Saturdays at 7:30pm.  Tickets are $20 ($10 for students/seniors), and are available online at secure.force.com (check for half-price tickets at Goldstar.com). More information at neofuturists.org.  (Running time: 2 hours 45 minutes, which includes a 10-minute intermission)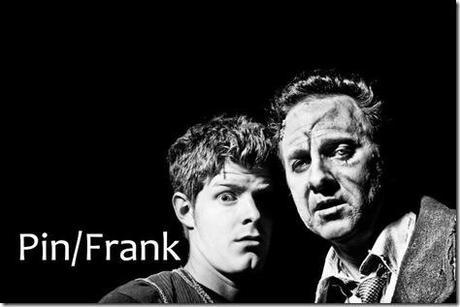 Photos by Brave Lux Photography
---
artists