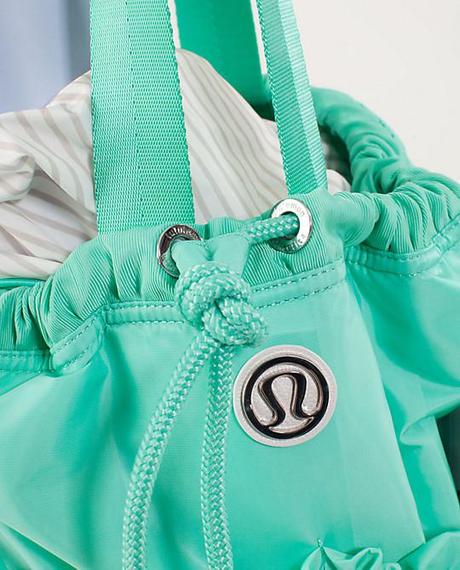 I love reading reviews online about items.  The only part I don't like about online reviews is the fact that people don't circle back at a later date with additional comments regarding their review.  Why? Well, of course you love the item, you just bought it.  Its called the honeymoon stage.  I want to know how people like things after the honeymoon stage is over.
Here is my Review of the Lululemon Bliss Bag Part II.  Which is a follow-up to Part I, here. I have had the Lululemon Bliss Bag for about a month.  I only use it when I workout, approximately every other day. 
Sorry to kind of be a Negative Nancy for all you Lululemon fans,  but I am already over the bag.  Its overrated.  I think I am most annoyed that the good idea of attaching the longer strap to the outside of the bag to carry as a cinched duffle bag doesn't really work out.  Only in theory.  I have pulled and even tied the cinch area and stuff still manages to spill out when I have it thrown over my shoulder.  Pair that with a screaming kid you are carrying and it makes a recipe for the perfect disaster.  At the low and affordable price of $128.00.  Items even fall out of the exterior pockets that are cinched with the bungee cord-like additions. 
I am a shorter person and the double straps are just a bit short for me to comfortably throw the bag on my shoulder when it is full of stuff.  It is too tight of a fit.   I have to carry it with the longer strap attached to the inside of the bag.  This is ok, but I was just so over the moon excited thinking that I could throw the bag over my shoulder cross body style and have everything stay put.  Oh well. Also, when you use the larger strap the shorter straps get all in the way wrapped up in your items in the bag that you can't easily access something and pull it out without setting the bag down and undoing and untangling the shorter straps from the items you have in your bag.  Definitely not a huge price to pay for such an adorably colored workout bag, but still.  Some people are overly picky about their bags.  Maybe I am too?  Thinking about the Bliss Bag?  Have one already? What do you think?
Shouldn't you want a bag that costs as much as 24 lunches at work to be the best that it can be?  I do.  I expect more from this bag because it is at a higher price point.  If I wanted a bag that let things fall out, I could use an old Target bag as my workout bag.