It is starting to get impossible to keep up with ColourPop's new releases. Seriously, do these people ever rest? Despite the onslaught of new releases, ColourPop almost always finds a way to keep things interesting, new, and fresh. The new Colour Pop Crystal Collection isn't something I have ever seen before. Crystals are a HUGE trend right now. I don't know if I necessarily believe in their abilities to promote different feelings of happiness and clarity,  I am not about to flat out deny it. If something brings about positive energy and happiness for someone, I am not going to be negative. Besides, I think we can all agree that their beauty alone makes us feel better. Nonetheless,  I was curious about this line, so I bought two of the bundle's to test out.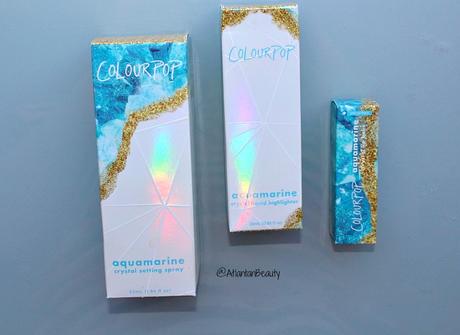 There are four crystals in this collection: aquamarine, aventurine, rose quartz, and amethyst. Each one has a setting spray, liquid highlighter, and lip balm. The colors of the lip balms and highlighters corresponds with the crystal. And each setting spray has different properties. I bought two of the four bundles to test out for you. Each bundle is $18 and includes the spray, lip balm, and highlighter.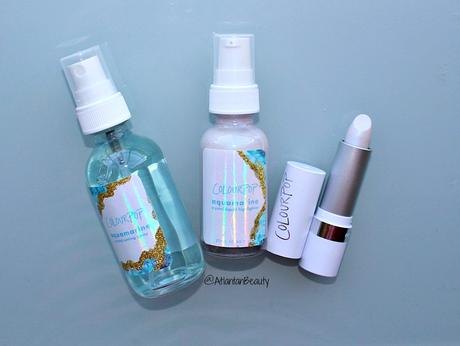 First up is the Cool, Calm, and Collected Bundle. The three products in this collection have real crushed aquamarine in them. Aquamarine has been my favorite stone since I was a child. In fact, I always wished that I had been born in March instead of January so it could be my birthstone. Aquamarine is supposed to promote mental clarity and wisdom while also being relaxing. Consider the month I have had, I need all the help I can get in those three areas.
I'll start with the setting spray. Of the three products, this is the one I expected to dislike. However, I have enjoyed it a lot. This particular setting spray is supposed to calm and hydrate the skin while keeping makeup in place and adding a dewy finish. It feels very refreshing and cooling on the skin, plus it smells really good. They describe the scent as being pink grapefruit. I like the product itself, but I wish the mist were more fine. If you aren't careful, this stuff will drench you. In terms of making my makeup last longer, I have noticed a difference. When I use this, foundation isn't so quick to break up around my nose and chin. Some of the ingredients in this spray are aquamarine, red algae, apple extract, olive oil derived moisturizer, and a film former to help your makeup stay put. I am always leery of anything with olive oil because it makes me break out, but I don't think this has caused any problems. I have a few new blemishes on my chin, but I am certain those are stress related.
The major downside is that this spray won't last you awhile. I've already made quite a dent in this one, which is a bit frustrating considering I've only had it a week. You get 1.86 oz of product for $6, which isn't too bad. The mister just isn't the most efficient.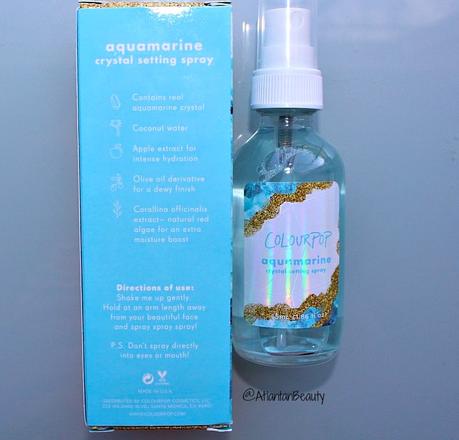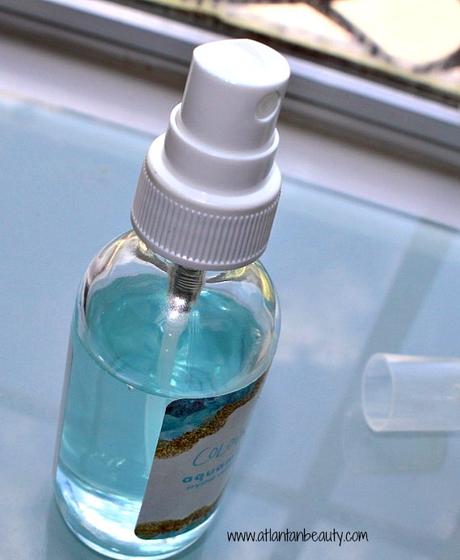 Up next is the liquid highlighter, which is my favorite of the three products. ColourPop describes it as "blue with a violet flip." I would say it is more of a pearl with a blue shift. The blue shift isn't so intense that you look crazy while wearing it. It is pretty easy to wear this on a daily basis. I just recommend not using a full pump because that will be a bit much unless you are mixing it with foundation. I just apply it with my finger tips and lightly blend it with a beauty sponge. It looks seamless with your skin and it doesn't accentuate any imperfections. It just gives the skin a beautiful, ethereal glow that isn't too over the top.
I don't like using this mixed in with my foundation. I've done this twice and both times my foundation ends up looking patchy and it starts to break up an hour or so after application. It is just fine on top of foundation, though.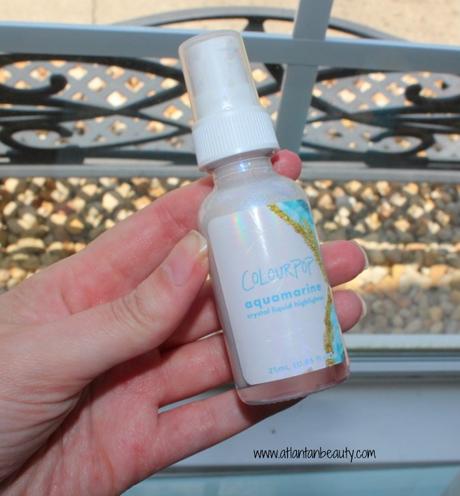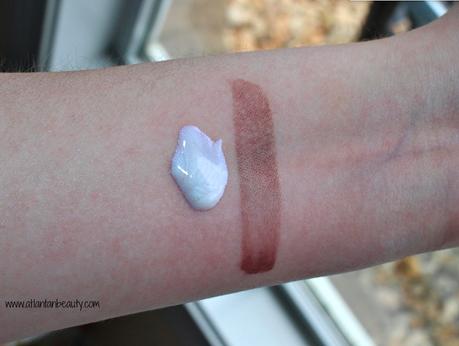 This is what one pump looks like, and ignore that lipstick swatch. That is one of the new L'Oreal Infallible Liquid Lipsticks. Those things DO NOT BUDGE.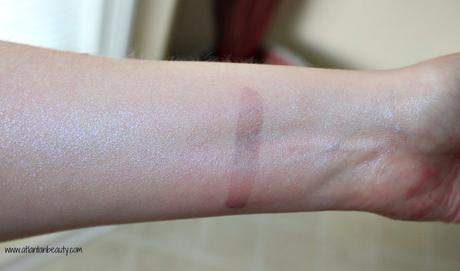 Last but not least is the lip balm. Like the highlighter, the balm has a blue shift and it is pretty intense. I cannot wear this alone because of the intensity. However, it makes a beautiful lipstick topper. The consistency is a little bit thick and waxy, but it isn't uncomfortable. My lips do feel nicely hydrated when I wear this and the effect lasts a long time.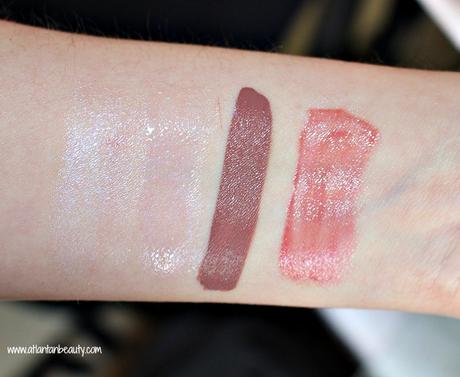 Left to right: ColourPop Crystal Balm alone, under Chanel Gloss de Volume, on top of L'Oreal's Infallible Liquid Lipstick in Angora, and under ColourPop's Ultra Glossy Lip in Aquarius.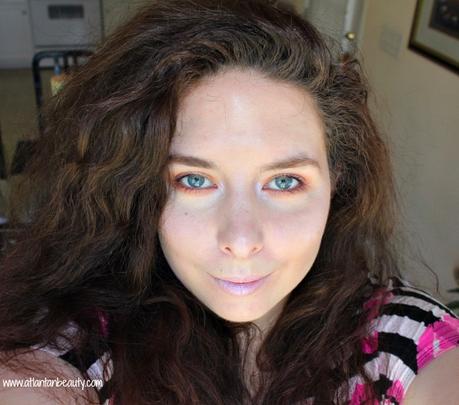 Wearing the lip balm by itself and highlighter.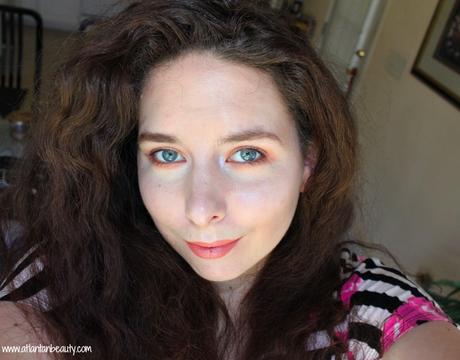 Wearing the lip balm on top of L'Oreal's Infallible Paints in Peach Pit.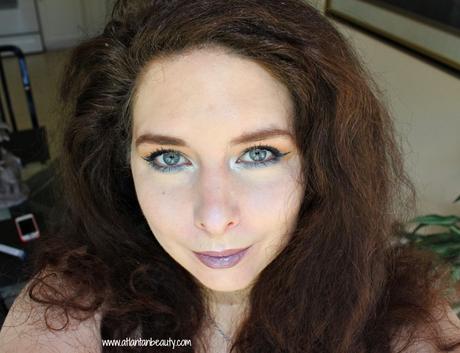 Wearing the lip balm over L'Oreal's Infallible Liquid Lipstick in Angora.

The packaging for this collection is beautiful. The boxes match the crystal and they have a little bit of gold detail. The bottles for the setting spray and highlighter are made out of glass so you can see the product inside. The lip balm packaging is pretty heavy and sturdy, too. So despite everything being very affordable, they didn't give us a crappy exterior. So thank you for that, ColourPop.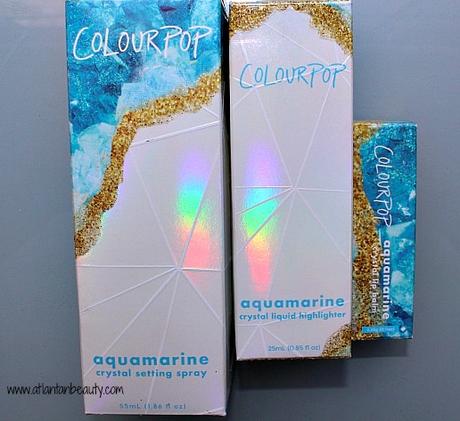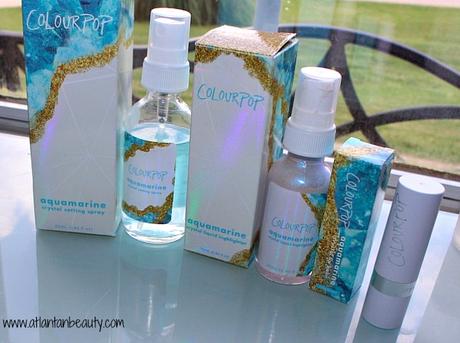 Overall, I am very happy with this collection. ColourPop put a different twist on something that has been very popular, which I appreciate. Unfortunately, everything buy the lip balms are sold out right now. I hope they do a restock soon and I would love it if they made everything permanent. If you missed out on this collection when it first launched, get at least one of the bundles. I think (and hope) you will be pleasantly surprised.