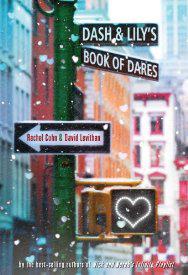 I'm taking a break from the indie book list and heading back into the "big 5″ territory (for those of you who aren't quite as interesting in the publishing world, the big 5 are the 5 top publishing houses, most of which are in New York).  Which basically means I'm getting back to the reading list of books people have probably heard of before.  It's not really that I don't like indie books, it's just that I had about 5 books come in from my e-library hold list so I have to put the indie reading aside and catch up on these.  "Dash and Lily's Book of Dares" was the first book I got and I'm a little sad I wasn't able to read it around Christmas time.  This would make for the PERFECT Christmas YA-RomCom book.  I'm going to have to keep this in mind for my English students.  I can already think of a few who would love a book like this.  So if you're lucky enough to have a classroom full of teenagers yourself, write the title down.  Added bonus, this was also on the ALA (American Library Association)'s best YA novels of 2011 list.  It's fairly new, getting fantastic reviews, and a feel good read.
Besides, if you aren't reading Rachel Cohn and David Leviathan (and probably John Green for that matter) you aren't reading the new wave of Young Adult Lit.
Dash and Lily are each having miserable Christmases for different reasons. Dash just hates Christmas and has found a way to make sure he can spend it on his own, while Lily loves Christmas but is forced to spend it alone with her older brother (and older brother's boyfriend) while their parents are in Fiji. Of course, there's one thing that could make this Christmas a little more exciting…a scavenger hunt with a charming member of the opposite sex.
Enter the "red moleskin notebook". In an attempt to get Lily out of his way, her older brother sets up a scavenger hunt for a mystery boy in the stacks of New York bookstore "The Strand". As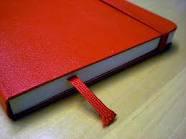 only happens in fiction, that notebook is found by Dash, a cute boy the same age as Lily who is more than happy to play the game. The two engage in a back and forth but anonymous courtship for most of the book, before finally meeting and wondering if it all wasn't better in the notebook or if life is meant to be lived in person. Leviathan and Cohn do a fantastic job of creating the characters of Lily and Dash. Each chapter feels like a journal entry written by a teen and it took me back to my high school days. The plot is not very plausible, the fact that not one bystander ever picked up the notebook is almost unbelievable, but it doesn't really matter. This book creates an adventure you don't want to end. The language is a little more educated than you would expect for high school students, but the entries are being written by bibliophiles and logophiles. While this makes for a more interesting book the less-literate young adult crowd might find it a little less entertaining than the avid teen reader.
That being said, this book takes you on a romantic adventure you can't help but envy, and I know I'll be looking for notebooks the next time I go into my favorite bookstore.