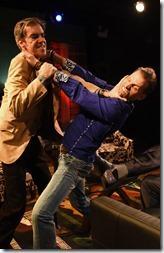 O brave new country that has such actors in it!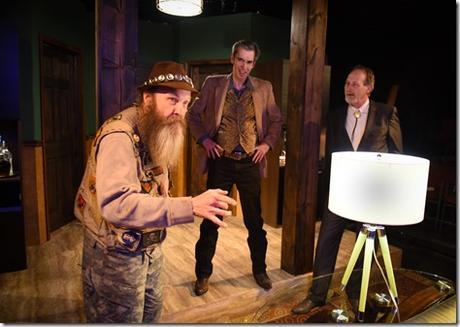 In a Nashville hotel room, two managers of a world-famous country musician are harried by their client's approaching nuptials. Paul () is a relatively convivial man with a Southern drawl replete with charming aphorisms, though it appears clear he's masking a deep vicious streak. He tells a nervous bride not to be overly concerned with her fiancé's absence. You can't give a scarecrow a book of matches and be surprised when you get ashes, he advises. Chuck (Will Clinger) is far more concerned at the slight he feels has been given by being paired with an overly-large bridesmaid. Justin Spears-the superstar himself (Michael Monroe Goodman)-makes a puerile entrance that delivers the plot the Chekhov's gun that will hang over the short 85-minutes production.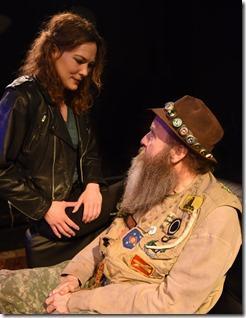 Last to arrive for the party is Uncle Jim (playwright
Mark Roberts
). He's a spitfire who dresses like a lost Duck Dynasty cast member and tells off-color jokes and even more off-color personal tales. His nephew is delighted at the arrival of what is no less than a court jester in his megalomaniac kingdom. Poor Uncle Jim must sing for his supper.
Tonight won't be any average bachelor party even by the standards of celebrity. Unbeknownst to Justin, the chickens of his past are coming home to roost tonight, and they've got the desire to peck his arrogant eyes out. It begins with the arrival of Sharon (), a woman scorned who sheltered Justin in his rough early years and isn't a bad singer herself (shades of Hedwig here). Her plan for revenge-or at least an apology and acknowledgment-runs afoul when she encounters the lonesome Uncle Jim. Their mutual despair at being a forgotten Chiron helps them en route to some self-revelation.
This is a piece that really snuck up on me. Seeing that the author was a head writer for a show I don't personally find very funny (Two and a Half Men), my hopes were not high that I would enjoy this show. That it is a very funny and frequently poetic look at the nature of aging, regret and dignity took me by complete surprise.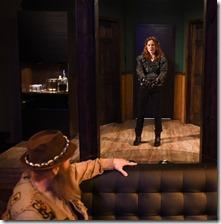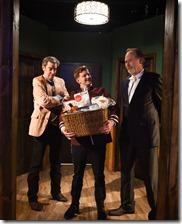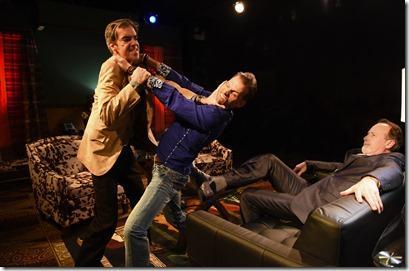 Director Ian Streichercoaxes some very believable turns from this cast even if the setup leans towards the preposterous. Most notable among them is Nall, a commanding presence if ever there was one. As this is a vehicle for his own talents, Roberts owns the entirety without appearing overly indulgent. Uncle Jim is a heartbreaking creation, a world-worn poet locked in a prison of his own bad decisions. It helps gloss over authorial contrivance when you start to care deeply about a character who delivers both the most elegiac insight into life and the best deadpan one-liners. He's a one man country ballad.
New Country doesn't overstay its welcome, which is a good thing. You don't want to give the audience to much time to think about all the coincidences that might despoil the suspension of disbelief that the actors create. Roberts has created an endearing encapsulation of the idea that it's never too late to try riding the bull again. Aw heck, maybe it's never too late to become the bull.

New Country continues through May 14th at The Den Theatre, 1333 N. Milwaukee (map), with performances Wednesdays-Fridays at 7:30pm, Saturdays 4:30pm & 7:30pm, Sundays 6pm. Tickets are $45, and are available by phone (800-838-3006) or at BrownPaperTickets.com (check for half-price tickets at Goldstar.com ). More information at NewCountryThePlay.com. (Running time: 85 minutes, no intermission)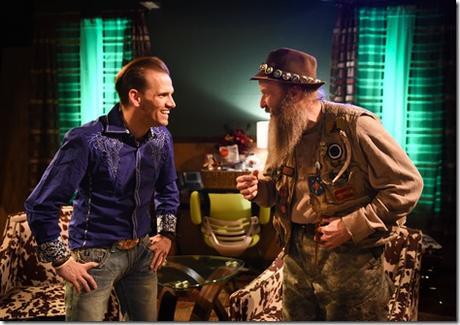 behind the scenes
Ian Streicher (director), Ellen Fred (assistant director), Kevin Hagan (scenic design), Frank Rose (lighting design), Rachel Lambert (costume design), Robert Hornbostel (sound engineer), Mealah Heidenreich (properties design), Jessica Forella (stage manager), Kelcie Beene (producer), Brandon Dahlquist (photos)
Tags: 16-0260, Brandon Dahlquist, Chicago Theater, Clint May, Colter O'Ryan Smith, Ellen Fred, Fair Trade Productions, Frank Nall, Frank Rose, Ian Streicher, Jessica Forella, Kelcie Beene, Kevin Hagan, Mark Roberts, Mealah Heidenreich, Michael Monroe Goodman, post, Rachel Lambert, Robert Hornbostel, Sarah Lemp, The Den Theatre, Will Clinger
Category: 2016 Reviews, Clint May, Den Theatre, Fair Trade Productions