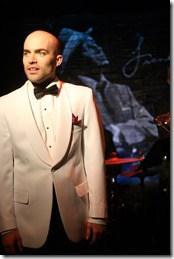 My Way 
Conceived by Todd Olson, David Grapes
No Exit Café, 6970 N. Glenwood (map)
thru Jan 31  |  tix: $29-$34   |  more info
  
Check for half-price tickets  
---
Now extended thru January 31st!
Sinatra tribute bursting with talent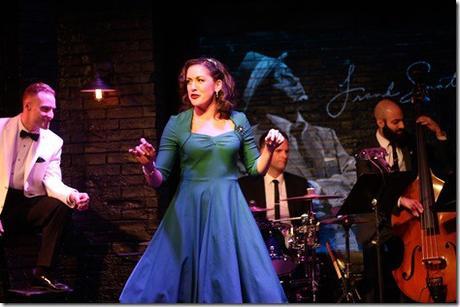 Theo Ubique Cabaret Theatre presents
My Way…A Musical Tribute to Frank Sinatra
Review by Lauren Whalen 
Frank Sinatra was a man, a myth and a legend with remarkable peers, a fondness for social lubricant and a stunning, near-indescribable voice. At one point in Sinatra's career, he sang upward of 100 songs a day, and he gave the simple career advice: "Sing good songs." Sinatra's "My Way" is oft-cited as the most covered song in history, and the crooner's tombstone bears the title of the last song he sang in public: "The Best is Yet to Come." Even his love life was fascinating: Frank once told then-girlfriend Shirley MacLaine, "I wish someone would hurt you, so I could kill him for you." Theo Ubique Cabaret Theatre pays a lovely tribute to Ol' Blue Eyes in their latest production, My Way: A Musical Tribute to Frank Sinatra. The intimate setting of No Exit Café pairs wonderfully with the delightful group of singers and musicians to create a memorable evening of classic music.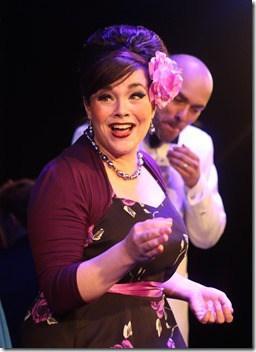 Theo Ubique has always employed dynamic performers with beautiful voices and engaging presence, and
My Way
's cast is no different.
Kyrie Anderson
returns after her stellar turn in Theo Ubique's
Blood Brothers
, and company veteran
Christopher Logan
joins in, fresh off his lead role as Peter Allen in Pride Films and Plays'
The Boy From Oz
. They're joined by newcomers
Carl Herzog
(whose voice is a dead ringer for Sinatra's) and musical comedienne
Caitlin Boho
. Each performer brings both strength and endurance – the four are onstage for nearly the entire two-hour runtime, and never falter in their skill or enthusiasm. Musical director
Jeremy Ramey
also tickles a mean ivory, and rounding out the trio are
Kevin Brown
on drums and
Jake Saleh
on bass.
Striking the perfect balance between intimacy and grandeur was Sinatra's forte, and both Ramey and director Fred Anzevino display a deep understanding of this essential quality. My Way's quartet of singers and three-piece combo never overwhelm the audience with eardrum-blasting trills. They take their time, crooning hits like "I Get a Kick Out of You" and "Strangers in the Night" with sweet sensuality and palpable joy. Costume designer Bill Morey dresses the men in white tuxedos (the debonair Sinatra would approve) and the women in jewel-toned retro frocks, lending an elegant air to the evening. Maggie Portman's choreography is a delightful mix of seamless movements through the cabaret space, swinging partner moves and show-stopping tap dancing. And scenic designer Adam Veness keeps it simple, with a pretty painting of Sinatra as backdrop, letting the music speak (or sing) for itself. My Way is emblematic of Theo Ubique's team spirit and open heart, a scrappy yet skilled group of artists putting up gorgeous shows with a deceptively simple aesthetic.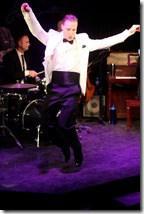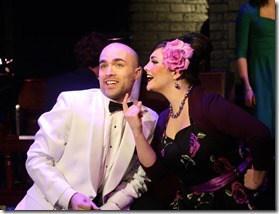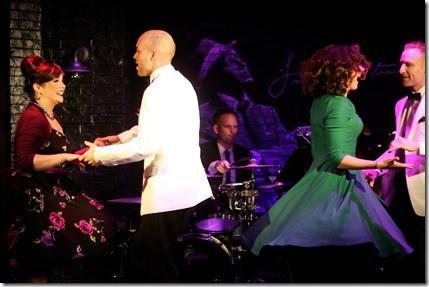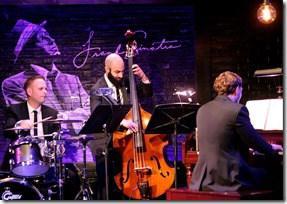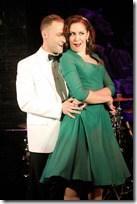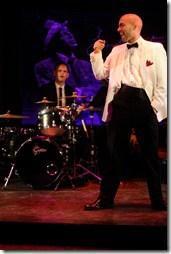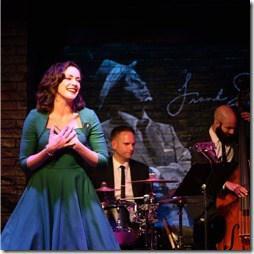 Now extended through January 31, My Way is a delight from beginning to end. Fans of Theo Ubique will adore the show's classic, intimate style, and newbies will enjoy a fitting introduction to one of Chicago's best-kept theater secrets. If the winter blues are getting you down (or if you'd like to get out and enjoy the recent balmy temperatures), put on your Sunday best and head to Rogers Park for this energetic, unique tribute to Ol' Blue Eyes.
Rating: ★★★½
My Way continues through January 10th January 31st at No Exit Café, 6970 N. Glenwood (map), with performances Thursdays at 7:30pm, Fridays and Saturdays 8pm, Sundays 7pm.  Tickets are $29-$34 (advanced dinner reservations available before the show for an additional $25), and are available by phone (800-595-4849) or online through Tix.com (check for half-price tickets at Goldstar.com). More information at Theo-U.com.  (Running time: 2 hours, includes an intermission)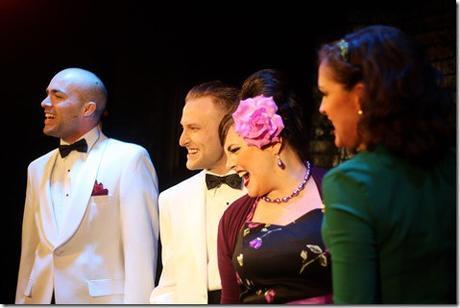 Photos by Cody Jolly
---
artists
cast
Kyrie Anderson, Caitlin Boho, Carl Herzog, Christopher Logan (singers), Jeremy Ramey (piano), Kevin Brown (drums), Jake Saleh (bass)
behind the scenes
Fred Anzevino (director), Jeremy Ramey (music director), Maggie Portman (choreographer), Courtney Crouse (assistant director), Mary-Catherine Mikalayunas (production stage manager), Adam Veness (scenic design), Maya Michele Fein (lighting design), Bill Morey (costume design), David Grapes (original production director), Vince di Mura (original piano and vocal arrangements), Stephen Kummer, Donald Jenzcka (additional arrangements), Vince di Mura (score conception and interpretive consultant), Cody Jolly (photos)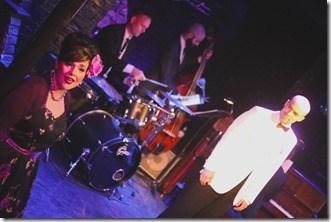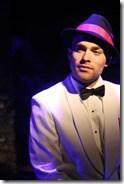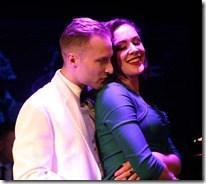 15-1160