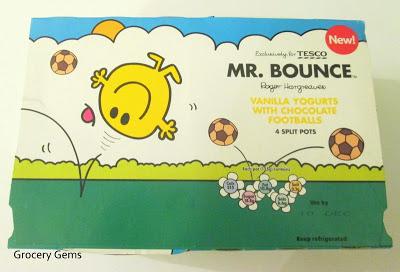 There's nothing quite like the Mr Men books for reading together with children, and it's a series that we've long enjoyed as a family. No surprise then that I've reviewed most of the Mr Men products, from yogurt drinks to chocolate, that are exclusive to Tesco. A new addition to the range (in my local Tesco at least) are these Mr. Bounce Vanilla Yogurts with Chocolate Footballs.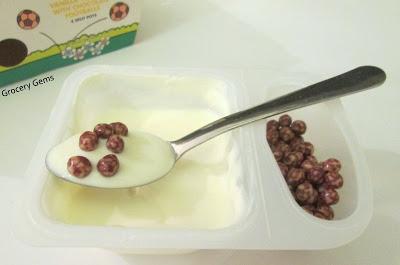 There are four 125g split pot yogurts in each pack, and as always I love the bright classic Mr Men design of the packaging. The vanilla yogurt itself, is nicely creamy with just the right amount of natural tangy yogurt flavor - it's not overly sweet like a lot of kids yogurts. On the side is a serving of cereal pieces shaped to look like chocolate footballs, providing the crunch (and fun!) factor. Needless to say my boys both enjoyed these yogurts. The flavours are all quite simple but create an enjoyable sweet treat.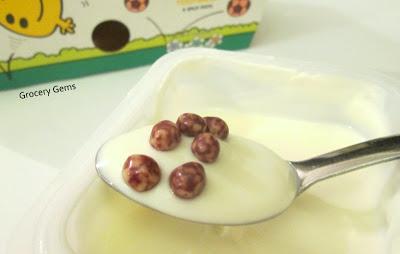 It has to be said that this yogurt is quite similar, in concept at least, to the Müller Kids Corner Football Yogurts which were released last year. In taste terms the flavours are quite different, even though they sound very similar. The Muller version has a much sweeter vanilla yogurt and the football chocolates are also sweeter, with their white chocolate coating.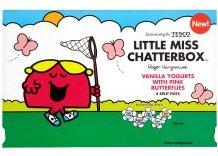 And just like the Müller Kids Corner had a Hearts version of the Football yogurt, there is also a Little Miss Chatterbox Vanilla Yogurt with Pink Butterflies. It looks like the gender specification of yogurt saga, that is a controversial issue to some parents, is continuing...
Grocery Gems Verdict: Mr Bounce Vanilla Yogurts with Chocolate Footballs
RATING: 7 out of 10
Buy them again?: Probably.


Nutrition per pot

: 215 

calories

.




Purchased

:

 

Tesco (exclusive).




Price

: £1.50 for a 4 pack.