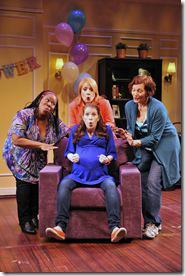 Motherhood: the Musical 
Written by Sue Fabish 
Directed by Lisa Shriver
Royal George Theatre, 1641 N. Halsted (map)
thru June 17  |  tickets: $55-$65   |  more info
  
Check for half-price tickets 
  
  
   Read entire review
  
---
Motherhood set to music in comic, reflective, entertaining musical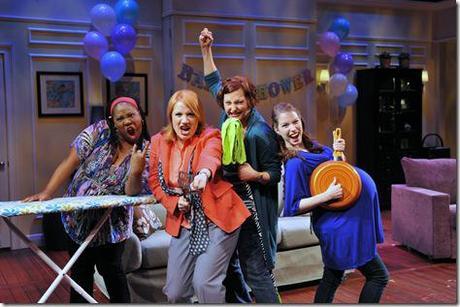 GFour Productions presents
Motherhood: The Musical…
   the good, the bad… and the laundry
Review by J.H. Palmer 
Motherhood: The Musical – the good, the bad…and the laundry© is not just a play, it's a copyrighted production with franchises currently running in Philadelphia, Atlanta, and Chicago, and a number of other cities slated to mount the show later this year. The musical premièred in Ft. Lauderdale in the fall of 2010, and has had successful runs in 3 other US cities and is currently on a 65 city tour in Australia. This monolith of a musical began in the mind of author and songwriter Sue Fabish, a mother who used her life as a creative source of inspiration.
It gave me, ahem, pause when I learned that G Four Productions previously brought to the stage another piece that delves into a specific chapter of women's lives: Menopause, The Musical©. What's next – Menarche: A Tale of Two Tampons – the cramps, the bloating… and the chocolate©? Determined not to judge this book by its pink-hued cover, I took my assignment and made my way to the Royal George Theatre last Thursday.
What I found was surprisingly entertaining, if not exactly the stuff of Tony awards. The piece revolves around Amy (Madeline Duffy-Feins), an expectant first-time mother whose friends are planning a surprise baby shower for her. Barb (Jen Chada), the blasé mother of several, dishes out sage and sassy advice that comes from a wellspring of childrearing experience. While some of her lines are a tad stale – we hear the old chestnut about being married for "five great years… fifteen altogether but five of them were great", there are moments of sustained original hilarity that come from her character, most notably when she spends a good sixty to ninety seconds adjusting a pantiliner that's attached itself to her inner thigh, and when no amount of squirming and picking avails, reaches into the front of her pants like Al Bundy to correct the situation. Now that's funny.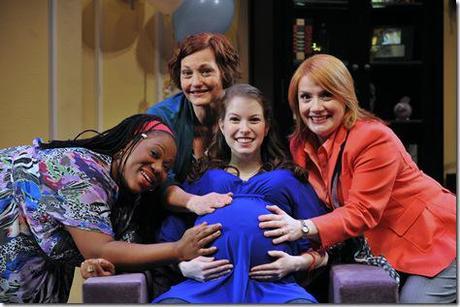 Brooke (Kimberly Vanbiesbrouck) is a high-power lawyer juggling motherhood with a career, and convincingly evokes the harried life of a professional mother, shining in the musical number "Costco Queen", where she sings the praises of shopping in bulk, and "Do It," where she comically interprets the complicated dance of shuffled priorities that can sometimes accompany marital sex of the post-childbearing kind.
Tasha (Melody Betts) is the single mom in the group, and brings the piece to a standstill with the only truly sad number in the musical: "Every Other Weekend," where she describes the childcare arrangement with her ex-husband in heartbreaking terms. Betts has a standout voice, easily moves from funny to reflective in her acting, and gets some of the funniest lines. While miming a typical morning with her kids she says: "I don't have time for the hospital today… are you bleeding?"
Duffy-Feins brings a convincing naïveté to the role of Amy, opening the show with a wistful vision of how "perfect" motherhood will be, only to be brought down to earth by her more experienced friends. Some of her best moments come through when she conveys the shock of discovery: labor contractions really are painful; nursing a baby is difficult; she'll hardly have enough time to herself for a shower before the baby wakes up.
This musical definitely has a target audience in mind, and it's an audience that really seems to enjoy itself. Motherhood as a subject doesn't typically get a lot of stage time, and this piece comes loaded with 22 songs packed into 90 minutes. Some of them really stand out: the aforementioned "Every Other Weekend;" an homage to the wonder of pre-breastfeeding breasts set to the tune of "The Way We Were," titled "How Great They Were;" and a number that needs no explanation titled "The Kids Are Finally Asleep."
There are only two moments that really gave me pause in this musical- the first is when Duffy-Feins doubles as her own mother, interpreting her with affectations that would hint that she is of Jewish, Italian, or New York extraction. This sat strangely with me for a couple of reasons: up until that moment, Amy, for all appearances, seemed to be channeling pure WASP, and it was jolting to suddenly be confronted with the overbearing mother stereotype that, while universally shared, gets special attention when portrayed by certain ethnicities, none of which had previously made their way onstage. I realize that this play started in Florida, where aging Jewish mothers are in big supply, but for me it points to the bizarreness of franchising the experience of motherhood instead of detailing the specific experiences of one woman.
The other moment that made me uncomfortable was when I realized that Tasha, the lone black character, is the one who is single. While there are certainly divorced black women in the world, it made me realize: 1. There were hardly any women of color in the audience, and: 2. The lone black actress in this play gets saddled with this role. She did a tremendous job of interpreting it, but it still sits strangely with me. Maybe I'm being oversensitive, but in a musical that's being franchised out to one theater company after the next, it strikes me as odd that the single mom is always played by a black actress: it's slippery territory, and not a place that I feel particularly comfortable standing. Writer Samantha Irby recently delved into the issue of representing African-Americans on television, specifically with regard to the show Mad Men, and much of what she has to say can be applied to theater as well – it's worth a read.
Those issues aside, this musical is entertaining, lighthearted, sincere, and funny, and anyone who's a parent will likely enjoy themselves. I was definitely entertained, and I don't even have kids!
Rating: ★★★
Motherhood the Musical continues through June 17th at the Royal George Theatre, 1641 N. Halsted (map), with performances Wednesdays and Thursdays 7:30pm, Fridays 8pm, Saturdays 2pm and 8pm, Sundays 2pm and 5:30pm.  Tickets are $55-$65, and are available by phone (800-982-2787) or online at TicketMaster.com (check for half-price tickets at Goldstar.com). More information at MotherhoodTheMusical.com.  (Running time: 90 minutes without intermission)
---