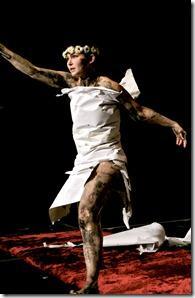 Minsk, 2011:
   A Reply to Kathy Acker 
Written by Natalia Kaliada and Nicolai Khalezin
Directed by Vladimir Shcherban
at Chicago Shakespeare, Navy Pier (map)
thru Feb 3  |  tickets: $20   |  more info
  
Check for half-price tickets 
  
  
   Read entire review
  
---
Political satire loses something in translation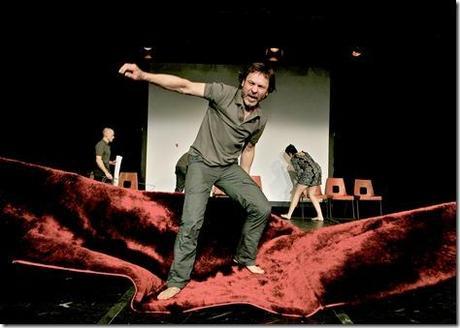 Belarus Free Theatre i/a/w Chicago Shakespeare Theater presents
Minsk 2011: A Reply to Kathy Acker
Review by Keith Glab
Belarus Free Theatre must produce their theatrical work secretly in their home country, but for one week, Minsk 2011: A Reply to Kathy Acker is staged prominently at the Chicago Shakespeare Theater. Members of the company have been persecuted with job loss, imprisonment, and even exile from Belarus due to their involvement in politically incendiary theater.
Minsk 2011 is a series of vignettes depicting a Belarusian society that suppresses any freedom of expression, but focusing on sexual repression and exploitation. Performed in Russian and Belarusian with projected English translation, the production utilizes a barebones set consisting of a microphone, a red carpet, and nine red chairs to seamlessly transition between unrelated scenes.
At times, the troupe executes these transitions too quickly. Dealing with heavy material such as violent interrogations and sexual assault, the nine performers rush through without letting what could be powerful moments land. The fast-paced show never drags because of both this pacing and the incredible energy and passion the cast brings to their performance, but the message gets muddled.
The handling of the projected subtitles further complicates audience comprehension. All of the subtitles appear in white text at the top of a very high projection screen, so there isn't enough contrast for the text to stand out from the stage lights. The audience can't possibly read the subtitles and watch the performance at the same time because of how high the projected text appears. Moreover, the actors often deliver the lines so fast that it is difficult to read, process, and comprehend the text even when giving it your undivided attention.
Scenes that show more than tell always work better in theatre, but this is particularly true of theater performed in a foreign language. When one of the performers describes a graphic sexual encounter, it isn't as effective as the instances when they actually enact such an encounter onstage. Even then, the PG-13 simulated sex and brief nudity depicted doesn't really shock an American audience the way it no doubt does a sexually repressed Belarusian crowd.
The performance concludes with each of the nine actors sharing personal reflections of the meager life they can expect to return to in Belarus (excepting those who are banned from returning). All nine exhibit clear pride and affection for their home despite the bleak picture of it they have painted for the previous 75 minutes. This serves as anticlimax both in terms of the theme and the energy level of the performance.
What the Belarus Free Theatre company has sacrificed in order to tell their story internationally is truly awe-inspiring, and this talented group of performers has put together an engaging, evocative performance. But while I walk away from Minsk 2011: A Reply to Kathy Acker more aware of the problem of oppression in Belarus than I had been, I don't necessarily understand its intricacies much better.
Rating: ★★½
Minsk 2011: A Reply to Kathy Acker continues through February 3rd at Chicago Shakespeare, Navy Pier, 600 E. Grand (map), with performances Thursday-Saturday at 7:30pm, plus Saturday and Sunday at 2pm.  Tickets are $price, and are available by phone (312-595-5600) or online through their website (check for half-price tickets at Goldstar.com). More info at ChicagoShakes.com.  (Running time: 85 minutes, no intermission)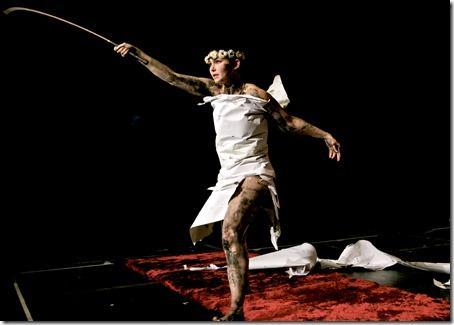 ---
artists
cast
Pavel Radak-Haradnitski, Yana Rusakevich, Aleh Sidorchyk, Dzianis Tarasenka, Maryna Yurevich, Yuliya Shauchuk, Siarhei Kvachonak, Viktoryia Biran, Kiryl Kanstantsinau
behind the scenes
Vladimir Shcherban (director); Nicolai Khalezin (writer/editor, photos); Natalia Kaliada (writer/original translation); Yuri Kaliada (original translation); Chris Thorpe (English adaptation); Tom Cotterill (production manager); Svetlana Sugako (Stage Manager); Nadia Brodskaya (tour manager and subtitles)
13-0154