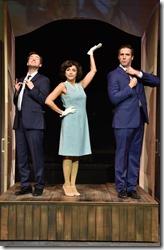 Fierce performances make the most of this Sondheim classic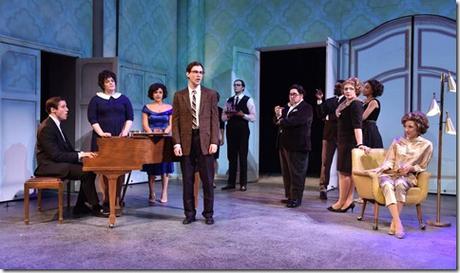 occupies a special place among musical theater fans - it is possibly the best loved and most frequently produced musical to have flopped spectacularly on Broadway. Running just 16 performances (following an unusually long preview period of 44 performances), it wasn't Stephen Sondheim's biggest Broadway flop - that would be , at nine performances - but it was his most notorious flop. Whistle came early in Sondheim's career, when expectations were lower, but Merrily followed his critically acclaimed Tony Award winners Company, Follies, A Little Night Music and Sweeney Todd. That fall from grace caused Sondheim to stop writing for a time and it ended for twenty years his collaboration with producer-director Harold Prince, who directed those previously mentioned shows plus Pacific Overtures. Prince's staging concept is largely blamed for the flop. There were no sets or costumes, just sweatshirts and t-shirts with the characters' names printed on them as he felt the audience would have trouble following the story, which is told backwards in time.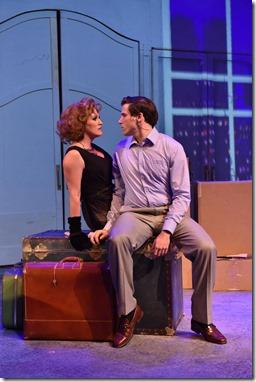 The book, by Chicago-born and Northwestern alum
George Furth
, based on Kaufman and Hart's 1934 comedy (which Porchlight performed on February 21), gets its share of the blame as well, and the script was revised several times after its Broadway run to attempt to "fix" it. Having seen at least ten different productions of the musical, I find the problem has more often been the direction. (Disclosure - Furth was a friend of mine for the last fourteen years of his life). Furth's take on Kaufman and Hart's story is, like theirs, a sometimes vicious satire of the phoniness and greed of big money show business people. Insults fly like a swarm of bees in Furth's script. The pitfall many directors fall into is to play these caricatures of Hollywood and Broadway types too broadly. Happily, director
Michael Weber
does not succumb to that, and his cast plays their characters without "commenting" on them (acting in such a way that the audience sees in the performances a point-of-view toward the character that the characters themselves don't see). His actors all deliver performances that feel organic. This is no small feat - some of Furth's dialogue, a satiric take on the way show business people and "civilians" spoke in the '50s, '60s and '70s as seen from his 1981 perspective - now sounds more like it's from another world than just another era.
The central figure, Franklin Shepard, is a talented composer who gives in to the temptations of fame and money over artistic integrity and even over his friendships and marriage. The story begins in 1976 at a Hollywood following the opening of a supposedly artless but commercial film Frank has produced. We learn in this scene that Franklin had earlier ended his lifelong friendship and professional collaboration with the idealistic playwright Charley Kringas, and we see his second marriage (to a stage and screen star named Gussie Carnegie) fall apart as a fight results in the ending of his long friendship with the novelist Mary Flynn. The story moves backward from there, a few years at a time, to show how Franklin gained wealth and fame but lost his values and his friendship.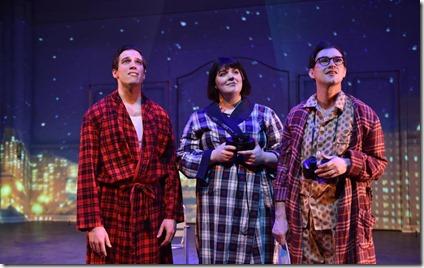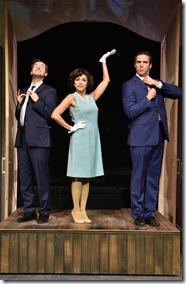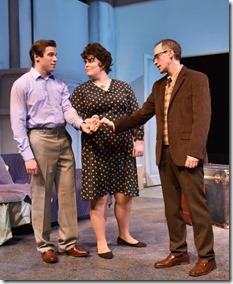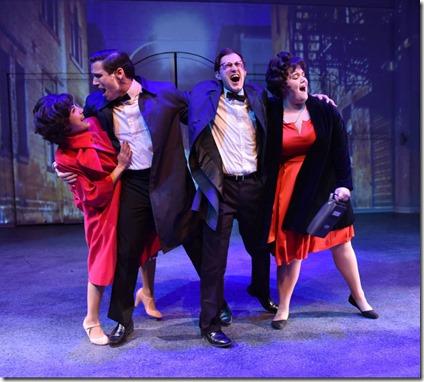 Shepard is a notoriously hard character to play. We first see him as duplicitous and conniving but somehow have to care enough for him to get interested in the musical and stay with it until we see a more likable Franklin in his earlier years. As one of a dream team of leads in this production, Jim DeSelm finds the perfect place to take Franklin - initially maybe more lost than despicable - but very lost. As he "youthens" over the course of the show, a boyish innocence gradually takes over and we see the man he was, which should have had a greater resemblance to the man he came to be. The tragedy of his story is palpable and touching. DeSelm rather brilliantly loses his years subtly from scene to scene, without major changes in makeup or hair styling, but through gradual shifts in his posture, body language and speech, credibly changing from age 42 in the Hollywood party scene to 23 by the end.
Neala Barron is their Mary Flynn, and in Weber's smart take, she plays the character more for emotion than laughs, as is sometimes the case. Mary is a one-time successful novelist turned critic, who has apparently over the years developed alcoholism and has, since meeting Frank in 1957, maintained an unspoken and unrequited love for him. Her transformation from well dressed but boozy in 1976 to casually frumpy in 1957 is aided by Bill Morey's costumes (a spectacular array of styles from 1957 to 1976 for the whole company) and uncredited wig design. Matthew Crowle makes great use of his well-known comic acting skills as the nerdy Charlie, and similarly gets help in the "youthening" process from Morey's costumes and wigs, which take him from middle-aged receding hairline to a more youthful pate.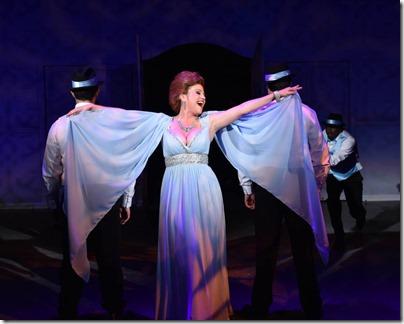 Worthy of special kudos is Keely Vasquez as Gussie, the self-centered Broadway and Hollywood actress who corrupts Frank. Furth's script creates a Gussie so unctuous she could easily (and in many productions, frequently does) become cartoonish. Vasquez smartly plays Gussie as conniving, but subtly enough that we can see how one might be taken in by her lies and flattery. And Vasquez sings the heck out of Gussie's songs, making us believe Gussie indeed could be a big musical theater star. As Frank's first wife, Beth, Aja Wiltshire projects a nice girl sweetness and a lovely contribution to the torch song "Not a Day Goes By," sung with DeSelm and Barron (who have impressive pipes as well).
Musical director Aaron Benham leads a seven-piece orchestra that delivers Jonathan Tunick's brass-heavy orchestrations fulsomely and the company's choral work on Sondheim's intricate score is precise and expressive. Serving as characters as well as a Greek chorus, they move in tightly choreographed and purposeful steps courtesy of Christopher Pazdernik's musical staging. (Another disclosure - Pazdernik is a friend and associate on other projects). Especially noteworthy is Pazdernik's handling of the song, "Opening Doors," a number that tracks Frank, Charley and Mary's earliest career struggles. The three are mostly in different places as they sing the number - Frank at a spinet piano, Mary and Charley at separate desks with typewriters. The desks and piano glide around the stage as the lyrics move from episode to episode giving the scope and sweep of the story told within this song.
The considerable scenic demands of the story are ably met by scenic designers Jeffrey D. Kmiec and Greg Pinsoneault, who give us a room with pure white walls on which Anthony Churchill's projections create elegant homes, an NBC TV studio, a cruise ship dock, backstage at a Broadway theater, and the iconic rooftop of the closing scene, wherein Frank, Mary and Charley sing "Our Time." Churchill also created projections for transitions scenes, showing historical events of the intervening years as well as staged photos of the characters on magazine covers and the like. The images are designed better than they're projected though - they are frequently fuzzy and hard to read. And, on opening night, sometimes out of sync.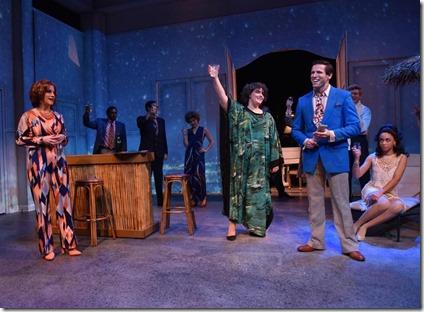 Some opening night roughness on the projections is the only real quibble with this production, but there is one major issue: we might call it a disagreement, rather than a criticism. Weber takes some liberties with the opening and closing scenes. The projections tell us it's 2018 and we see an infirm Franklin Shepard center stage in a wheel chair, all by himself. Those who know this musical get the point - and those who don't will get it in the first scene where Frank loses his last real friend, his wife and maybe his career. This image of Frank alone in a wheelchair, with no one providing support or comfort beside him, suggests he lived the rest of his life alone and unloved. That's a plausible conclusion, but not one the authors provided. The script starts the story in 1976 or perhaps a few years after and suggest we're seeing Frank reviewing his life and wondering where he went wrong. It ends in 1957 with Frank, Mary and Charley singing the hopeful "Our Time" as they watch the Soviet space satellite Sputnik fly across the sky and contemplate the endless possibilities for their lives. Sondheim and Furth let the audience decide for themselves what happened to Frank. Did this crisis and self-reflection lead to change? Can we hold out some hope that this happy beginning can actually lead to a happy ending for the older Frank? The first version of Merrily gave a strong suggestion that it could. This version of the script leaves it up to the audience. Except that Weber doesn't. He follows the optimistic "Our Time" by returning Frank to the decrepit and lonely state in which he saw him at the musical's beginning, taking away our chance to make out own prediction. Frank is only 42 when he loses it all - that's plenty of time to change.
So, even though Weber nearly lost me at hello with that choice, all the scenes in between his framing device make for a most satisfying Merrily We Roll Along . With its story of mostly young (22-42 year old) people, Merrily We Roll Along is popular with high school and college groups, but it's rare to find a large scale professional production like this one. Weber takes this cautionary tale seriously, and is even willing to occasionally forgo some laughs or let the actors speak their lines rather than sing them if it helps the songs emerge organically from the situation. It's a smart production, perfectly cast and most professionally performed.
Merrily We Roll Along continues through March 11th at Ruth Page Center for the Arts, 1016 N. Dearborn (map), with performances Thursdays at 7:30pm, Fridays 8pm, Saturdays 4pm & 8pm, Sundays 2pm. Tickets are $33-$60, and are available by phone (773-777-9884) or online through their website (check for availability of ). More at PorchlightMusicTheatre.org. (Running time: 2 hours 30 minutes, includes an intermission)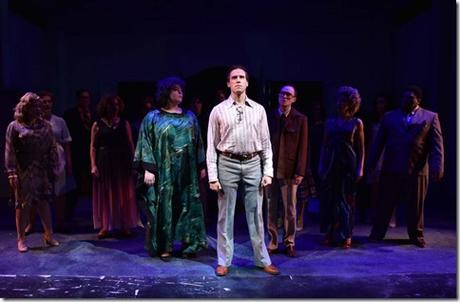 Photos by Michael Courier
Matt Crowle (Charley Kringas), (Franklin Shepard), Neala Barron (Mary Flynn), Keely Vasquez (Gussie Carnegie), David Fiorello (Joe Josephson), Aja Wiltshire (Beth), and ensemble including Kyrie Anderson (Make-up Artist), Larry Baldacci (Mr. Spencer), Sandra Bogan, (Mrs. Spencer), Katherine Condit (Scotty), Christopher Davis (Terry), Andres Enriquez (Tyler), Fredrick Harris (Jerome), Michelle Jasso (K.T.), Bernell Lassai (Bunker, TV Newsman), Cisco Lopez (Floor Monitor, Minister), Alana Lovely (Meg, TV Newswoman), Khaki Pixley (Dory, Girl Auditioning), Jonathan Strombres (Ru, Nightclub Pianist), Zachary Fewkes, Asher Schenk (Franklin Shepard, Jr., alternating)
Aaron Benham (conductor, piano), Tony Scandora (percussion), Jackson Kidder (bass), Matt Beck (reeds #1: flute, oboe, clarinet, alto sax), Lara Regan (reeds #2: clarinet, alto sax, tenor sax, bass clarinet), Jered Montgomery (trumpet) and Matt Kowalski (trombone)
behind the scenes
Michael Weber (director), Christopher Pazdernik (associate director, musical staging), Aaron Benham (music director, conductor, pianist), (costume designer), Tony Churchill (projection designer), Jeffrey D. Kmiec (co-scenic design), Greg Pinsoneault (co-scenic designer), Robert Hornbostel (sound designer), Rachel West (master electrician), Alex Rhyan (production manager), Johnnie Schleyer (technical director), Matt McMullen (stage manager), Michael Courier (photos)
Tags: 18-0143, Aaron Benham, Aja Wiltshire, Alana Lovely, Alex Rhyan, Andres Enriquez, Asher Schenk, Bernell Lassai, Bill Morey, Chicago musical theater, Chicago Theater, Christopher Davis, Christopher Pazdernik, Cisco Lopez, David Fiorello, Fredrick Harris, George Furth, Greg Pinsoneault, Harold Prince, Jackson Kidder, Jeffrey D. Kmiec, Jered Montgomery, Jim DeSelm, John Olson, Johnnie Schleyer, Jonathan Strombres, Jonathan Tunick, Katherine Condit, Keely Vasquez, Khaki Pixley, Kyrie Anderson, Lara Regan, Larry Baldacci, Liz Norton, Matt Beck, Matt Crowle, Matt Kowalski, Matt McMullen, Michael Courier, Michael Weber, Michelle Jasso, Neala Barron, Porchlight Music Theatre, post, Rachel West, Robert Hornbostel, Sandra Bogan, Stephen Sondheim, Tony Churchill, Tony Scandora, Zachary Fewkes
Category: 2018 Reviews, John Olson, Musical, Porchlight Music Theatre, Ruth Page Theater, Stephen Sondheim