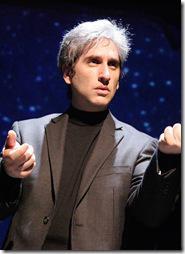 Maestro: The Art
   of Leonard Bernstein  
Performed by Hershey Felder 
Directed by Joel Zwick  
Royal George Theatre, 1641 N. Halsted (map)
thru Dec 30  |  tickets: $55   |  more info
Check for half-price tickets  
  
   Read entire review
  
---
A magnificent take on Leonard Bernstein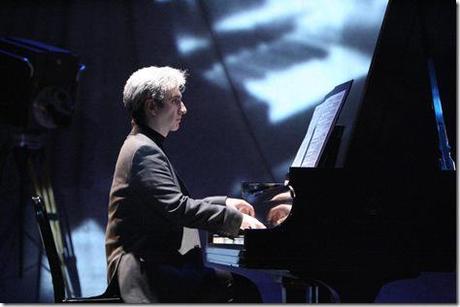 Royal George Theatre presents
Maestro: The Art of Leonard Bernstein
Review by Catey Sullivan 
Hershey Felder's take on Leonard Bernstein is little short of magnificent. It's not just that Felder is a musician of exquisite technique and powerful emotional resonance. He's blessed with a charismatic stage presence, something Chicago audiences first encountered in his long-running show George Gershwin Alone. With Maestro: The Art of Leonard Bernstein, Felder uses all the tools in his formidable arsenal to explore the life of the ground-breaking composer and conductor. The result is a musically rich, dramatically compelling narrative of equal parts tragedy and triumph.
In Maestro, audiences will find an informative profile of a 20th century musician who became a musical icon on a par with the Beatles. Bernstein battered down the glass walls of anti-Semitism by becoming the first Jewish conductor of the Philharmonic (and refusing to change his name), redefined the genre of musical theater with West Side Story and became no less than musical Rabbi to the world thanks to his countless television and radio appearances.
But Felder makes the piece about far more than biographical facts. Maestro is a story that captures the unparalleled, awe-inspiring potency of great music and the equally powerful forces of destruction at work in Bernstein's crippled emotional life as a closeted gay man.
Penned by Felder and directed by his long-time collaborator Joel Zwick, Maestro's storytelling is embedded in a lush soundscape that stretches from the ancient, glimmering chords of Jewish mysticism through the contemporary thrills of Aaron Copeland and George Gershwin. In creating a through-line through the centuries, Felder provides a macroscopic panorama of music's enduring, extraordinary power to move and connect vastly disparate people and cultures and – within that rich, large context – a detailed etching of Bernstein's extraordinary professional accomplishments and devastating personal demons.
Part of Felder's gift as a performer lies in his ability to make classical music resonate for those who don't know a Dvorak symphony from a Wagner aria rhapsody without boring those who could play Beethoven's Requiem with one-hand and without looking at the score. When Felder begins the opening chords of Beethoven's Emperor's Concerto, you almost forget to breathe – it's simply that moving, whether you could play the thing yourself or you've never heard it before.
In one stunning segment, Felder performs the Liebestod from Wagner's "Tristan un Isolde" as video of Bernstein performing the same piece is projected on a massive backdrop behind him, Bernstein towering above and Felder-as-Bernstein pouring life into the keys below. The two are in stunningly perfect synch, Bernstein seeming like some larger-than-life muse looming from Olympus over the mortal deftly channeling him.
Equally powerful is the scene detailing Bernstein's sexual awakening. It's not an overtly passionate moment, just a story of two men having dinner and talking music. It is also one of the single most reverently and urgently erotic scenes you're apt to encounter on a stage this season. (And as in the Emperor's Concerto, you could have heard a metaphorical pin drop in the audience when Felder delivered it opening night. )
As a gay man born in 1918, Bernstein spent most of his life in the closet. Felder doesn't flinch from delving the ugliness of that small, hateful space. The emotional devastation Bernstein wrought on both himself and his beloved wife Felicia is almost unbearable at times.
Maestro posits that Bernstein's inability to live openly had a crippling impact on his work as a composer; bitterness and rage coloring his later years as he strove unsuccessfully to compose his own magnum opus, and to reconcile his private yearnings with his public persona as a husband and father.
Finding the right chord, Maestro notes, is like falling in love, thus linking Bernstein's lifelong struggle in search for both personal and professional fulfillment. Despite Bernstein's unarguable accomplishments, that search was ultimately futile in Maestro's telling. As Felder portrays Bernstein's life, it is also fascinating and so aurally wondrous that when the end comes, you just want him to keep on playing.