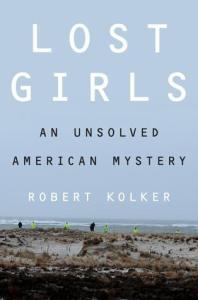 Lost Girls: An Unsolved American Mystery by Robert KolkerAuthor's Website
Book Website
Amazon (UK)
Amazon.com
Harper (ebook), 2013305 Pages
What It's About
Award-winning investigative reporter Robert Kolker delivers a haunting and humanizing account of the true-life search for a serial killer still at large on Long Island, in a compelling tale of unsolved murder and Internet prostitution.
One late spring evening in 2010, Shannan Gilbert, after running through the oceanfront community of Oak Beach screaming for her life, went missing. No one who had heard of her disappearance thought much about what had happened to the twenty-four-year-old: she was a Craigslist prostitute who had been fleeing a scene-of what, no one could be sure. The Suffolk County Police, too, seemed to have paid little attention-until seven months later, when an unexpected discovery in a bramble alongside a nearby highway turned up four bodies, all evenly spaced, all wrapped in burlap. But none of them Shannan's.
There was Maureen Brainard-Barnes, last seen at Penn Station in Manhattan three years earlier, and Melissa Barthelemy, last seen in the Bronx in 2009. There was Megan Waterman, last seen leaving a hotel in Hauppage, Long Island, just a month after Shannan's disappearance in 2010, and Amber Lynn Costello, last seen leaving a house in West Babylon a few months later that same year. Like Shannan, all four women were petite and in their twenties, they all came from out of town to work as escorts, and they all advertised on Craigslist and its competitor, Backpage.
Opening Sentence
To most travellers, the barrier islands of Long Island are just a featureless stretch between Jones Beach and Fire Island - a narrow strip of marsh and dune, bramble and beach, where the grassy waters of South Oyster Bay meet the waves of the Atlantic Ocean.
What I Thought
I've resolved to read at least one non-fiction book every month. I will likely read a biography, autobiography, memoir, travelogue (i.e. Bill Bryson) or true crime. This my first attempt at this new reading outlet.
Lost Girls is one of the saddest, moving and most touching books I've ever read. I cried several times reading it and my eyes still feel damp. I have a vague memory of seeing a programme about these murders a while ago on some TV channel. I don't remember when or which show or channel.
I found this book heart-breaking at times. The murders have never been solved. No one has been arrested and served time for so mercilessly ending these lives. This book makes it clear there can never be any real closure for the families. Even if someone was arrested and sent to prison there wouldn't be real closure but the families would get a sense of an ending. This has been denied.
One of the most striking things about Lost Girl and the crimes discussed within is how little regard the police seemed to have for the missing girls, even when the bodies started turning up. The attitude of disregard because the girls were missing and later dead prostitutes chilled me. Why should a dead or missing prostitute matter less than a dead or missing child? They victims were completely dismissed because of their profession which disgusted me.
I liked how the book focuses mostly on the families of the victims, four in particular and Shannon's family, especially when her remains are finally found. I wouldn't have felt so emotional if the crimes were discussed from the perspective of the police. This really tugged at my heart-strings.
I'd highly recommend Lost Girls to anyone looking to read a true crime book that's not full of blood and gore.