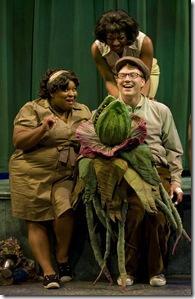 Little Shop of Horrors 
Written by Alan Menken (music)
   and Howard Ashman (book, lyrics)
Directed, Choreographed by Stacy Flaster  
Theatre at the Center, Muncie, IN (map)
thru Aug 19   |  tickets: $38-$42   |  more info
  
Check for half-price tickets 
  
  
   Read entire review
  
---
Be very frightened of your vegetable drawer!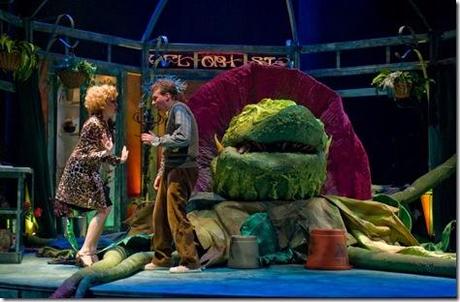 Theatre at the Center presents
Little Shop of Horrors
Review by K.D. Hopkins
(Kudos The story of Mushnik's Skid Row Flower Shop is one of my favorite dark comedies. The songs are memorable and the dialogue is snappy. The premise of a bloodthirsty plant coming to life is a blast when it is done well. I am happy to say that Theatre at the Center does a Broadway-worthy job. The production values and cast is top notch.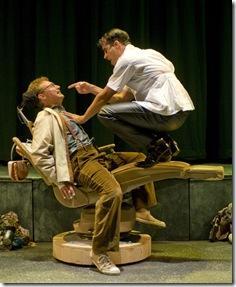 From the moment that the Urchins step onto stage
Little Shop of Horrors
is a wild ride.
Chadaé  McAlister
,
Eva Ruwe
, and
Reneisha Jenkins
have the sound of an all girl super group from the 60's. They each have strong soul and gospel voices that blend beautifully. Ruwe brings the Effie in her role. McAlister has a smoother voice reminiscent of
Lalah Hathaway
, and Jenkins has a sensuous alto that soars. (Side note: what's up with those khaki-colored girl's reform-school dresses the Urchins wore during much of the production? Would a young woman ever choose to dress like that, even on skid row?)
Tiffany Trainer and Jonathan Lee Cunningham play the ill-fated lovers Audrey and Seymour. Trainer is kewpie doll perfect in every way. She has the wide-eyed look and delicate build that projects vulnerability and sweetness. Her wig is fabulous! (Kudos to wig designer Kevin Barthel). It is a bouffant gone nova. Trainer's voice goes from squeaky ditzy to a velvety soprano with an evocative vibrato. As Seymour, Cunningham really brings the 'blue eyed soul' in his duet with Trainer as he gives a bravura nerd performance. These two are so endearing, that I truly wanted him and Audrey to find "Somewhere That's Green".
Rod Thomas is the journeyman in this production. He does the ultimate multitask as the hysterical Mrs. Luce, a Derelict (who beats another Derelict with a baby), and the Customer who is the incarnation of cartoon Dave from Alvin and the Chipmunks. His performance as the sadistic Orin Scrivello, his main role, is the best I have seen – period. He is a sexy menace leaping about the stage and dancing like a dream. Thomas' Orin has that something extra as he spins Seymour on the dentist chair.  And as Mr. Mushnik, Peter Kevoian is funny and expressive.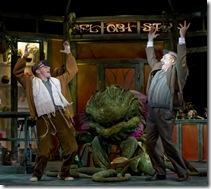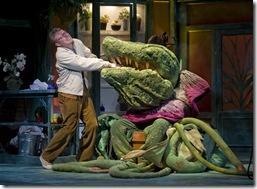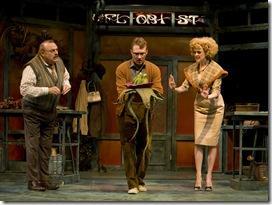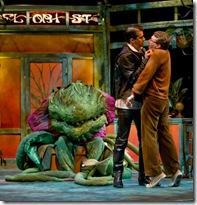 I do take issue with some of the director's character choices. Mushnik is performed as a stereotypical (even caricatured) Jew. The yarmulke, shawl and Tephillin went a touch beyond the pale. In another poor choice, the exaggerated neck rolling and lip pooching by the Urchins bordered on offensive.  To me that was an easy out for the director.
Props to Stanley White and Scott Stratton for making Audrey II spring to life. White's rolling basso profundo is dang scary coming out of Audrey II. Stratton doesn't miss a beat in making the puppet physically speak and devour the tasty live tidbits. Since seeing Little Shop, I am a touch frightened of my vegetable drawer! Little Shop of Horrors is a fine show with a couple of skeevy cultural choices.
Rating: ★★★
Little Shop of Horrors continues through August 19th at Theatre at the Center, 1040 Ridge Ave., Muncie, IN (map), with performances Wednesday-Thursdays at 2pm, Fridays and Saturdays at 8pm, Sundays 2:30pm.  Tickets are $38-$42, and are available by phone (219-836-3255) or online through Tickets.com (check for half-price tickets at Goldstar.com). More information at TheatreAtTheCenter.com.  (Running time: 2 hours, includes an intermission)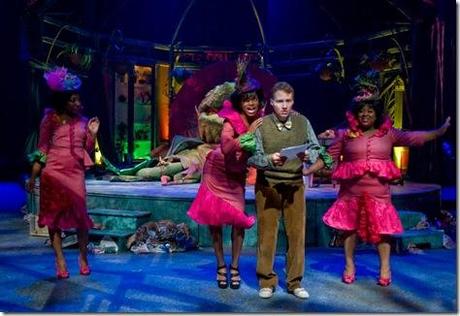 Photos by Michael Brosilow 
---
artists
cast
Chadaé McAlister (Chiffon); Eva Ruwe (Crystal); Reneisha Jenkins (Ronette); Peter Kevoian (Mushnik); Tiffany Trainer (Audrey); Jonathan Lee Cunningham (Seymour); Rod Thomas (Orin Scrivello, others); Scott Stratton (Audrey II puppeteer, others); Stanley White (Audrey II, others); David Hathway, Nicole Miller, Brian Rabinowitz, Danielle Davis (understudies)
orchestra 
William A. Underwood (conductor, keyboards); Rancy Glancy or Linda Slein (keyboards 2); David Saenger (guitar); Bill Steed (bass); Rich Alifantis (percussion)
behind the scenes
Stacy Flaster (director, choreography); William Underwood (music director, orchestrations); Bill Bartelt (set); Brenda Winstead (costumes); Tim Fandrei (lighting); Barry G. Funderburg (sound); Lauren Earnshaw (props); Kevin Barthel (wig design); Ann N. Davis (production manager, tech director); Rita Vreeland (stage manager); Danielle Davis (production assistant); Jonathan Lee Cunningham (dance captain); Rachel Anderson (dresser); Dan Barry (lead stage crew); Luis Garcia (sound board operator); Kyle Dougan (asst. director); Andre Campbell (stage crew); Michael Brosilow (photos)
12-0721