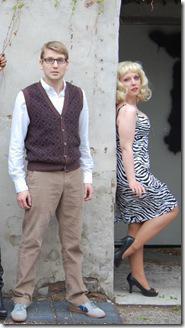 Little Shop of Horrors  
Book and Lyrics by Howard Ashman  
Music by Alan Menken
Directed by Brian Posen and Kory Danielson
at Stage 773, 1225 W. Belmont (map)
thru May 27   |   tickets: $38   |  more info
  
Check for half-price tickets 
  
  
   Read entire review
  
---
Skid Row has never been so much fun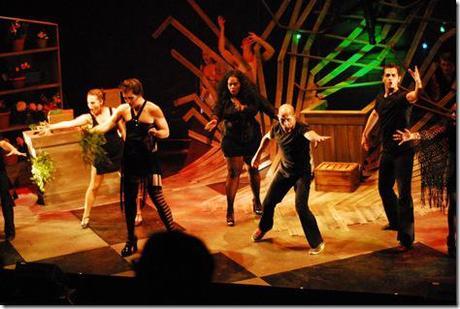 Street Tempo Theatre presents
Little Shop of Horrors
Review by K.D. Hopkins
Anyone who has seen Roger Corman's movie "Little Shop of Horrors," and is an aficionado of the B film, will have a special appreciation for this Street Tempo Theatre production. Their recreation of Skid Row and Mushnik's dank floral business is just wonderful. Little Shop of Horrors is a story of the underbelly of society and everyday life set to music. The Corman flick came out in 1960, smack in the middle of America's fear and fascination with all things nuclear. The story of a plant turned into a blood thirsty Mephistopheles is the perfect wink and nudge at American paranoia and still hysterically relevant.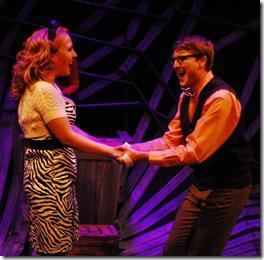 This show opens up with a gorgeous sound from the three singers playing the Urchins. Of course these urchins are the entrepreneurial hustlers that line any Skid Row in America. Ronette, Crystal, and Chiffon are played with joyous verve and rich vocals by
Krystal Metcalfe
,
Sharriese Hamilton
, and
Will Hoyer
, respectively. They are the Greek Chorus to the story of a nerdy amateur botanist named Seymour and his love for a good girl in a bad situation named Audrey.
Metcalfe, Hamilton, and Hoyer sound amazing as they pepper the action with saucy interjections. The Urchins look as gorgeous as they sound: all three actors have great stage presence and do it all in tight corsets and 4 inch heels. This is the first version that I have seen with one of the Urchins as a transvestite. Hoyer's voice reaches girl group heights and he can work it alongside powerhouses Metcalfe and Hamilton.
This production is chock full of star turns, but they blend seamlessly as an ensemble. Patrick Cannon as the sadistic Orin is devilishly good. Cannon is quite menacing and yet alluring as should be any sadistic singing dentist. The gas mask scene had me in stitches.
Street Tempo has cast the perfect Seymour and Audrey with John Sessler and Erin Creighton. Sessler has an appealing Iowa boy innocence as the Dickensian orphan Seymour, and his interactions with Audrey reflect a sweet love and blindness to what Audrey considers her flaws. Creighton is a fantastically appealing Audrey, her vocal inflections artfully match Audrey's skittish naiveté. Her rendition of "Somewhere That's Green" caused some sniffles and tugging of the heart strings.
Scott Olson's Mushnik is fun to watch as he progresses from forlorn Skid Row florist to dollar signs in his eyes through exploiting Seymour. Olson inhabits Mushnik's tacky plaid really well. Like all the show's performers, the beauty is that he never crosses over into camp.
Candace C. Edwards is a delight as the bloodthirsty Audrey 2.  I love the interpretation of Audrey 2 as a distinctly female creature. Edwards gives a palpable vampire thirst to a character usually played by a puppet. I feel that humanizing Audrey 2 is quite brilliantly done in Edward's hands. Rather than being covered in vines and felt, Edwards' face is painted in Maori-like design.  (She also rocks a corset!)  Edwards is a trailing plant on David Ferguson's apocalyptic industrial set. She is scary and sexy all at once, as she demands that Seymour feed her.
This version of Little Shop of Horrors foregoes any political correctness and sanitizing and I wholeheartedly thank Street Tempo Theatre Company for such an honest and non -saccharine production. This is a first rate musical theater production. The direction is brilliant and the pacing of the show keeps the audience engaged.
The dialogue and action are of a mature nature. I think that there may be some healthy curiosity from pre-teens and younger theatergoers, but Little Shop of Horrors is a great allegory.  It warns of greed and bad karma but is also a love story of a man's sacrifice for love.  
Rating: ★★★½
Little Shop of Horrors continues through May 27th at Stage 773, 1225 W. Belmont (map), with performances Thursdays-Saturdays at 8pm, Sundays at 3pm.  Tickets are $38, and are available by phone (773-327-5252) or online at PrintTixUSA.com (check for half-price tickets at Goldstar.com). More information at StreetTempoTheatre.com.  (Running time: 2 hours, includes 10-minute intermission)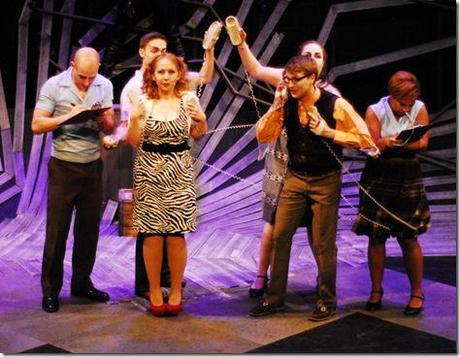 All photos by Linda Gartz
---
artists
cast