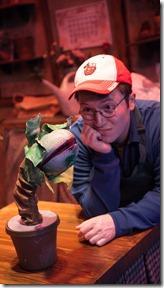 Little Shop of Horrors
Small scale production is big on entertainment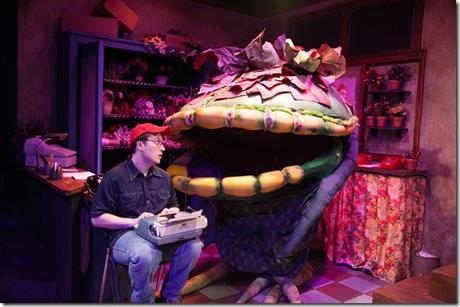 Looking at the musical theater catalogue of standards, there aren't a lot that lived most of their New York runs off-Broadway. There's The Fantasticks, of course, and Avenue Q made the unusual move after finishing its six year run on Broadway of going back off-Broadway where it's been playing for nearly another 6 years. Rent made a similar move from on- to off-Broadway in 2011, but that subsequent run that lasted only a year. Little Shop of Horrors , like The Fantasticks and Avenue Q, was written for a smaller space and seems more at home in tinier venues. What makes this production special for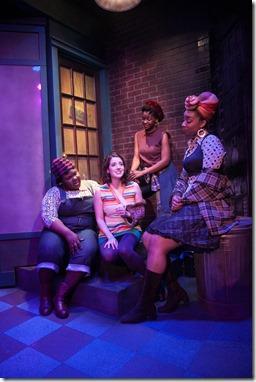 Chicago theatergoers is that it gives us the chance to see the sorts of performers we'd normally find only at larger venues like the Marriott or Drury Lane up close in an intimate theater. We have a number of storefront theaters squeezing chamber-sized versions of shows written for much bigger stages, sometimes with one or two Equity players in leads, but rarely the sort of right-sized productions with as many Equity actor-singers as we have here.
For their Little Shop of Horrors , playing in the 186-seat Greenhouse Theater Center main stage through June 26, American Blues Theater and director Jonathan Berry have given us Equity players in all five major roles and they deliver every ounce of the fun and tunefulness of Ashman and Menken's durable hit. Michael Mahler is perfectly cast in the central role of Seymour, the lovable schlub whose discovery of an alien, human-eating plant changes the lives of some and ends the lives of others. He has a diminutive stature and boyish look that fit the sad-sack orphan Seymour, plus the comic timing and solid singing voice to carry the show on his shoulders. Better known as a musical theater songwriter (), he's a strong performer that we don't get to see on stage very often. Opposite Mahler as Audrey is his real-life wife Dara Cameron, who conversely does perform a lot on Chicago stages. I'd never seen her in a lead before, and never with such good material to sing. Her "Somewhere That's Green" is lovely, but when she and Mahler team up on "Suddenly, Seymour," it's breathtaking. Mark David Kaplanis suitably gruff as the greedy shop owner Mr. Mushnik and Lorenzo Rush, Jr. voices the monster plant, Audrey II, with a booming voice that's as good as the work Levi Stubbs did in the film version of this musical. Ian Paul Custer works hard to find a take on Orin, Audrey's sadistic dentist boyfriend who becomes Audrey II's first victim. He doesn't really find a center to build on and relies more on just being loud and affecting a swagger. It seems inauthentic, but he sings well and, in any event, gets eaten in the first act. The doo-wop "Greek chorus" of Ronnette, Crystal and Chiffon (Jasondra Johnson, Camille Robinson and Eunice Woods) as a group is a little tentative, but Johnson's singing voice is a force of nature to be savored.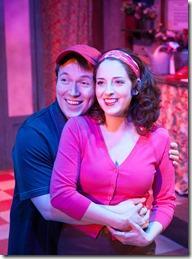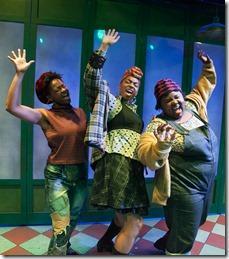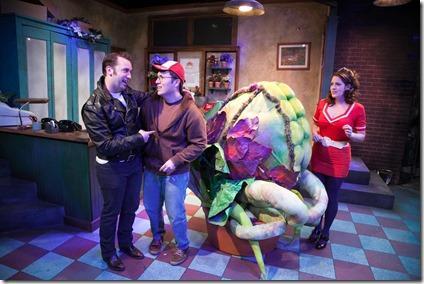 The puppetry designed by Sarah E. Ross and manipulated by Matthew Sitz delightfully and convincingly brings Audrey II to life. Grant Sabin's set is a detailed depiction of the flower shop with just the right sort of cartoonish look to it. Izumi Inaba's costumes are a fanciful blend of grit and glamour for this story of fame and fortune coming to Skid Row, and Heather Gilbert's lighting gives a crisp look to Sabin and Inaba's visual designs. The vocal performances are amplified, but as mixed by sound designer Rick Sims, they sound reasonably organic.
This was the score that first brought Ashman and Menken fame, and as directed by Austin Cook and sung by this cast, it's bright, funny and tuneful. Alan Menken has had a long and successful career writing songs for Disney films and Broadway musicals. Howard Ashman died in 1991 after completing and beginning Aladdin with his songwriting partner Menken. Any trip to an Ashman musical is a reminder of what we lost to his untimely death. "Somewhere That's Green" and "Suddenly Seymour" may be prominent in our consciousness, but revisiting Little Shop of Horrors is a reminder of just how funny Ashman could write. Here he captures the ironies inherent in people sacrificing their values for money and shows the sad humor of those who devalue themselves. It's brilliant writing that we might forget without close listening or reading of the lyrics.
Berry has not provided a new conception of this musical, but he has re-conceived it nonetheless. Following the hit movie version of this musical and its large scale 2003 Broadway production, he's returned it to an off-Broadway sized scale as it was originally conceived. Little Shop of Horrors is a reliably fun vehicle and Berry's production performs it with the skill and care it deserves.
Little Shop of Horrors continues through March 29th at Greenhouse Theater Center, 2257 N. Lincoln (map), with performances Thursdays and Fridays at 7:30pm, Fridays 3pm & 7:30pm, Sundays 2:30pm. Tickets are $19-$49, and are available by phone (773-404-7336) or online through Vendini.com (check for half-price tickets at Goldstar.com ). More information at AmericanBluesTheater.com. (Running time: 2 hours, includes a 10-minute intermission)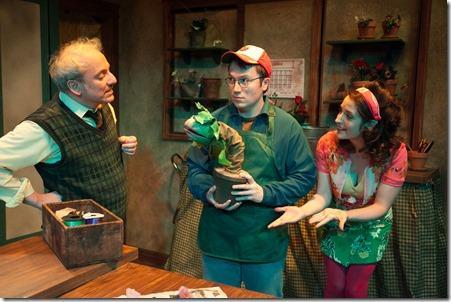 Photos by Johnny Knight
Austin Cook (keyboard, music director), Shaun Whitley (electric guitar), Michael Weatherspoon (drums), Malcolm Ruhl (bass), Matthew Sitz (auxiliary percussion).
behind the scenes
Jonathan Berry (director), Austin Cook (music direction), Darian Tene (choreography), Matthew Sitz (puppeteer), Grant Sabin (scenic design), Izumi Inaba (costume design), (sound design), Christopher J. Neville (prop design), Sarah E. Ross (puppet design, production manager), Heather Gilbert (lighting design), Dana M. Nestrick (stage manager), Chelsea Warren (puppet consultant), Michael Trudeau (technical director), Jason Shivers (master electrician), Eileen Rozycki (scenic painter), Morgan Lake (sound engineer), Elyce Dolan (assistant director), Andy Kloubec (asst. lighting design), Sarah Ramos (asst. sound design), Gwendolyn Whiteside (producing artistic director), Jaclyn Holsey (general manager), Johnny Knight (photos)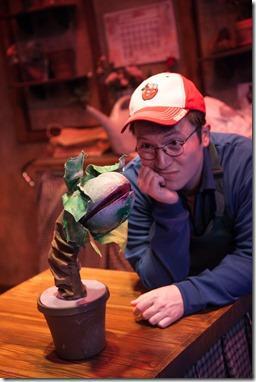 Tags: 16-0505, Alan Menken, American Blues Theater, Andy Kloubec, Austin Cook, Camille Robinson, Chelsea Warren, Chicago musical theater, Chicago Theater, Christopher J. Neville, Dana M. Nestrick, Dara Cameron, Darian Tene, Eileen Rozycki, Elyce Dolan, Eunice Woods, Grant Sabin, Greenhouse Theater, Gwendolyn Whiteside, Heather Gilbert, Howard Ashman, Ian Paul Custer, Izumi Inaba, Jaclyn Holsey, Jason Shivers, Jasondra Johnson, John Olson, Johnny Knight, Jonathan Berry, Levi Stubbs, Lorenzo Rush Jr., Malcolm Ruhl, Mark David Kaplan, Matthew Sitz, Michael Mahler, Michael Trudeau, Michael Weatherspoon, Morgan Lake, post, Rick Sims, Sarah E. Ross, Sarah Ramos, Shaun Whitley, Yando Lopez
Category: 2016 Reviews, Alan Menken, American Blues Theatre, Greenhouse Theater Center, John Olson, Musical, Video