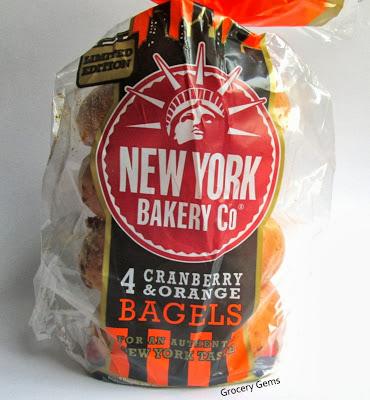 A lovely new Limited Edition flavor New York Bakery Co, who have already released some brilliant flavours this year. Their Blueberry Bagel especially, was an instant favorite in the Grocery Gems household. I love the fact that the New York Bakery Co keep updating their bagels with new flavor combinations and seasonal editions, and I know I'm not the only one! The packaging of the new Cranberry & Orange bagels has a black and orange color scheme that looks very appealing at this time of year - and especially for Halloween.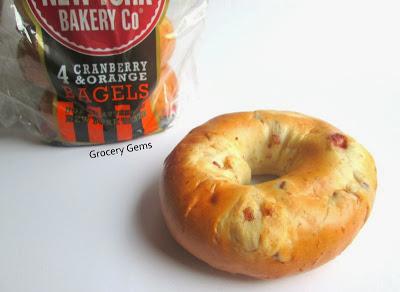 The bagels are very fruity and contain lots of dried cranberry and orange fruit pieces. But when I first heard these were orange bagels, all I could think was - CHOCOLATE SPREAD. Indeed, on the packaging it says that these are perfect with chocolate and oh my, they really are! I did try to take a photo of these smothered in chocolate but I literally didn't have the patience to wait and take photos. All willpower and self control deserted me. The orangey chocolate scent was just too divine, and happily the delicious flavor fully lived up to my initial expectations.
I also tried one of these bagels with butter, and the overall taste was actually quite different. It was still very delicious, but this time the cranberry pieces delivered more fruitiness and the orange seemed less dominant. I think the sweetness of the chocolate spread really brings out all the zesty orange flavor and creates a wonderful combo - but either way these bagels are my new favourite!
I received this product in order to write an honest review and all opinions expressed are my own.


Grocery Gems Verdict: New York Bagel Co Orange & Cranberry



RATING: 9 out of 10. Buy them again?: Absolutely - they're perfect with chocolate.
Vegetarian: Suitable for Vegetarians and Vegans.
Price: £1.60 rrp.