Puberty is a rite of passage that everyone has to go through  – similarly, for beauty junkies, we all go through certain phases that are unavoidable and somewhat painful (well, to the wallet at least). The fashion addict will have her must-buy Chanel / Hermes, while we have our Laduree Les Merveilleuses range (for now, at least). These babies are definitely overpriced, but oh well, what can I say? I'm just a sucker and a loose canon when it comes to beauty products.
Les Merveilleuses Laduree Rouge Brillance Glossy Rouge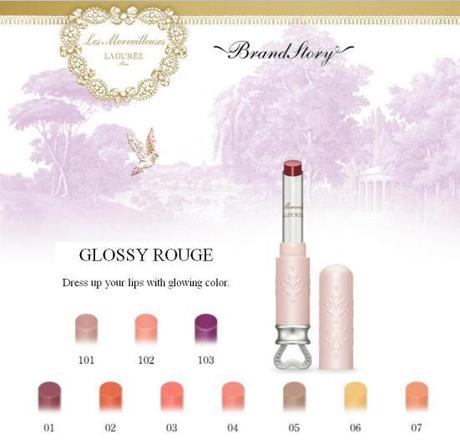 Available in a variety of colours – I'm slightly confused over their shades 101 and 01, 102 and 02 and 103 and 03. But oh well.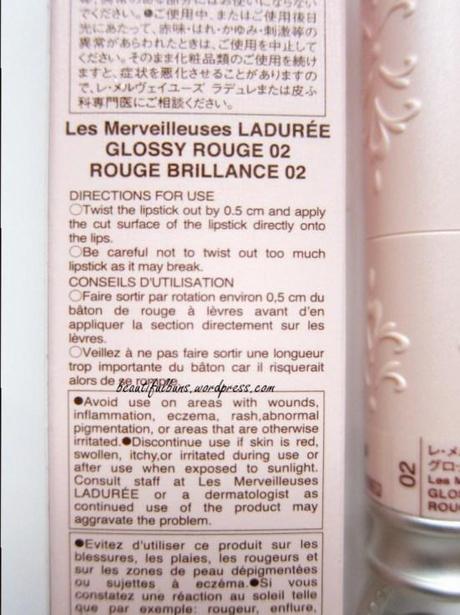 I love how specific they are – this is the first time I'm being instructed to twist the lipstick out by 0.5cm lolol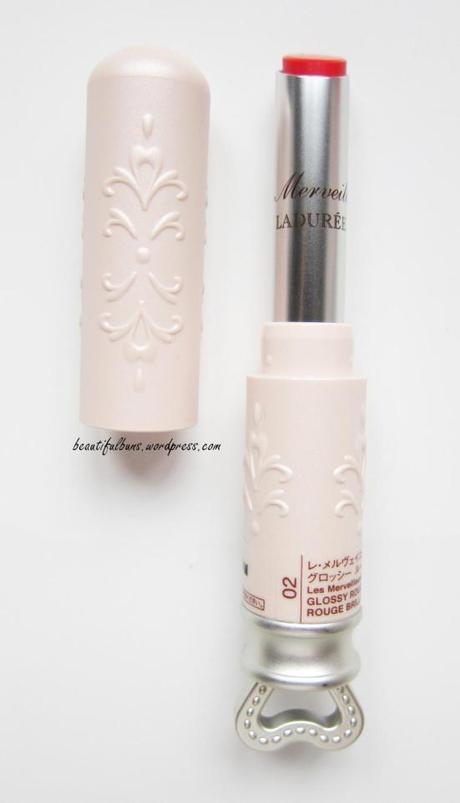 Do you not love the intricate detailing in terms of packaging?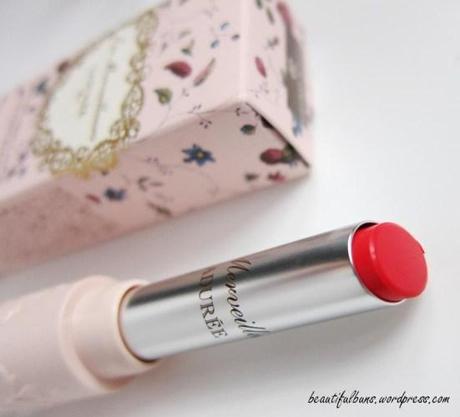 In shade 02 – it appears to be a bright cherry pink here…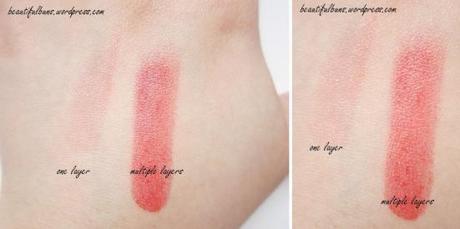 … but when swatched on the back of the hand, it actually comes across as being more coral-red instead….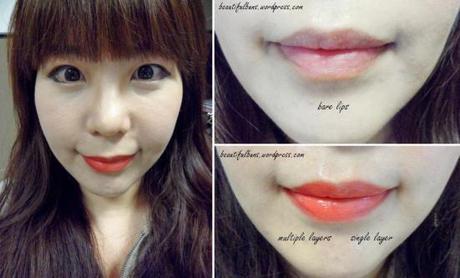 …and when it goes onto the lips, it comes across as a coral-pink. What ees this sorcery?!
I say…
Of course the packaging's the main draw – firstly, look at how gorgeous the box design is. omg.
Next, ogle away at the beautiful embossed detailing on the lipstick itself, which does double duty. Since it adds a certain texture / unevenness to the surface of lipstick, it helps prevent it from rolling away – yay!
The casing has a slight plasticky feel to it – it doesn't feel flimsy but just not particularly luxe.
That said, the pink casing has a very lovely pearl sheen to it if you look closely, and has a matte brushed finish that doesn't leave fingerprint marks.
The instructions say not to extend the lipstick by more than 0.5cm, but I am proud to say that I've extended it to 2cm and it retracted without breaking. Perhaps what they meant to say was that if you twist out too much and apply it (and with the due pressure exerted), the lipstick might break. Just be sure to exert the correct amount of pressure, or if not, use a lip brush for application.
There's a slight powdery scent to it, but nothing too overpowering. It's the sort that you really have to put your nose up close to the lipstick to smell.
One layer gives a very sheer rosy glossy flush, while multiple layers builds on the color intensity, resulting in a very vibrant and cheery coral-pink.
I'm quite amused at the fact that it seems to take on different color tints when applied onto different surfaces – I guess it's cos the lips are pink in nature, and this gloss builds on it.
It's slightly less sticky than the Aritaum Honey Melting Tint (for those who have an issue with that).
Multiple layer of this doesn't make it more sticky, but it has a very hydrating and moisturising quality – lips that can glide over each other without pulling on dead, chapped skin.
The color wears off and leaves a natural flush.
It can emphasis on the dry flaky lips, so be sure to exfoliate the lips before applying this.
That said, there's no need to apply a lip balm before this because it really hydrates the lips.
I can't remember exactly how much this cost (cos my bro helped to lug it back from Tokyo and it was in one big bulk receipt), but I'd place it somewhere in the range of S$40-60. I'd call this a good hybrid of a balm, gloss and lipstick, with good shine, moisture and color. It's pretty good in terms of performance, but the price can be a little offputting to some (considering you can get a YSL or Dior lipstick for $45-50). But hey, since Christmas is coming up, why not treat yourself? In fact, why not get someone else to treat you? :D
Laduree cosmetics are currently not available in Singapore. It can be found in Tokyo and Hong Kong (but I've heard that it's slightly cheaper in Tokyo)