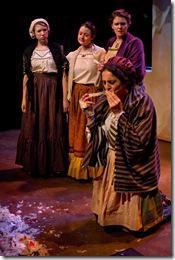 Las Hermanas Padilla
Written by Tony Meneses  
Directed by Juan Castañeda
DCA Storefront Theater, 66 E. Randolph (map)
thru April 1  |  tickets: $25   |  more info
  
Check for half-price tickets 
  
  
   Read entire review
  
---
A sisterly world where the whole is greater than the parts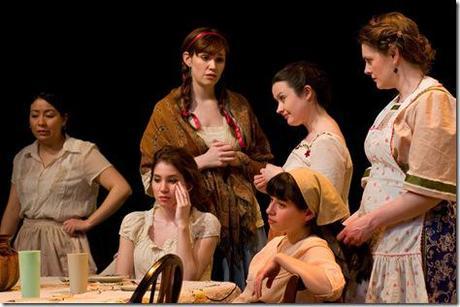 Chicago Fusion Theatre presents
Las Hermanas Padilla
Review by Lawrence Bommer
In The House of Bernarda Alba, Federico Garcia Lorca imagines a hate-filled home full of sisters who are under virtual house arrest, kept in thralldom by a repressive matriarch who condemns even thoughts of sex: The ladies, in effect, are divided and conquered—until tragedy destroys the cursed household altogether. In Euripides' The Trojan Women, the widows and daughters of the dead casualties of Troy seem to suffer as much as their men.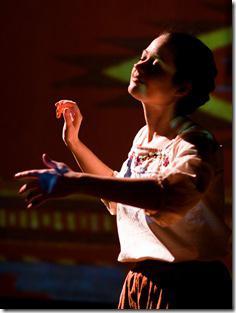 As if to provide an antidote to both works, New York playwright
Tony Meneses
' much-praised drama delivers a different look at survival among sisters(in-law). While their men go off to fight what seems a world-wide war, the ten wives of the Padilla sons remain in their unnamed Mexican village, hoping and caring.
In 90 minutes Las Hermanas Padilla (spoken in English) provides snapshots of their survival, depicted by Brechtian chapter headings (among other lovely projections from Liviu Pasare). Blending poetry and magic realism, the vignettes depict coping strategies that bring the women together rather than set them apart—or upon—each other. Ironically, their sisterly sympathies and mourning rituals make more sense of the war than the carnage that will slowly sacrifice over half of the ten men, triggering the usual survivor guilt. The triumph is all the greater because they're related by marriage, not blood.
The success is equally sure in Juan Castañeda's fluid, lyrical and ultimately moving Chicago premiere, a warm ensemble effort for ten inspired actresses, none of which should be singled out, not given such a mutual labor of love.
Against this supple video backdrop, the wives of the many Padilla soldier-brothers cook for each other, do the laundry, stay up to see the sunrise, keen over their losses, dismantle a crib that will no longer be needed, or watch out for the dreaded white doves that announce the deaths of their lost lovers.
Determined to fix everything and knowing she can't as she offers advice well past midnight, Mari (Natalie Turner-Jones) kills a mouse and frets over her cohorts. Carmen (Natalie DiCristofano) dances out her loneliness. Chave (Erica Cruz Hernandez) is said to serve local dogs as dinner. Pregnant Alejandra (Susan Myburgh) risks all to bring new life into a village stalked by death. Lucha (Jeanne T. Arrigo), a poet and dreamer, brings tough love to their shared life. Sixteen-year-old Marta (Emma Peterson) offers her prayers through a hole in the ceiling. Lucy (Jackie Alamillo) enjoys the sound of her laughter through the rooms. Fidela (Meghann Tabor) sits in stillness as if competing with her furniture, while Cristina (Charlotte Mae Jusino) is afraid of thunder but nonetheless sleeps like a rock. Only shamed Blanca (Nilsa Reyna) makes herself an outcast as her house collects cobwebs, but the women love her too.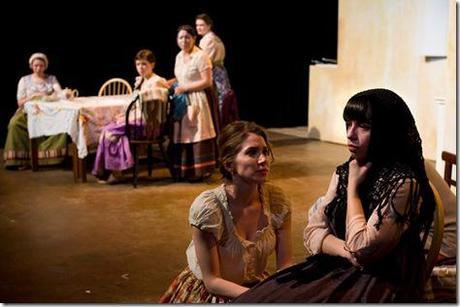 In honest and mostly understated scenes, Meneses presents a happily haunted house. In a rhapsodic ending, the survivors turn the feathers of all the doom-laden doves into wishes sent aloft to their distant boys. "No more waiting!," they shout and it stands for more than just the hope-laden laments of ten Mexican women.
Some will find the lack of action of this episodic slice of life a bit deflating. Others will find the incidents overly metaphorical or, quite the opposite, merely generic. But Meneses' joy is to offer a whole greater than its parts and a group portrait that shows how women shine just when men are at their worst. That's a picture worth seeing over and over until we get it right.
Rating: ★★★
Las Hermanas Padilla continues through April 1st at DCA Storefront Theater, 66 E. Randolph (map), with performances Thursdays-Saturdays at 7:30pm, Sundays at 3pm.  Tickets are $25, and are available by phone (312-742-TIXS) or online at dcatheater.org (check for half-price tickets at Goldstar.com). More info at ChicagoFusionTheatre.org.  (Running time: 90 minutes with no intermission)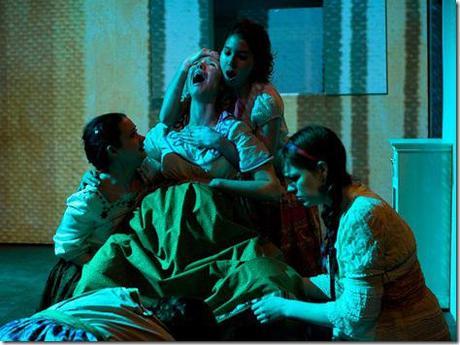 All photos by John W. Sisson, Jr. 
---