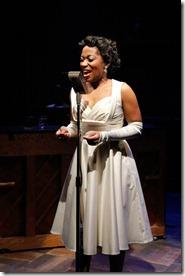 Lady Day at
   Emerson's Bar & Grill 
Featuring the music of Billie Holiday 
Written by Lanie Robertson 
Directed by Rob Lindley 
at Stage 773, 1225 W. Belmont (map)
thru March 10  |  tickets: $32-$41   |  more info
  
Check for half-price tickets 
  
  
   Read entire review
  
---
This lady sings the blues….magnificently!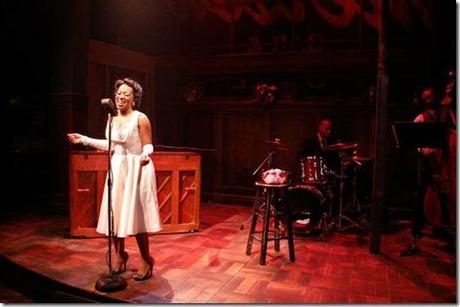 Porchlight Music Theatre presents
Lady Day at Emerson's Bar & Grill
Review by Katy Walsh 
Porchlight Music Theatre presents Lady Day at Emerson's Bar & Grill.  The legendary Billie Holiday is in concert!  No, it's not a return to Carnegie Hall.  It's 1959 at a hole-in-the-wall joint in Philadelphia.  Unknown to her or her fans, the unique-sounding vocalist is making one of her final appearances.  The diva, known for her emotional, soulful sound, is four months away from death caused by cirrhosis of the liver.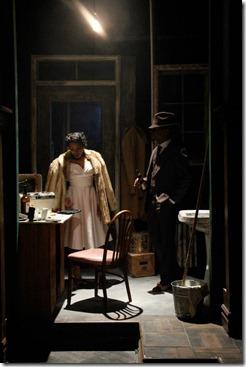 The 44-year old singer reminds the audience what made her a tragic, musical icon. 
Lady Day at Emerson's Bar & Grill
is as close to a Billie Holiday concert as most of us will ever get.  
Alexis J. Rogers is Billie Holiday! She channels the superstar.  Having heard Rogers sing in other shows, I'm startled how accurately she nails it.  She is pitch perfect imitating Holiday's distinct stylings. Under the musical direction of Jaret Landon (keyboard), Rogers sings fourteen of Holiday's songs.  With Michael Weatherspoon (percussion) and Chris Thigpen (bass), the jazz trio and their vocalist transport the audience back to another time.  The illusion makes us believe we've stumbled into something special. We are in a Philly bar and the headliner turns out to be a megastar. That wondrous aura is ever present as we intimately connect to the songs and stories of Billie Holiday.  
Director Rob Lindley keeps it authentic.  On an effective split stage by Jeffrey D. Kmiec, the audience sees the 'stage' and the connecting dressing room.  During her song set, Rogers relays personal stories of incarceration and segregation.  She connects us to the pain and the humor of each tale.  And then Rogers becomes visibly overwhelmed, leaving the 'stage' for the 'dressing room' and, with her back to the audience, takes a hit of heroin.  Meanwhile, Landon announces the band will play one more song and then take a short break.  Always in command, even when under the influence, Rogers returns to the microphone and continues.  Mumbling, yet always audible, and with her glamorous white satin glove rolled down to expose the bruises of an addict, Rogers continues to display the diehard talent and human weakness of Billie Holiday. 
Lady Day at Emerson's Bar & Grill is a beautifully, devastating musical biography of a legend.  We've lost Billie Holiday but for a limited engagement we have Alexis J. Rogers.  This lady sings the blues… magnificently!  
Rating: ★★★½
Lady Day at Emerson's Bar & Grill continues through March 10th at Stage 773, 1225 W. Belmont (map), with performances Fridays at 8pm, Saturdays 4pm and 8pm, Sundays 2pm.  Tickets are $32-$41, and are available by phone (773-327-5252) or online through Vendini.com (check for half-price tickets at Goldstar.com). More information at PorchlightMusicTheatre.org.  (Running time: 85 minutes, no intermission)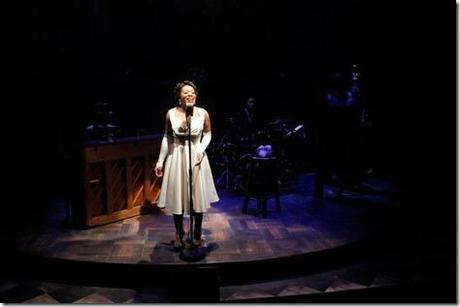 Photos by Kelsey Jorrisen
---
artists
cast
Alexis J. Rogers (Billie Holiday)
jazz trio
Jaret Landon (piano), Michael Weatherspoon (percussion), Chris Thigpen (bass)
behind the scenes
Rob Lindley (director); Jaret Landon (music director); Danny Holgate (musical arrangements); Alexia Rutherford (costumes); Nick Belley (lighting); Jeffrey D. Kmiec (set); Victoria "Toy" DeIorio (sound design); Adrian Juarez (props); Jenn Kincaid (stage manager); Deborah Blumenthal (dramaturg intern); Patrick Fries (production manager); Kelsey Jorissen (photos)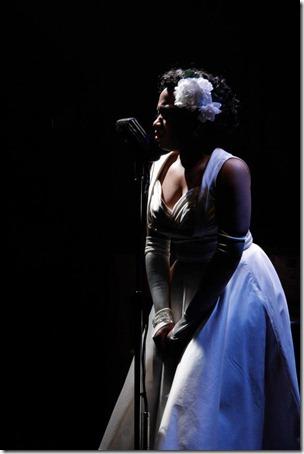 13-0208